This page is part of © FOTW Flags Of The World website
Dutch Houseflags of Shipping Companies [a]
Last modified: 2018-12-15 by rob raeside
Keywords: amsterdam | all | arpa | ansm | alphatron | amsterdamse ballast |
Links: FOTW homepage | search | disclaimer and copyright | write us | mirrors

---
Other "a" companies:
See also:
---
Bevrachtingskantoor Gebr. Aerts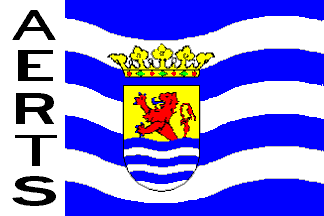 image by Jarig Bakker, 20 May 2006, artwork by Mark Sensen.

The choice of house flag is rather surprising. See this website, the modest web presence of a freighting agency named after the Aerts brothers, situated at Ridderkerk to the SE of Rotterdam, Netherlands.
As the name says, this company arranges transport i.e. in inland navigation, shipment by tanker excluded. Vessels are chartered or owned (number not given, but between 500 to 3000 metric tonnes).
The house flag is the Zeeland provincial flag partly obscured, or defaced, by a vertical white panel near the hoist bearing in black the name AERTS. The letters are arranged vertically. I suppose the Aerts brothers hail from Zeeland, as Ridderkerk is in Zuid-Holland province.
The Aerts flag can be seen on a vessel 'MVS Fewi' (photo) and further down the page (drawing) here.
The choice of flag may very well express pride and local patriotism.
Jan Mertens, 17 Apr 2006

---
Agritrans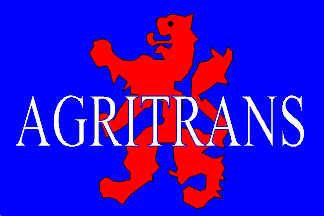 image by Jan Mertens, 25 Feb 2008

It is always nice to encounter an inland shipping company site with the house flag in a prominent place. Shown as a drawing and on a photo as well (one of the items in the photo carrousel, at least), this Dutch firm flies a striking flag: blue bearing a red lion rampant and the company name 'AGRITRANS' over all in white serifed letters. Situated at Numansdorp on the Hollands Diep, a river arm linking Zeeland and the big rivers, GVR Agritrans was founded in January 1997 as a freighting company for inland vessels between 560 and 3500 metric tonnes transporting various kinds of bulk loads. As stated on the site, these barges ply the Benelux waterways and the main rivers and canals in Germany.
Employing three, the firm is located in a building prominently displaying the flag – see 'Route' (left menu).
An article in 'Binnenvaartkrant' (i.e. Inland Shipping Journal) is reproduced in the 'Nieuws' (i.e. News) section but I went the other way – seeing the article (12 Feb 2008) first, then looking up the company: a nice flag is seen through the window!
We learn that about thirty barges regularly do business with Agritrans, apparently named after the main bulk goods transported in the first years: various kinds of grain and fodder (no clue as to what 'GVR' actually means however).

As the firm was relocated from Zierikzee it might be the Zeeland lion we see here - safely above ground!
What I take to be an earlier flag of Agritrans… merely a tiny drawing, alas… is found here: Blue field, large white initials GVR with 'AGRITRANS' (also in white) in a bow above them.
Jan Mertens, 25 Feb 2008

---
AIMK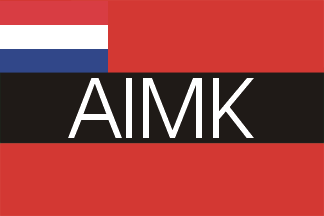 image by Jarig Bakker, 2 Apr 2007

Yesterday there was a stiff breeze in the "Oude Houthaven" in Amsterdam, and the flag had "AIMK" in center. It is a horizontal red-black-red flag (Amsterdam), in center "AIMK" in white; in the canton the Dutch flag.
It is the flag of the Amsterdams Internationaal Motor Kantoor (Amsterdam International Motoring Office (AIMK). It was founded in the 1950's and has 20 ships ranging from 300 to 1200 tonnes, and a list of c. 25 "hausparticulieren" (whatever that may be)..
Jarig Bakker, 2 Apr 2007

---
Alphatron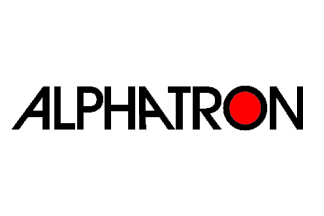 image by Gerard van der Vaart, 17 Apr 2005

Gerard van der Vaart has been involved in a project for the preservation of a tugboat in Maassluis (Zuid-Holland province). He took several pictures of flagged tugs (mostly signalling flag), with in the center houseflags of tugging companies.
Alphatron, a company supplying nautical instruments, one of the main sponsors of the event - white field black "ALPHATRON" the "O" filled red.
Jarig Bakker, 17 Apr 2005

---
Rederij Amstelland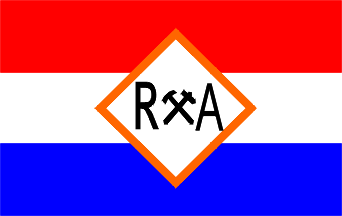 image by Jarig Bakker, 6 Sep 2008

'Rederij Amstelland', named after the famous river in Amsterdam, was a Dutch shipping company featured in "Duwvaart" by Jansen & Van Heck (1988). This firm
was active in push navigation and consequently merited inclusion – p. 16 presents the 'NV Brandstoffenhandel en Rederij' (i.e. Fuel Trading and Shipping Co. Ltd) at Amsterdam as a subsidiary of the famous German 'Braunkohle' company at Cologne.

Shown in two b/w versions, the house flag is described as the Dutch one with a white diamond in the centre, bordered in orange, bearing black initials 'R' and 'A' and the well-known crossed black hammers in between. If my notes are correct, these versions only differed in the first having a thicker border – the initials remain the same.
Image recently found on German eBay: no. 200204562058 (end 12 Mar 2008), table flag put up by "freschkall".
A 'Binnenvaart' page dedicated to 'Oranje 1' shows a similar flag (predecessor) as a drawing whereas the photo shows the emblem of the second version painted on the funnel: 'Similar flag' indeed as the initials (in orange; no hammers) read 'B&R' which surely refer to the longer company name.
Vessels listed on 'Binnenvaart' were active for these companies 1923-1986
PS: the above are not to be confused with 'Rederij Aemstelland' operating tourist vessels in Amsterdam.
Jan Mertens, 3 Mar 2008

---
Rederij Amstelland - B&R flag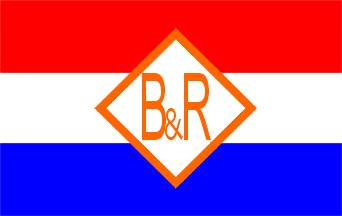 image by Jarig Bakker, 6 Sep 2008
---
Amsterdam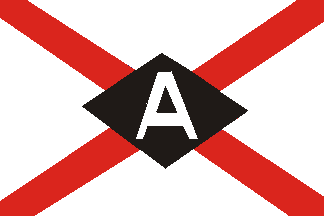 image by Jarig Bakker, 29 January 2001

Houseflag of N.V. Reederij "Amsterdam", Amsterdam.
Image from Flagchart of houseflags of Dutch shipping companies, attached to the magazine "De Blauwe Wimpel", April 1956.
Jarig Bakker, 1 Feb 2001

---
Amsterdam-Londen Lijn "Starintex"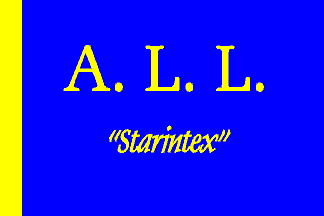 image by Jarig Bakker, 8 July 2004

Blue with a narrow yellow hoist; on blue in top capitals "A. L. L."; in bottom "Starintex". Starintex is a Swedish quick-delivery firm. Ship: Jean E.
Source: flagchart "Vlaggen in de haven van Amsterdam" (flags in the harbour of Amsterdam)
Jarig Bakker, 8 July 2004

Amsterdam-London Lijn "Starintex". "Starintex" N.V. which operated as the Amsterdam-London Lijn in the late 1960s-early 1970s was a Dutch company based in Amsterdam.
Neale Rosanoski, 12 Jan 2005

---
Amsterdamse Ballast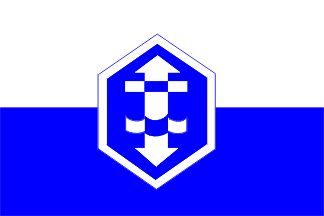 image by Jarig Bakker, 23 Sep 2005

Amsterdamse Ballast Bagger en Grond B.V., Amstelveen - white over blue flag; in the center the firm's logo.
Image after Brown's Flags and Funnels Shipping Companies of the World, compiled by J.L. Loughran, Glasgow, 1995 [lgr95].
Jarig Bakker, 23 Sep 2005
---
ANSM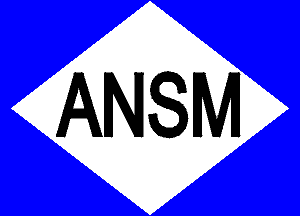 image by Jarig Bakker, 1 Jan 2005

Algemeene Nederlandsche Scheepvaart Maatschappij, Rotterdam - blue flag, white diamond, black "ANSM" in black.
Source: Brown's Flags and Funnels of British and Foreign Steamship Companies, compiled by F.J.N. Wedge, Glasgow, 1926 [wed26]
Jarig Bakker, 1 Jan 2005
---
ARPA
image by Jarig Bakker, 27 Oct 2003

Dov Gutterman spotted this website of ARPA Shipping, Roosendaal, Netherlands - houseflag: White with black (?) circle, charged with an eight-pointed star countercharged red and blue (the image is rather dim, so I could have seen it wrong)
Jarig Bakker, 27 Oct 2003
---
Stoomvaart Mij. "Atlas"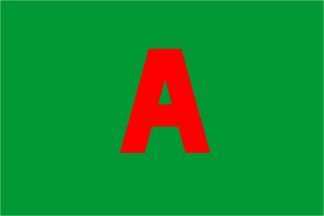 image by Jarig Bakker, 20 Jul 2008

A site dedicated to Rotterdam's colourful – and partly maritime – past "Rotterdammers" seems to be down again. They had a page titled (Dutch, old spelling) "Maatschappij-vlaggen en schoorstenen der voornaamste Reederijen Rotterdam in 1925" i.e. Company flags and funnels belonging to the most important shipping companies at Rotterdam, 1925. This suggests the house flags had been taken from a chart or some other publication.

'Stoomvaart Mij. "Atlas" (i.e. Steam Shipping Co. "Atlas"): a green field bearing a large red initial 'A'without serifs.
Essential information was found here: As the German shipping company OPDR ('Oldenburg-Portugiesische Dampfschiffs-Rhederei') was not allowed to resume its line linking Rotterdam and Antwerp to Morocco - a French protectorate - after WWI, a deal was made with the Dutch firm Wambersie & Zoon (i.e. Son) to operate a few ships under the Dutch flag. Period: 1921-1927.
A first ship, 'Lukkos', perished during its first year of operation, 1923. 'Sebu' and 'Tanger' sailed for Atlas between 1923 and 1927 when OPDR took over the ships.
Surely the company name refers – in an oblique way – to Morocco (Atlas mountain range); this could even be extended to the house flag colours: red-on-green alluding to the green-on-red of the protectorate's flag.
Jan Mertens, 15 Jul 2008
---