This page is part of © FOTW Flags Of The World website
International Banner of Peace (Roerich Movement flag)
peace flags
Last modified: 2015-05-09 by randy young
Keywords: peace flag | pacifism | international banner of peace | roerich movement | reriq (nikolai~) | disc (red) | discs: 1+2 | madonna oriflamme | painting | saint mary | historical ruins symbol | monument | protection |
Links: FOTW homepage | search | disclaimer and copyright | write us | mirrors

---
| | | | | | |
| --- | --- | --- | --- | --- | --- |
| | | | | | |
| image by A.H., 29 November 1999 | | | | | image by Peter Hans van den Muijzenberg, 5 May 2015 |
---
See also:
External links:
---
The world peace flag is based on a design by the Russian artist and mystic Nichola Roerich, who proposed the red circle with three dots inside as an international symbol to mark museums, schools, and similar cultural landmarks to prevent destruction by aerial bombs ... this about the time of World War I. The idea was similar to the large red cross that marks hospitals and hospital tents in war zones ... similarly to "prevent" bombing and strafing of helpless patients and medical personnel. The concept has been lost in today's world.
William Dunning, 17 March 1998

The International Banner of Peace has three dots representing the past, present and future enclosed in a red circle representing infinity. It was devised after World War I by Nicholas Roerich, a Russian artist of Latvian descent who spent most of his life in India painting and developing mystic philosophies. (Source: The Moscow Times, 25 March 1998)
Alexei Arkhipov, 25 March 1998

Nikola Reriq |

Никола́й

Ре́рих

was a Latvian descent Russian mysticist, painter and philosopher (approx. 1870-1946; original German spelling "Roerich"). He is very popular in nowadays Russia, where his followers are organized in a cultural movement more or less related with "New Age" tendencies. They use as their symbol the device shown above — which was originally designed by Roerich himself and it is charged with some more or less deep symbolism: from memory, the three dots stand for art, science and philosophy (including religion), encircled and bounded together to form culture: "∴⃝". This symbol appears on one of Roerich's paintings, Madonna Oriflamma, from 1932, which depicts Saint Mary holding and showing a white cloth with it.

I know nothing of the current usage of this flag, promoted originally by Roerich as the "International Banner of Peace", in the lines of what is reported below, but two things:

In Russia this symbol would be identified nowadays as that of a religious/philosophical group, and nothing more nor less.
The one-over-two-dots symbol (no ring) is usually used in cartography to denote important historical remains, usually ruins; maybe it is connected to the Roerich flag, I don't know.
António Martins, 30 November 1999

Note that the shade of red used in this flag is slightly darker than usual. This is not a mistake. Every instance I found of the symbol was shown in darker shades of red.
A.H., 29 November 1999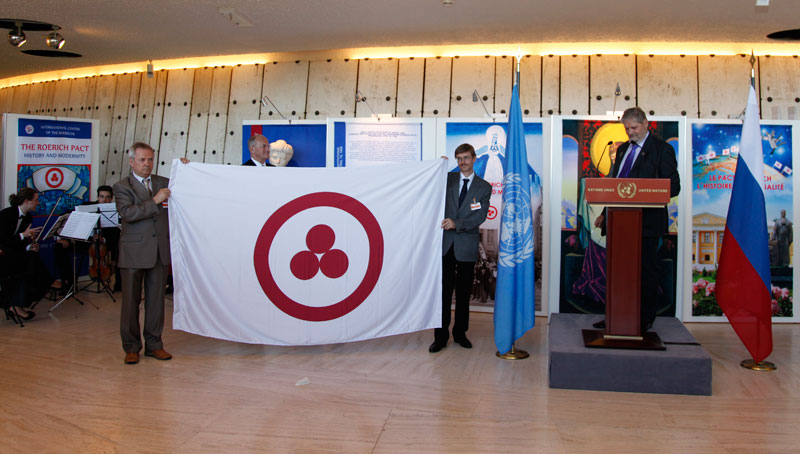 image located by Peter Hans van den Muijzenberg, 5 May 2015

Well, there's no specific design or, if there is, not all flags conform to it. But since we seem to have lost the original source, let me make a drawing after the specimen donated by the International Centre of the Roerichs to the United Nations (see photograph above).

It's a 2:3 white flag, with a centred dark red charge consisting of a circle, 3/4 of the hoist in diameter and 1/12th of the hoist wide, with centred in it 3 disk touching, each 1/6th of the hoist in diameter, placed 1 over 2.
Peter Hans van den Muijzenberg, 5 May 2015

---
By chance I came across this site (in Spanish and English) that extensively uses the flag of the Roerich Peace Movement.
Marcus Schmöger, 28 August 2006

What we have as the Roerich Peace Movement in our page is not one centralized organization, but rather a grabbag name of several entities which, with different approaches, claim to follow the teachings and examples of Nikolai Rëriq; it should perhaps be renamed to Roerich peace movement (lower case).

This Comité Internacional de la Bandera de la Paz seems to be one of those organizations.
António Martins, 2 September 2006

At a broken link, we can see an actual flag photo, with the International Banner of Peace hoisted outdoors on a high pole apparently in Araçatuba, Brazil.

A not less New Age-ish website the Portuguese PAN-Portugal.com, where we learn an uncanny interpretation of the specs of this flag (my translation):

Dimensions: 130 cm x 90 cm (Fractal of the prophecy about 13 heavens and 9 hells)
Outer diameter of the ring: 64 cm (Fractal of the 64 codons of the genetic code)
Inner diameter of the ring: 52 cm (Fractal of the 52 weeks of the year)
Diameter of the discs: 16 cm (Fractal of the 16 dias of the warrior's cube)
Magenta on white (color of blood on the color of truth)
António Martins, 17 September 2007

---
The Roerich Peace Pact was signed in Washington in 1935 by the US and 20 Latin American countries. Other countries, including the Soviet Union, added their signatures in 1959. The flag became a symbol of commitment to the protection of historical, cultural or scientifically significant monuments. (Source: The Moscow Times, 25 March 1998)
Alexei Arkhipov, 25 March 1998


Protection of Artistic and Scientific Institutions and Historic Monuments

The High Contracting Parties, animated by the purpose of giving conventional form to the postulates of the Resolution approved on December 16, 1933, by all the States represented at the Seventh International Conference of American States, held at Montevideo, which recommended to "the Governments of America which have not yet done so that they sign the 'Roerich Pact', initiated by the Roerich Museum in the United States, and which has as its object, the universal adoption of a flag, already designed and generally known, in order thereby to preserve in any time of danger all nationally and privately owned immovable monuments which form the cultural treasure of peoples," have resolved to conclude a treaty with that end in view, and to the effect that the treasures of culture be respected and protected in time of war and in peace, have agreed upon the following articles: (…)


ARTICLE III

In order to identify the monuments and institutions mentioned in Article I, use may be made of a distinctive flag (red circle with a triple red sphere in the circle on a white background) in accordance with the model attached to this treaty.

signed by the US and other Pan-American Union states, 15 April 1935

I don't know how extensively has the pact flag been used.
Will Linden, 12 March 1996

---
On the FOTW mirrors we show the flag of the Roerich Movement, the so-called "International Peace Banner." It is a white flag with 3 red disks within a red ring. The illustration on FOTW shows the disks arranged in a pyramidal shape: 2 on the bottom and 1 on top, with slight separations between the disks. There are 2 links to outside graphics which seem to confirm that arrangement. One is broken, but can be retreived by redirecting the link to an archived copy.

However, for what it's worth, a photograph of an actual flag [broken link] shows the arrangement slightly different: the disks are touching and arranged one above, one below, and one midway between and offset towards the hoist.
Ned Smith, 3 January 2006

An article in "Symbol und Wirtschaft" from 1950 [dum50a] shows the Roerich flag with one disk on the bottom and two on top. Dr. Nikolaus Roerich had made several proposals (in 1904 and 1914) for the protection of cultural goods. Only in 1931/32 he succeeded to organize international conferences (in Brügge), again in 1933 in Washington, for this purpose. The Roerich Pact was signed 15 April 1935.

Roerich has derived the symbol from an old Indian symbol, the "Chintamani," that he believed to find also in temples in Peking, Tibet, in the symbol of rule of the 14th Century Mongolians ("Tamga"), in the arms of Samarkand, on Egyptian and Coptian antiquities and in Himalaya countries. The author of the article (Dumke) closes with a sceptical sentence about the historical basis of Roerich's assumptions.
Marcus Schmöger, 8 January 2006

Interesting! Could it be a vertical hanging flag hoisted as a "normal" flag? For what it's worth, all Roerich flags I saw (and I saw quite a few, thanks to my 1999-2000 contacts in the Russian "esoteric scene") have the discs set 1+2, as in the Madonna Oriflamma painting.
António Martins, 8 January 2006

I hadn't thought of that, but don't see any reason why it couldn't be possible, and of course prompts curiosity whether the photo of the 2-over-1 flag photo reported by Marcus might not simply be an upside down hoisted flag.
Ned Smith, 8 January 2006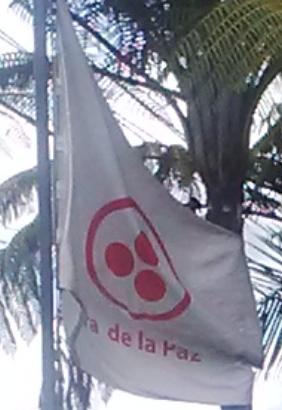 image provided by Esteban Rivera, 20 August 2014

I came across this particular flag, seen in the street, in a roundabout, in the Municipality of Rionegro, where they displayed a so-called "Bandera de la paz" (peace flag). (It is a white horizontal flag with three red balls in the middle forming a triangle, and below the phrase in capital letters "BANDERA DE LA PAZ.")
Esteban Rivera, 20 August 2014

This is actually the International Banner of Peace, aka the Roerich Movement flag.
Tomislav Todorovic, 20 August 2014

Counter to the name, the application does not seem to be that of a banner of peace, though. (Rather, if there were peace, the banner would be unnecessary.)
On the other hand, though, I don't know what to make of banderadelapaz.org. I did notice that most flags there have the word "PAX" under the symbol.
Peter Hans van den Muijzenberg, 22 September 2014

Would it be possible then, that the Roerich Movement flag may have variants having the word "peace"in different languages, or is this a wrong depiction (and local adaptation) of the flag that happened in my country?
Esteban Rivera, 22 September 2014

While in the general sense. I have to say that it's possible. However, the banners of the International Committee for the Banner of Peace all seem to have either the Spanish text or just the word PAX.
Peter Hans van den Muijzenberg, 5 May 2015

I was recently in Mexico, and in Cozumel Island, when I asked for the white Quintana Roo Flag, they sent me to a park where they believe that was hoisted. In fact, the white flag in the park was the international peace flag. The version I saw bore the inscription PAX, but I believe that in Latin America is not the most frequently used version.
Jaume Ollé, 11 January 2015

I don't recall how this was for Esteban's original report, but the flag we show on the page is not in fact in all capitals. I've found that for most specimen where I was able to determine the case from Internet photographs, only the first letters of the two nouns were capitalised. At http://en.icr.su/news/index.php?news=2785, three versions are in the same ceremony, and the text allows for the difference being caused by their different origin, but unfortunately it doesn't seem to mention which is which.
Peter Hans van den Muijzenberg, 5 May 2015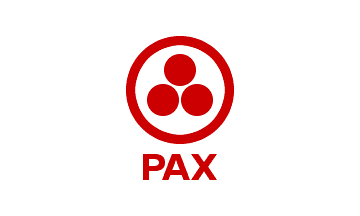 image by Peter Hans van den Muijzenberg, 5 May 2015

For the PAX version, I tried to create an average flag, as there's clearly no unity of design.

This drawing is for a 3:5 white flag, with a centred dark red charge 3/4th of the hoist in height, consisting of the text PAX, 1/3rd of the hoist wide, in a bold sans font 1/6th of the hoist in height, with over it a circle, 1/2 of the hoist in diameter and 1/24th of the hoist wide, with centred in it 3 disk almost touching, each 4/27th of the hoist in diameter, placed 1 over 2.
Peter Hans van den Muijzenberg, 5 May 2015

---