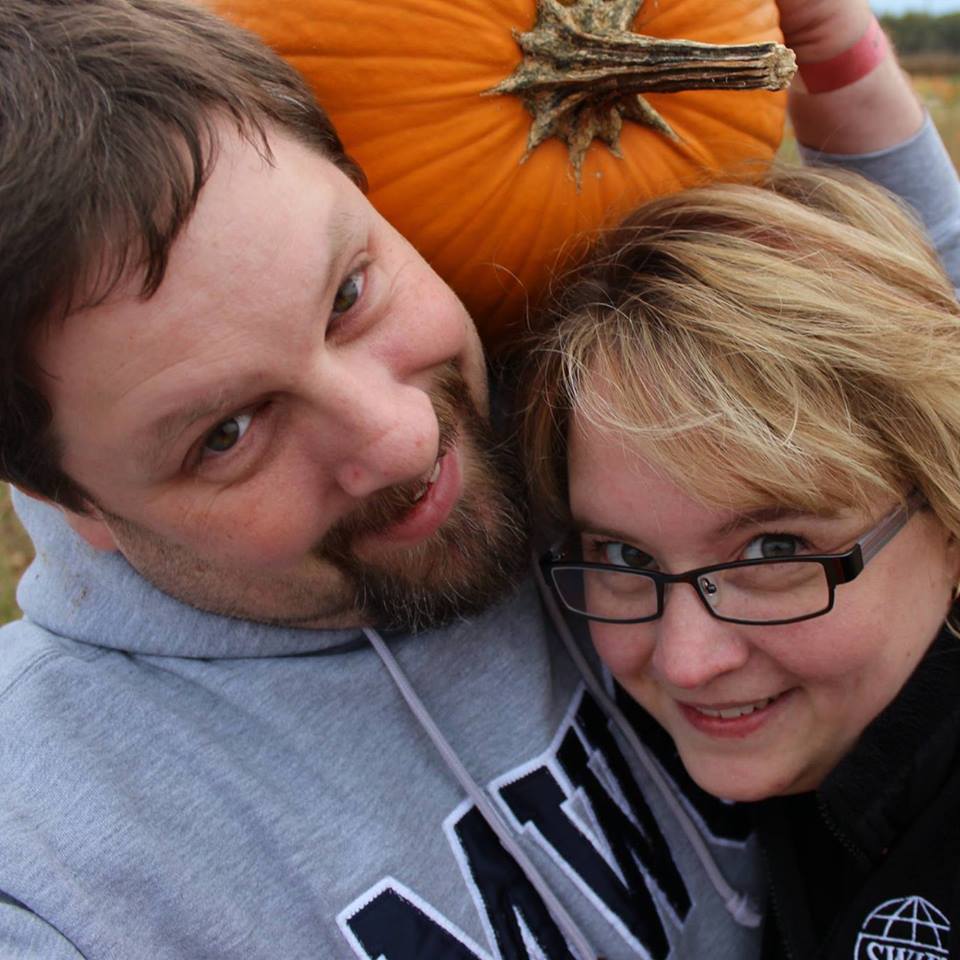 Randy and his wife Kelly
"This is a picture of my wife, Kelly, and I out at the pumpkin patch helping the kids pick out a pumpkin for our Halloween jack-o-lantern."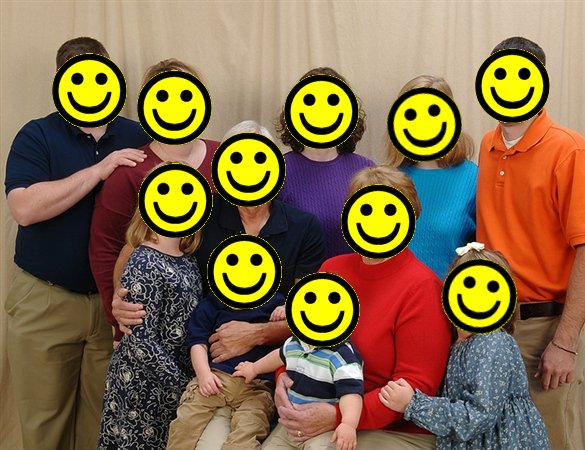 Family Christmas Picture
Randy's sense of humor becomes apparent with his Family Christmas card picture. You can plainly see the family resemblance.

"My wife and I, our three kids, my brother, his wife, their son, my little sister, and our parents are all here," he pointed out.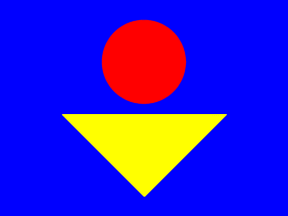 Kelly´s Personnal Flag
Randy Young - Fredericksburg, Virginia - USA
| | | | | |
| --- | --- | --- | --- | --- |
| | | | | |
| Randy´s Personal Banner | | FOTW Editors Flag | | FOTW Giffers Flag |
I live in Spotsylvania County, Virginia, on the edge of the Chancellorsville battlefield just outside the city of Fredericksburg. My wife and I moved here in 2002. We have three kids (two daughters, ages 8 and 6, and a son who just turned 1) and two cats.
I was born in Bath County, Virginia. Both of my parents were public school teachers, and we moved a bit for the first few years until my younger brother and I started school. That was when we settled in Madison County, Virginia, a little farming community just north of Charlottesville. I met my wife in high school (10th grade, actually). We went to separate colleges, but still stayed together, getting married shortly after graduation. I attended Mary Washington College in Fredericksburg, Virginia, where I received my Bachelor of Arts degree in Military History. After a handful of jobs, I finally got into my chosen career field working for the Federal government (Department of Defense) in northern Virginia. Through my employer, I was lucky enough to be selected to attend Marine Corps Command and Staff College last year at Marine Corps Base Quantico, Virginia, earning a Master of Military Studies degree.
&nbspI have no formal background as an illustrator. I am completely self-taught in graphic design, just trying to keep true to the design principles that I've learned from my studies of heraldry and vexillology. I started by hand-drawing flags and coats of arms in a sketchbook back in middle school right about 1990. I used to draw flags for my friends, make up coats of arms and flags for games that we'd play. And I remember when my little brother and I would go out in the woods around our house to play, I always had to have a flag with me. It was usually an old pillowcase or dish rag that my mom was throwing away, that I had appropriated and either drawn on it with permanent markers or painted it with some design. Only then would I be ready to go play with my brother.
&nbspMy greatest vexillological honor is the fact that my lovely wife still allows me to fly the personal flag that I designed for her the year after we met, back in 1994. It's a rather plain design that I adapted from some artwork that she had created, but I still think of her every time I see it flying from our flagpole.

Randy Young, 7 November 2014