---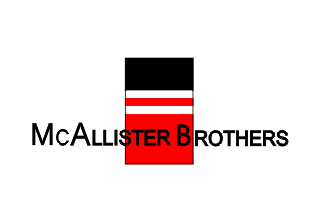 image by Jarig Bakker
McAllister Bros. Inc., New York - white flag, red-white-black striped funnel; in center the firm's full name in black (that is of course the McAllister Bros' funnel).
Source: Loughran (1995)
Jarig Bakker, 5 November 2005
---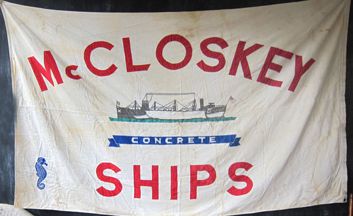 image located by Bill Garrison, 6 November 2011
A McCloskey concrete ship builder banner flag was posted on ebay for sale. Seller's comments"

"Original WWI/WWII era flag/banner for concrete shipbuilder, McCloskey. Due to strained resources on steel, the development of concrete ships was explored both during WWI and WWII. McCloskey was the larger manufacturer of concrete ships for the U.S. government, with their headquarters and facilities in Philadelphia, PA. Banner is stitched with graphics on both sides on heavy canvas. Measures 7-1/2' x 4-1/2'.
Bill Garrison, 6 November 2011
---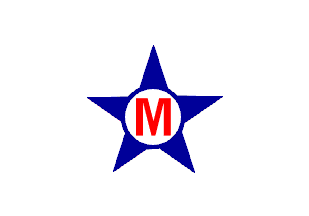 image by Joe McMillan
McCormick Steamship Co., San Francisco (1903-1940)
Not to be confused with the better-known Moore-McCormack Co, this line was a subsidiary of the Charles R. McCormick Lumber Company. In common with other major lumber barons, Charles McCormick saw operating his own shipping line as the key to the profitability of the lumber business. By 1916 he was serving all the major ports on the U.S. Pacific coast. He formally incorporated McCormick steamship in 1921 and continued growing until, in 1925, he moved to buy out the larger and older Pope and Talbot lumber company. The sale went through, but McCormick had tried to grow too fast--by 1928 he was operating a fleet of 45 vessels--and was unable to meet the payments on his debt to the former owners of P&T. So they repossessed not only the former P&T properties but McCormick Steamship as well. Pope and Talbot continued to operate the shipping line under its former name until 1939, when it became the Pope and Talbot Steamship Co. The house flag of McCormick was a white field with a blue star, and thereon a white disk bearing a red M. (I think I have also seen this with a "fat star," but National Geographic (1934) shows it in the usual form.)
Source: National Geographic (1934)
Joe McMillan, 29 October 2001
---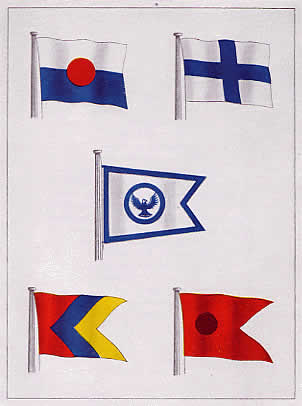 image located by Jan Mertens, 29 August 2005
US and UK house flags having to do with Donald McKay, American 19C entrepreneur and clipper builder can be found at http://www.eraoftheclipperships.com/page66.html (see illustration above). The caption states:

"House Flags Carried by Donald McKay's Clippers

Top Left: Mssrs. Sampson & Tappan, Boston / Top Right: George B. Upton, Boston
Donald McKay House Flag
Lower Left: Grinnell & Minturn & Co., New York / Lower Right: James Baines & Co., Liverpool, England"

The George B. Upton, Boston, flag is white, a blue cross throughout. The date 1840 is added, and a number of sources, e.g., http://www.mysticseaport.org/library/initiative/SignalImage.cfm?PageNum=4&BibID=36294&ChapterNo=10, very last flag. Also in the `Private Signals of the Merchants of Boston' chart, but not in the `Private Signals… NY and SF'. Perhaps on the `Private Signals… NY' but that one is too small for me to read – could be the one on the very first row, though.

The Donald McKay, Boston, flag is white blue-bordered swallowtail that tapers with a blue eagle displayed within a blue ring. It can be found as a "swallowtail" 36.1.11, date 1850 added, on one single source at http://www.mysticseaport.org/library/initiative/SignalImage.cfm?BibID=36294&ChapterNo=36, flag at upper right. The bird is much more stylized.
Jan Mertens, 29 August 2005
---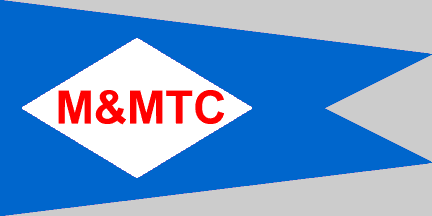 image by Joe McMillan
Merchants and Miners Transportation Co., Baltimore (1852-1948)
Known as M&M, this was one of the largest companies in the Atlantic coastwise service. It was originally founded to connect Baltimore and Boston. After the Civil War it expanded to Providence and as far south as Savannah. By 1929, M&M was operating 18 ships up and down the Atlantic coast, now going all the way to Miami and it continued to grow slowly right up to the start of World War II when its fleet was requisitioned by the government. Rather than renewing the fleet after the war, the shareholders decided to scrap the old ships, forgo buying surplus vessels from the government, and dissolve the company. The flag of M&M was a long, medium-blue burgee with a white lozenge bearing the initials M&MTC.
Sources: Reed (1896), Lloyds 1912, Source: www.steamship.net (no longer available), National Geographic (1934)
Joe McMillan, 29 October 2001
Merchants & Miners Transportation Co. Inc. In point of fact some sources, including Lloyds 1912, show the flag as being a normal swallowtail instead of the tapered version, and most for either design show a small enhanced "o" after the "C". Talbot-Booth in 1938 states that it had "now" become the tapered version (but forgot to alter in his later books) but in view of the fact that this design was being shown long before I am uncertain whether this is the one and only design used with the variations resulted from the difficulty in working out such details by observation of a flying flag, or whether there was an actual change at some stage.
Neale Rosanoski, 5 March 2004
---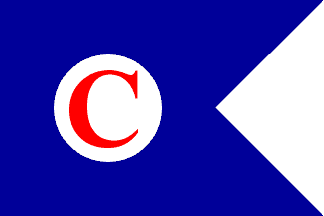 image by Joe McMillan, 30 October 2001
Merchants Express Line, New York (ca. 1850s)
The flag was a blue swallowtail with a white disk and a red C for the owner, Randolph M. Cooley.
Source: www.steamship.net (no longer available)
Joe McMillan, 30 October 2001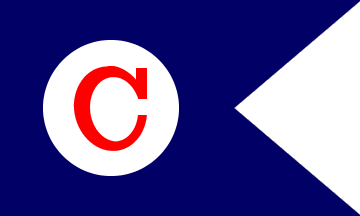 image by Eugene Ipavec, 21 November 2009
The company ownership is indicated by the initial of owner's family name. See this trade card: http://www.artfullyredone.com/proddetail.asp?prod=TC-NP-A-GoodHope. I suppose the difference of the initial here is immaterial as probably caused by printing it inside a disk left white; the flag itself is drawn somewhat longer though. On this card the firm is (nick)named 'The Merchants' Express Line of Clipper Ships' but also mentioned is 'Randolph M. Cooley & Co.'.
Another example can be found at: "Melbourne (1855), Sydney (1863)": http://oldwww.ballarat.edu.au/sovhill/gold150/8611.gif. Two more on at end of this page:
http://memory.loc.gov/cgi-bin
Jan Mertens, 25 September 2009
---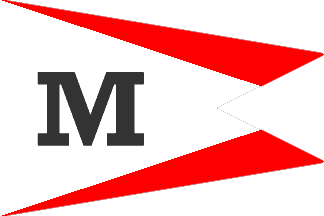 image by Joe McMillan
Merchants Line for New Orleans, New York
A interesting white burgee with red triangles at the upper and lower edges and a black M in the hoist.
Source: Manning (1874)
Joe McMillan, 30 October 2001
---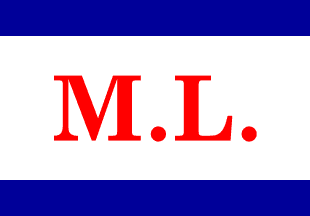 image by Joe McMillan
Merchants Line for Washington, New York
A white flag with blue stripes on the upper and lower edges and the initials M.L. in red.
Source: Manning (1874)
Joe McMillan, 30 October 2001
---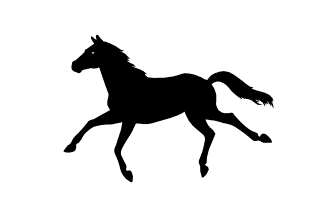 image by Eugene Ipavec, 16 May 2006
The house flag of Merritt-Chapman & Scott, a defunct marine salvage and construction company, is shown at http://en.wikipedia.org/wiki/Merritt-Chapman_%26_Scott. It consists of a black horse in silhouette galloping.
Eugene Ipavec, 16 May 2006
---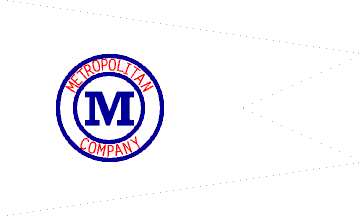 image by Joe McMillan
Metropolitan Coal & Oil Co., Boston
A bunkering company providing fuel to ships at Boston harbor. The flag was a white burgee with a blue and red emblem on the center reading M and "Metropolitan Company."
Source: www.steamship.net (no longer available)
Joe McMillan, 30 October 2001
---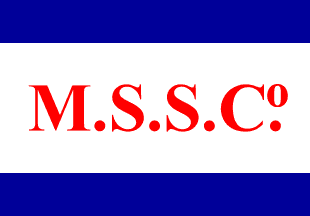 image by Joe McMillan
Metropolitan Steamship Co., New York (1866-1911)
Metropolitan provided service between Boston and New York and later between San Francisco and Los Angeles. It was taken over by the Wall Street speculator Charles W. Morse in 1905. The Morse shipping empire collapsed two years later leaving Metropolitan in bankruptcy. It was then absorbed into Eastern Steamship Lines in 1911. The flag was similar to that of Merchants Line for Washington, white with blue stripes at the upper and lower edges and the initials of the company, M.S.S.Co., in red.
Source: Reed (1896)
Joe McMillan, 30 October 2001
---

image by Joe McMillan
Mexico Shipping & Trading Co., New York (ca. 1950)
Flag was five horizontal stripes: red, white, green, white, red. No further information.
Source: Wedge (1951)
Joe McMillan, 31 October 2001
---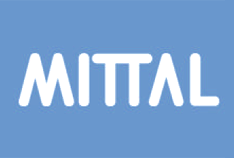 image located by Jan Mertens, 22 October 2006
Source: http://www.nyse.com
A photo showing a Mittal flag has turned up which I would locate in the US as the fleet came with the firm and because I do not know of any other Mittal ships. The Mittal flag is flying behind the 'Edward L. Ryerson' swallowtailed onomast. It is a light blue field, white stylized letters 'MITTAL' in white. This image can therefore be raised to the rank of flag image from the NYSE website.
Jan Mertens, 22 October 2006
---
US shipping lines house flags - 'M' continued