---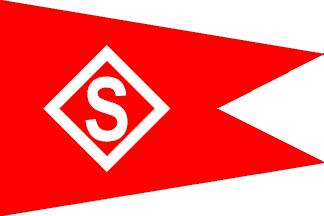 image by Joe McMillan

Sabine Transportation Co., Port Arthur, TX
The Sabine Transportation Company, from its flag and stack design nicknamed the "Diamond S," was founded in 1908 and has long been a substantial presence in the tug and barge business on the Mississippi-Missouri river system and the coast of the Gulf of Mexico. Since 1998 it has been a subsidiary of the Stickle Group of Cedar Rapids, Iowa. The company currently operates six ships, plus a number of tugs and barges. The flag is a red burgee with a white S inside a white diamond.
Sources: Stewart (1953), US Navy's 1961 H.O.
Joe McMillan, 18 November 2001

I was a Vice President of Sabine Towing and Transportation Company from 1984 until 1998 when the "real" company ended. Sabine, which operated a fleet of tugs, inland barges, and U.S. flag tankers commenced operations in 1909. The founding families merged the company with Chromalloy American Corp. (of St. Louis) in 1967. Chromalloy was acquired in the mid-'80's by Sequa Corp. (of NY)...and then Sabine was sold to Kirby Corp. (of Houston, TX) in 1992. In 1998, the Sabine ships, tugs, and property in Port Arthur were sold to two buyers, Hvide Marine, Inc. and Stickle Enterprises of Iowa. The barges were retained and renamed by Kirby. For all practical purposes, this asset sale ended Sabine. The name of the company was given upon request to Stickle Enterprises which retains it. All of the original Sabine vessels have been retired though the company in Iowa continues to use the name and logo.
Bill Withers, 20 November 2003

After the sale of the tankers to Hvide and Stickle Enterprises, Stickle continued to operate tankers under the Sabine Transportation Company name. Three of these were part of the original STC fleet but were eventually scrapped. STC under Stickle Enterprises grew to a fleet of 11 ships in 2003, all tankers. Stickle Enterprises was mainly involved in the grain trade carrying USAID cargoes to Africa, India, and other depressed areas. Most of these tankers were used in this trade until preferences no longer favored tankers being used. Some continued to trade in the Jones Act domestic oil market. As it became difficult to find cargoes for the ships, they were scrapped. By 2004 there was only one ship left and Stickle Enterprises hired a management company to operate it. Sabine Transportation Company became a manning agency at this time providing seafarers for the manning agency to work on the remaining ship. In May of 2005 the remaining ship was sold. Sabine Transportation Company was dissolved and Stickle Enterprises is no longer involved in the maritime industry as a ship owner, operator, or manning agent.
Capt. David P. Freer, 11 July 2006

An eBay offer last year concerned a similar flag, a tapering swallowtail identified as above but bearing a very thick diamond border - almost touching the flag's edges - and a large initial "S" (no serifs) within. This was offer no. 200404313545 (end 16 Nov 2009) put up by "mmarektx" who added "Measures 35 inches wide by 60 inches long" A relatively recent variant, perhaps – the "core flag" persists.
Jan Mertens, 18 February 2010
---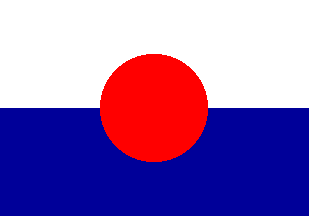 image by Joe McMillan
Sampson & Tappan, Boston (mid-19th century)
Sampson and Tappan was originally a China trading firm that joined in the thriving business carrying gold rush traffic to California in the 1850s. It was also apparently one of the most active lines in bringing Chinese immigrant laborers ("coolies") to both California and South America in the 1850s. Its most famous ships were the fast clippers Stag Hound (built 1850) and Westward Ho (1852). The flag was divided horizontally, white over blue, with a red disk on the center.
Source: paintings of clippers Stag Hound in Greyhounds of the Sea and Westward Ho in "The Clipper Ships")
Joe McMillan, 18 November 2001
See also: Donald McKay's Clippers
---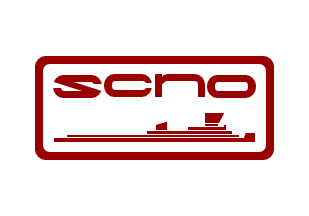 image by Eugene Ipavec, 21 February 2010
Preserved – for a brief time – in an eBay offer by "edwinart" (aka eBay Store Edwin's Stuff), the SCNO house flag to be presented is said to have been used in the nineteen seventies. Description (edited quote): "Roughly 24" x 36" inches / 4 x 6 feet / Dura-Lite ~ 95%F Nylon, 5% other fibers – Dettra Flag Products Printed Graphics. Has grommets. (...) Not Sure, but this barge lines may be located in St Louis Mo."

White field, central cartouche containing acronym "scno" in a special font above stylized drawing of a river barge, sailing towards the fly (the fenders are on the right side): all design elements brown.

The St Louis based company (the initials however referring to Sioux City and New Orleans I believe), year of foundation unknown to me, was an important inland shipping company especially on the Missouri. Found on the 'net are traces of towboats built in 1953, 1955, 1962, and 1965. Competitor American Commercial Lines bought SCNO in 1988.

This page lists nine towboats and one office barge: http://www.snow-board.com/fast/fasref.htm. Photo of a number of SCNO vessels in white and brown: http://www.littleriverbooks.com/photos/scnobgln.jpg.
As the initials on the flag are rather modern, it might be a good idea to keep a previous version in mind, seen at 00.13-00.16 in this YouTube filmlet: http://www.youtube.com/watch?v=TVdEzOADWuI&feature=related. Who knows, they might have appeared as such on a flag? And with an ampersand, too!
Jan Mertens, 11 February 2010
---
Scott and Morrell, New York (mid 19th Century)
I have nothing on the company, except that from the names of the lines it obviously specialized in coastwise shipping from New York to the American South, probably dealing in cotton. The flags are very similar to those of the well known Grinnell and Minturn, and there may have been some kind of business ties between the two companies. The New Orleans Line used a white and blue swallowtail divided by a horizontal V paralleling the cut of the fly. The Savannah Line was the same in white and red.
Source: chart of "Private Signals of the Merchants of New York"
Joe McMillan, 19 November 2001
---
US shipping lines house flags - 'S' continued