This page is part of © FOTW Flags Of The World website
Alberta (Canada)
Last modified: 2016-07-21 by rob raeside
Keywords: alberta | canada | mountains | plains |
Links: FOTW homepage | search | disclaimer and copyright | write us | mirrors

---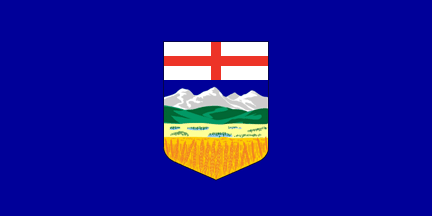 image by Clay Moss, 16 August 2009

ISO 3166-2 Code: CA-AB
MARC Code: abc
---
See also:
---
Flag
Blue with arms in the middle. ratio 1:2. officially hoisted 1968-07-01. Civil and state flag on land.
Željko Heimer, 16 July 1996
---
This flag was introduced by Provincial Order in Council No.75/67 (The Provincial Arms Act) of 17 January 1967, published in the 'Alberta Gazette', 31 January 1967, with Section 4 of 'The Flag Act' (Chapter 31 of the /Statutes of Alberta) of 1 May 1968 being enacted by a Royal Proclamation published in the 'Alberta Gazette' of 31 May 1968 and effective 1 June 1968. To the best of my information the flag was last confirmed by the 'Emblems of Alberta Act' (Chapter E8 Revised Statutes of Alberta) of 1980.
Although I don't have a copy of the relevant Order, I also understand that the shield is taken from the Provincial Arms granted by HM King Edward VII on 30 May 1907.
Christopher Southworth, 25 January 2005
---
The shield was the complete provincial arms when the flag was adopted in 1967. The crest, supporters and motto were added to the arms, but not to the flag, on the 75th anniversary of the creation of the province on 30th July 1980.
David Prothero, 26 January 2005
---
According to Title Three, Article (4) of the 1980 Emblems of Alberta Act (repeated from the earlier legislation) the "shield, centred on the flag, shall extend to 7/11 of the width of the flag" and this is confirmed by the several official illustrations I have on file which also show it to have proportions of 5:4 and to have a different shape to that we illustrate - my spec for this flag (based on 55 x 110 units) shows a width of 10-35-10 and a length of 41-28-41. This information is confirmed by the official website
The colour of the field is prescribed by Article (3) of the 1980 Act to be "standard paint colour-blue 202-101" in the Canadian Government Specification Board Range, but have nothing with which to draw a comparison to the varying images I have seen and have myself used PMS 280 as a sort of default shade.
As a matter of further information about the shield, I now have a copy so can confirm that the original Royal Warrant of 30 May 1907 was proclaimed in Volume XLL, No. 2 of The Canada Gazette dated 13 June 1907.
Christopher Southworth, 24 June 2007
The Law of 1980 gives the colour in the Canadian Standard Paint Range. As far as I can find out the shape of shield varies quite considerably on flags in actual use, however, both the Schedule of the Law and the official model I have on file show the shape as Clay has it.
Christopher Southworth, 14 August 2009
---
Armorial Bearings
From sympatico.ca:
Armorial Bearings of Alberta were officially granted by Royal Warrant, May 30, 1907, by King Edward VII. The shield is topped by St. George's Cross on a white background, representing King George III and symbolizing British heritage. An azure-blue (official colour of Alberta) sky highlights the snow-capped Rocky Mountains, shadowing the green foothills, the prairies and the wheat fields. Blue, along with Gold, are official colours of Alberta.

The Crest, Supporters and Motto were added to the Armorial Bearings by Royal Warrant on July 30, 1980, by Her Majesty Queen Elizabeth II.

The Crest sits atop the Armorial Bearings of Alberta and is comprised of a Royal Crown of sovereignty resting on a beaver's back which, in turn, rests upon a silver and red wreath which sits atop a blue helmet. The beaver is a symbol of Canada, representing the role of beaver trapping and the Hudson's Bay Company in Alberta's history. The traditional mantle is white and red, Canada's official colours.

The Supporters, a Gold Lion and a Pronghorn Antelope, represent power and the natural resources of Alberta respectively. They stand upon a grassy mound dotted with the official flower of Alberta, the Wild Rose. The Motto, FORTIS ET LIBER, means 'Strong and Free'
Valentin Poposki, 26-27 November 2005
---
Lieutenant Governor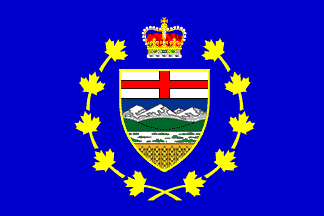 image by Marc Pasquin and Mario Fabretto
The official website of the Lieutenant Governor presents the flag as follows:

"The Lieutenant Governor's personal flag bears the Alberta Shield of Arms circled with ten gold maple leaves and surmounted by a royal crown on a field of blue. The flag is flown from the roof of the Legislature Building, alongside the Alberta flag, the Canadian flag and the Royal Union flag. When the Lieutenant Governor's standard is displayed it indicates that His Honour is in the Province.

The Governor General of Canada approved the flag, on behalf of Her Majesty the Queen, on September 28th, 1981. While it is sometimes referred to as the Lieutenant Governor's personal standard, this is incorrect in accordance with flag etiquette in Canada."

Guidelines for flying the flag and precedence rules are also provided.
http://www.lieutenantgovernor.ab.ca/120.htm

The flag was registered on the Public Register of Arms, Flags and Badge of Canada, 15 March 2005, vol. IV, p. 469. The flag is blazoned as: "Azure the shield of Arms of the Province of Alberta ensigned with the Royal Crown proper and encircled by a wreath of maple leaves Or."
http://archive.gg.ca/heraldry/pub-reg/project-pic.asp?lang=e&ProjectID=459&ProjectElementID=1553

Ivan Sache, 3 August 2010