Below please find illustrated the various diagonal stripes seen in vexillology, together with the terms that have been used to describe them and references to where they may be found in the main text as appropriate.
With regard to those stripes carrying compass directions, please note that in an east-west or west-east diagonal the end of the stripe nearest the top of the flag is given first, whereas, in all other cases the end closest to the hoist is that first listed.

Bend, Descending Diagonal, Falling Diagonal, Hoist Diagonal, Right diagonal or Right Diagonal Bar
See 'descending diagonal'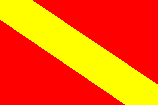 Ascending Diagonal, Bend Sinister. Fly Diagonal, Rising Diagonal, Reverse Bend, Left Diagonal or Left Diagonal Bar
See 'ascending diagonal'.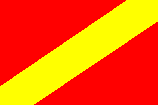 Reduced Bend or West-East Diagonal
See 'west-east diagonal'.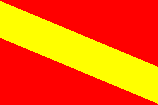 East-West Diagonal or Reduced Bend Sinister
See 'east-west diagonal'.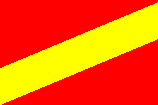 Enhanced Bend or North-South Diagonal
See 'north-south diagonal'.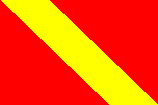 Enhanced Bend Sinister or South-North Diagonal
See 'south-north diagonal'.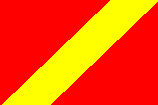 North-East Diagonal
See 'north-east diagonal'.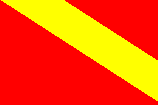 South-East Diagonal
See 'south-east diagonal'.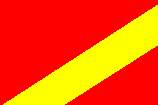 West-North Diagonal
See 'west-north diagonal'.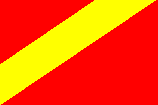 West-South Diagonal
See 'west-south diagonal'.