A favorite of many real estate agents and other professionals, these sets are ideal for displaying Advertising Message Flags. Each kit includes a 2-piece aluminum 1" pole,
a golden vinyl ball, and 2 nylon flag ties.


Length
Each
6'
$26.00
8'
$30.00
10'
$34.00
9'
Twist Lock
(Plastic Ball)
$32.00
3 section pole - save on shipping!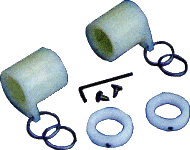 Prevent your flag from wrapping around the flagpole with the Never-Furl® Kit. The kit is easy to install and comes complete with everything needed including instructions and detailed drawings. No additional tools required.