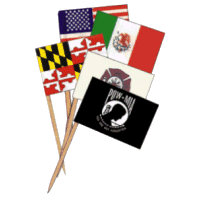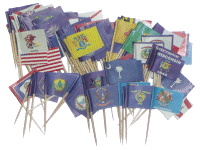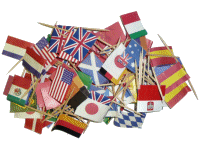 Paper flags mounted on toothpicks.
Approximately 100 of a kind per pack.


$9.00 per pack

Algeria, Argentina, Armenia, Australia, Austria, Bavaria, Belgium, Brazil, Canada, China, Colombia, Congo, Croatia, Cuba, Denmark, Dominican Republic, Finland, France, Germany, Greece, Haiti, India, Ireland, Isle of Man, Israel, Italy, Jamaica, Japan, Kenya, Korea-South, Mexico, Netherlands, New Zealand, Norway, Peru, Philippines, Poland/Eagle, Portugal, Puerto Rico,, Russia, Scotland/cross, Scotland/lion, South Africa, Spain, Sweden, Switzerland Tibet, Trinidad & Tobago, U.K., U.S.,

CSA, Gadsden,

POW/MIA, Support Our Troops,

Christian, Democrat, Eastern Star, Erin-Go-Bragh, Fire Dept, Masonic, Racing Checkered, Rainbow, Republican, Shriner

Alabama, Alaska, Arizona, Arkansas, California, Colorado, Connecticut, Delaware, Florida, Georgia, Hawaii, Idaho, Illinois, Indiana, Iowa, Kansas, Kentucky, Louisiana, Maine, Maryland, Massachusetts, Michigan, Minnesota, Mississippi, Missouri, Montana, Nebraska, Nevada, New Hampshire, New Jersey, New Mexico, New York, North Carolina, North Dakota, Ohio, Oklahoma, Oregon, Pennsylvania, Rhode Island, South Carolina, South Dakota, Tennessee, Texas, Utah, Vermont, Virginia, Washington, West Virginia, Wisconsin, Wyoming, Anne Arundel Co.

State Set
$15.00 per pack
- contains 2 each of 50 states + U.S.
Countries Set
$15.00 per pack
- contains 3 each of 35 countries