This page is part of © FOTW Flags Of The World website
Romania: coat of arms
România
Last modified: 2018-03-24 by rob raeside
Keywords: romania | coat of arms |
Links: FOTW homepage | search | disclaimer and copyright | write us | mirrors

---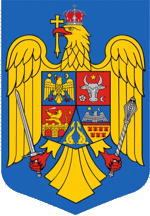 image located by David Phillips,

9 January 2018
---
See also:
---
Coat of arms adopted 24 September 1992.
The following is copied from the Romanian government's page about the Romanian coat of arms:
Romania's coat of arms has as a central element the golden eagle with cross. Traditionally, this eagle appears in the arms of the Arges county, the town of Pitesti and the town of Curtea de Arges. It stands for the "nest of the Basarabs," the nucleus around which Wallachia, was organised, the province that determined the historical fate of the whole Romania. The eagle, being the symbol of Latinity and a heraldic bird of the first order, symbolises courage, determination, the soaring toward great heights, power, grandeur. It is to be found also in Transylvania's coat of arms. The shield on which it is placed is azure, symbolising the sky. The eagle holds in its talons the insignia of sovereignty: a sceptre and a sabre, the latter reminding of Moldavia's ruler, Stephen the Great (1456-1504), also called "Christ's athlete" whereas the sceptre reminds of Michael the Brave (1593-1601), the first unifier of the Romanian Countries. On the bird's chest there is a quartered escutcheon with the symbols of the historical Romanian provinces (Wallachia, Moldavia, Transylvania, Banat and Crisana) as well as two dolphins reminding of the country's Black Sea Coast. In the first quarter there is again Wallachia's coat of arms on azure: an eagle or holding in its beak a golden Orthodox cross, accompanied by a golden sun on the right and a golden new moon on the left. In the second quarter there is Moldavia's traditional coat of arms, gules: an auroch head sable with a mullet of or between its horns, a cinquefoil rose on the dexter and a waning crescent on the sinister, both argent. The third quarter features the traditional coat of arms of Banat and Oltenia, gules: over waves, a golden bridge with two arched openings (symbolising Roman emperor Trajan's bridge over the Danube), wherefrom comes a golden lion holding a broadsword in its right forepaw. The fourth quarter shows the coat of arms of Transylvania with Maramures and Crisana: a shield parted by a narrow fesse, gules; in the chief, on azure, there is an eagle sable with golden beak coming out of the fesse, accompanied by a golden sun on the dexter and a crescent argent on the sinister; on the base, on or, there are seven crenellated towers, placed four and three. Also represented are the lands adjacent to the Black Sea, on azure: two dolphins affronts, head down.
Željko Heimer, 3 February 1997
Both Album des Pavillons (2000) and the illustration above have the sword and the sceptre shown argent (white, that is, of course). Flaggenbuch (1939) shows a
similar coat of arms used before WWII where the two elements are shown differently coloured. The sword is (light) blue with a golden handle and the sceptre is all golden (with a fleur-de-lys top, intentionally changed since then, I presume). So, I wonder, do we actually have the correct colours for the two items?
Željko Heimer, 22 December 2002
Note: For antiquarians and biologists! The term "aurochs" (pl. aurochsen) is used here to denote the extinct wild ox, Bos primigenius. Some references use "aurochs" to denote a different species, the European bison (Bison bonasus), which, although endangered, is not yet extinct; these authors use "urus" for B. primigenius (e.g., Webster's, 1913 edition). This usage is incorrect and should be discouraged. "Aurochs" and "urus" should be used for B. primigenius, and "wisent" for the European bison.
Alex Neumann, 18 March 2006
The Republic of Romania has re-established the old royal crown as a symbol in several of the stateís institutions; this went into effect from 1 January this year. The most significant change is the nationís coat of arms. The crown will also be present on all the nationís coins and banknotes printed from 2018. All other graphics and security features will remain unchanged on the new banknotes and coins. The coins and banknotes will gradually enter into circulation and will run in parallel with the old ones.
Source: http://royalcentral.co.uk/europe/romania/romania-reinstates-the-crown-in-their-coat-of-arms-94432
David Phillips, 9 January 2018
---
From 1866/67 until 1948 the civil ensign of Romania was the simple tricolour, without any emblem. Around 1900 three districts (Braila, Galati and Giurgiu) flown civil ensigns with their respective coat of arms on the yellow field; I don't know until which date this use survived. The flag with the State coat of arms on the yellow stripe was, from 1867 until 1947 the naval ensign. Until 1881 it was also used as princely standard and from 1881 to c.1900 as royal standard. In c.1900 the first royal standard of peculiar design was adopted, to be changed in 1922. In between 1867-1947 the coat of arms of Romania changed many times, so did the naval ensign. Most of the changes were concerning minor details, but at least four different versions of it are relevant (1867-1872, 1872-1897, 1897-1922, 1922-1947).
Mario Fabretto, 15 April 1997
The Coat of Arms was approved by the State Government, at the proposal of Ministry of Regional Development and Administration, counseled by the Heraldic Commission of the Romanian Academy (Comisia Naţională de Heraldică, Genealogie şi Sigilografie a Academiei Rom'ne), after municipal request. (regulated by Decision nr. 25 from 16 January 2003)

As for the flags, for a long time unregulated, now it's pretty much the same. (regulated by Law nr. 141 from 10 June 2015)
Alex Danes, 31 March 2016
---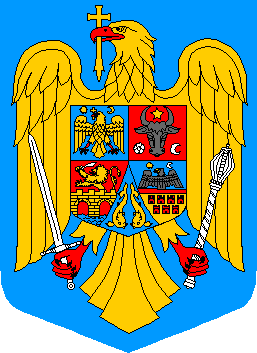 image by Pierre Gay, colours corrected by António Martins-Tuválkin, 8 September 2005