This page is part of © FOTW Flags Of The World website
Kingdom of Romania 1922-1948
Last modified: 2018-03-24 by rob raeside
Keywords: moldova | wallachia | romania |
Links: FOTW homepage | search | disclaimer and copyright | write us | mirrors

---

image by António Martins-Tuválkin See also:
---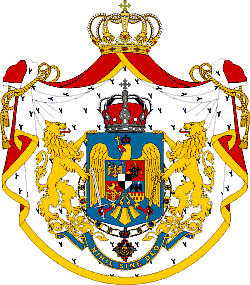 by Alex Danes, medium coat of arms after Răzvan Pala's outline
The Romanian government's website, coat of arms page, states:
The flags of Romania have combined the major colors of the arms and flags of Moldavia and Wallachia since 1859. The arms formulated in 1872 were used until 1921. The change in arms reflected the Union of 1 December 1918 which transferred new areas that were formerly part of the Austro-Hungarian Empire to Romania. Necessarily, such a change modified all flags that used the arms. The major changes were the addition of the arms of the House of Hohenzollern, the Crown of Romania and the dolphins which represent the Black Sea.
Calvin Paige Herring, 29 April 1998

Romania Coat-of-Arms dating back to 1921 and attesting, in terms of blazonry, to the Romanian people's fulfilment of its national desideratum. The field features a cross-bearing eagle with the insignia of power and a four-side escutcheon on its breast showing old traditional heraldic symbols; the cross-bearing eagle accompanied by the Sun and the moon (Wallachia); the auroch's head with a star between horns, flanked by the rose and a crescent (Moldavia); a lion crossing a bridge over natural waves (the Banat); a protruding eagle accompanied by the Sun, the crescent and the seven citadels (Transylvania); two facing dolphins (the country's maritime area).
Source: Bucharest State Archives, Heraldic Consultative Commission Funds, Annex, File 3. at www.cimec.ro
István Molnár, 25 February 2001

The coat of arms from 23 June 1921 is: Azure: an aquila Or, head at dexter, leggs and beak Gules, crowned with the Steel Crown of Romania, holding an Orthodox cross Or in its beak, the sword of Stephen III of Moldavia Argent in its right claw and a scepter Or in its left claw. The aquila symbolises the Roman ancestry of the Romanians. On its chest a shield quarterly with insition: I Azure the coat of arms of Wallachia; II Gules the coat of arms of Moldavia; III Gules the coats of arms of Oltenia and Banat unified; IV triband Azure, Gules and Or the coat of arms of Transylvania; V Azure the coat of arms of Dobrudja. This is known as the lesser coat of arms of the Kingdom, used by the ordinary Romanian authorities on their seals.

The shield is crowned with the Steel Crown of Romania and it is supported by two rampant lions Or, langued Gules (symbolising the Dacian ancestry of the Romanians), standing on a ribbon Azure lined Or, with the motto "NIHIL SINE DEO" Or. Behind the shield is the collar of the Carol I Order. All these are known as the medium coat of arms of the Kingdom. Only the Goverment's members and the Army had the right to use it on their seals.

The coat of arms is placed on a mantle Gules lined with Ermine. Above the mantle is a royal crown Or. This was the great coat of arms of the Kingdom, used only by the Parliament's chambers and the King on their seals (as state seal).
Alex Danes, 5 September 2008
---
I believe that a range of royals standards were adopted 24-APR-1922, and previosely the royal standard was a square national flag with full arms and a crown in each corner (without crowns for the heir prince). Before 1921 no standard for the queen or queen mother is reported in my sources.
Jaume Ollé, 6 January 1999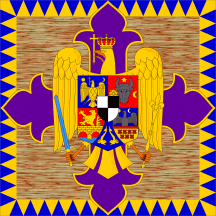 by Željko Heimer, based on Flaggenbuch (1939)
On a brownish textured field with blue-yellow triangle-patterned border overall is set a yellow bordered purpule fleury cross and over it the coat of arms of Romania: an Eagle or membered and beaked teine crowned and holding in his beak a cross also or, in his dexter claw a sword azure handled or and in his sinister a sceptre fleury of the last, bearing on his breast a shield quartered: first azure an eagle displayed or beaked and membered teine holding in his beak a cross or between a sun and a crescent also or, second gules an ox head afrontee between a rose and a crescent and in the chief a mullet of five all or, third gules a lion rampant issuant from a stone bridge or and in base water azure, fourth parted by a narrow fesse gules in the chief azure an eagle sable issuant beaked or between a sun or and a crescent argent and in the base or seven towers embattled four and three gules, fifth in base azure two dolphins afrontee heads to base, overall an escutcheon quartered argent and sable.
Precise adoption date unknown.
There are 13 (one invisible under the cross beam) yellow triangles along each side and a yellow corner-piece in each corner.
Željko Heimer, 23 December 2002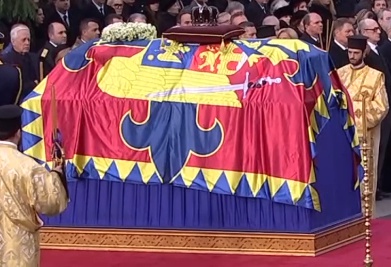 image located by Vexi-News, 23 December 2017
The former Romanian royal standard was used as a casket pall last week at the funeral of King Michael I of Romania.
https://www.rferl.org/a/romani-king-micheal-funeral-bucharest/28921893.html
The colors used are those of the Romanian flag.
Vexi-News, 23 December 2017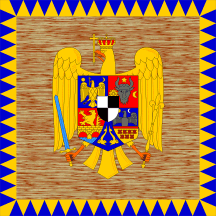 by Željko Heimer, based Flaggenbuch (1939)
As the King's standard, but without the purple cross.
Željko Heimer, 23 December 2002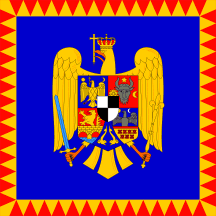 by Željko Heimer, based Flaggenbuch (1939)
As the King's standard, but without the cross, the main field blue, border red with yellow triangles.
Željko Heimer, 23 December 2002
A photograph of an actual example of this flag was posted on eBay in March 2003. Note that image is presented as the reverse. The owner noted that it dated from the reign of Carol II (Charles II) - this was from 1930 to 1940, which was also the time of the Flaggenbuch (1939) edition that shows this flag and used to construct the illustration above.
Bill Garrison, 11 March 2003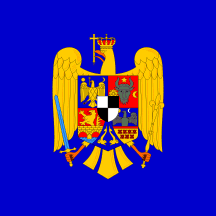 by Željko Heimer, based Flaggenbuch (1939)
As the Crown Prince's standard, but the field blue only, without triangulated border.
Željko Heimer, 23 December 2002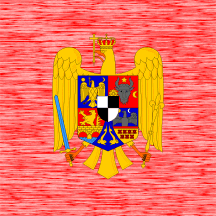 by Željko Heimer

Red-pinkish textured field with the coat of arms in the middle as on other royal standards. The Queen Mother's standard is reported in the Flaggenbuch (1992) reprint of Flaggenbuch (1939).
Željko Heimer, 23 December 2002

I didn't find the "queen mother standard" in my exemplar of Flaggenbuch. It is the source?.

Jaume Ollé, 6 January 1999

In the additional pages for the Flaggenbuch (1939), it is there.
Calvin Paige Herring, 06 January 1999
---
One should never be too precise in the colours when speaking of flags, apart of what officially stated in the laws and decrees. As a matter of fact, they depend on the material used to make the flag and the tints used to colour it. Different producers may comply with the official dispositions and still provide diverse shades. It is even more complex when we speak about royal symbols, as these were usually one of a kind, made out of precious materials that were unknown to ordinary flag makers. In the case of the Romanian banners, the images published on paper tried to reproduce a particular precious textile that was red-violet in shade. This is differently rendered in Neubecker's works (Flaggenbuch (1939)) and a number of other sources, for example in the Almanacco Navale of the Italian Navy,
1942 and 1943. Nevertheless they all refer to the same flag. On April 24th, 1922, the Royal Standard became a red-violet square with a border all around made of 27 yellow and azure triangles per side plus four yellow triangles in each canton. All over appeared a dark blue cross with a thin yellow contour, superimposed the lesser arms without shield and crown. In contemporary French Navy flag books the Royal standard is illustrated displaying the lesser arms, but these pictures are wrong, probably being based on oral descriptions.
Pier Paolo Lugli, 7 January 2003

I've seen there is a debate over the correct background of the king's, queen's and queen mother's standards. Their images, published in Enciclopedia Romaniei (1938) shows an identical pattern to the silk ribbons of awards and medals, and I think that's how they looked back then:


Alex Danes, 5 September 2008
---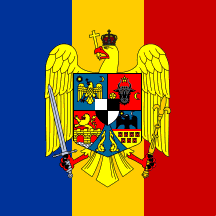 by Alex Danes
The standard of the Romanian Marshal Ion Antonescu was a square vertical blue-yellow-red tricolor, with the blue stripe near the hoist, having the eagle of the lesser arms of Romania embroidered in the middle of the standard, on both sides.

The original was made in Germany and had been used on Marshall Antonescu's car in Berlin, on November 23 1940, the day he signed the Anti-Comintern Pact and Tripartite Pact on behalf of Romania. The standard was sold in June 2006 on eBay for over $1,600.00 to a Czechoslovakian stamp collector.
Alex Danes, 3 October 2008