This page is part of © FOTW Flags Of The World website
Army flags of the Soviet Union
Last modified: 2022-02-05 by rob raeside
Keywords: army | star (fimbriated) | army flag | red army | error | kgb |
Links: FOTW homepage | search | disclaimer and copyright | write us | mirrors

---
See also:
---
About the Red Army
"The Red Army of Workers and Peasants" had its name changed to "Soviet Army" some time after WW II.
Tom Gregg, 25 February 1997
In 1946 the name was changed to Soviet Army and starting 1972, Army ranks below starŝina wore the abbreviation "СА" on their shoulder straps. In addition from c. 1972, others followed:
СА (SA)

Soviet Army

ПВ (PV)

border troops

ВВ (VV)

Interior Ministry

ГБ (GB)

KGB
Norman Martin, 15 Mar 1999
---
Republics' flags as Army flags?
W. Smith states [smi80] that these flags of republics (introduced in 1950s) were also military (or army) flags. Was there separate armies in USSR (which I doubt), or was there parts of Red Army stationed in each Republic that used republic's flags?
Željko Heimer, 10 April 1996
The flags of republics of USSR were only state flags (not war flags). The Army in USSR was indivisible. The republics had no armed forces, and the republican flags were not used in Army. Only in 1920'ies several Republics adopted "state and war flags" (Russia, Ucraine, Bukhara, Khoresm and others). It was confirmed by constitutions of each republic. I think this fact mislead W. Smith. After foundation of USSR old constitutions were in force some time until adoption of new ones. New constitutions said only about "state flags". I don't know when new constitutions were adopted first time, but to 1936-1938 all constitutions were renewed.
Victor Lomantsov, 10 December 1999
---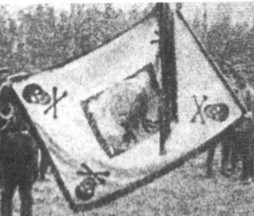 image located by Bill Garrison, 8 January 2022
Source: https://www.ranker.com/list/russian-revolution-photos/bailey-brown?ref=collections_btm&l=3137404&collectionId=2117
Bill Garrison, 8 January 2022
This photo is from 1917. It is a flag of the "Death battalion" in 38 infantry division.
The voluntary "death battalions" were organized in several regiments of Russian army in WWI from patriotic soldiers. They used skulls in their uniform as a symbol of readiness for death
In the centre of the flag – Jesus Christ and 4 skulls in the corners
On the reverse side - the motto "WE ARE READY TO DIE FOR MOTHERLAND"
Victor Lomantsov, 8 January 2022
---
Army flag surrogate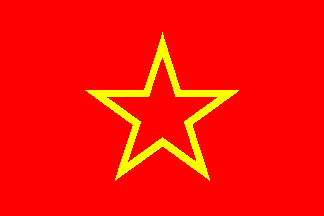 image by Nikolay Khimenkov, 13 Mar 1999

War flag of USSR, i.e. Red Army flag. It was plain red with a large red star edged yellow. Proportions 3:5. Source: [smi82]
Željko Heimer, 12 Jul 1996

This flag, red flag with red star bordered yellow, is an invention, a big vexillological fiction!. It has been published in many famous flag books (W. Smith 1975 and others — Russian books too) but it never existed as "Army Flag of the Soviet Union". There were only regimental (division etc.) colours in Soviet Army. No army flag.

Some postcards with drawings of this flag were issued sometimes in 1960-1980ths. They were congratulation postcards for the Soviet Army Day. In former USSR this holiday, 23 of February, was the informal Male Day, and all the men (as former soldiers, universal 2-year military conscription existed in USSR) and boys (as defenders of Motherland in future) received congratulations and gifts in their families. There were three flags on the post-cards: flag of Navy (real flag of 1935 — white field with red star, hammer and sickle, blue stripe in bottom), Flag of Aviation (real flag) and this "Flag of Army". Artists who made the post-cards drew as the non-existing "Army Flag" the Armed Forces Colours but without name and number of unit and in rectangular form (because two other flags, Navy and Aviation, on the post-card were in this form).

(I was surprised when saw this fictional flag in a Russian book on flags [iva71]. W. Smith published this fiction but he is American and not a big specialist in Russian flags. But why Ivanov repeated this fiction? Was he copying Smith's information?…)

Viktor Lomantsov, 10 December 1999 and 12 August 2000

There is a photo in page 30 of Inside the Soviet Army by Carey Schofield (photos by by Leonid Yakutin) which shows the army flag. It is not fictional, just unofficial (it is not mentioned in the Voennay Entsiklopedicheskiy Slovar, the official encyclopedia of the Soviet Military).
Miles Li, 09 June 2001