This page is part of © FOTW Flags Of The World website
Moheli (Comoros)
Mwali
Last modified: 2019-01-11 by bruce berry
Keywords: mwali | moheli | secessionist | crescent (white) | crescent: points to hoist (white) | star: 4 points (red) | star: 5 points (red on yellow) | doubt |
Links: FOTW homepage | search | disclaimer and copyright | write us | mirrors

---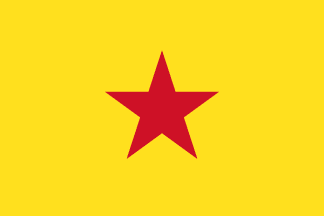 image by Ivan Sache, 13 Oct 1997 and 10 Oct 2002

See also:

External links:
---
About the flag
The "official" flag appears to be the yellow and red one as shown and described on this site
Chrystian Kretowicz, 18 Sep 2010
The official website confirms the yellow-red flag.
Dov Gutterman, 13 Jul 2005
Also shown as «National Flag of State of Mwali» at this page.
Gvido Petersons, 04 Apr 2003
In the (trustworthy?) site of a French-speaking journalists' association, I found confirmation for this. (We're now left to find out whatever happened to the black and yellow flag with white crescent and star, and to the yellow flag with red star.) The colour yellow is still "Mwali's color", as reflected by the four stripes of the national flag.
António Martins, 26 Mar 2006
The actual local flag now of Moheli in the Comoros under the new Union constitution is the same yellow-red flag used during the brief secessionist period.
Ben Cahoon, 01 Mar 2006
Oddly enough, it seems that the bicolor flag, once used by separatists, has become a sign of official allegiance to the central power, so that separatists have moved to the starry flag to express their claims.
Ivan Sache, 18 Sep 2010
Not unlike, say, Puerto Rico (cp. current and former separatists).
António Martins, 18 Sep 2010
---
Yellow flag with red star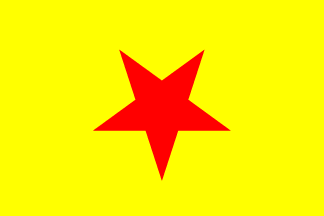 image by Eric Milan and António Martins, 15 May 2004

I am just coming back from Moheli island, and I can tell you that the yellow and black flag displayed on many websites is false: I can swear that the flag was yellow with red star.
Eric Milan, 04 Dec 2003

There is no Moheli flag anywhere on public buildings in Moheli; I found only 3 flags on the whole island:

Eric Milan, 04 Dec 2003
Four point variant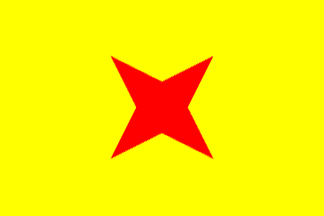 image by Eric Milan and António Martins, 15 May 2004
Hand sewn (incorrect) flag in the office of the MAMWE (Electricity and Water Company) Director (star with 4 branches instead of 5). I saw it at the director's desk, a hand made flag of Moheli. But he admitted that his wife forgot a branch of the star when sewing this flag.
Eric Milan, 04 Dec 2003
It seems that after all the official version of Mwali's red star has in fact 4 points. In the KweliMag website we see a photo of the new president of the island wearing the presidential sash (yellow with a 4-pointed red star). I find it hard to believe that the star on the sash can be different from the one used on the island flag!
Paraskevas Renesis, 08 Jul 2007
It shows the newly elected president (July 2007) Mohamed Ali Said wrapped in four-pointed flag.
Chrystian Kretowicz, 28 Mar 2008
---
Yellow flag with white crescent and black stripe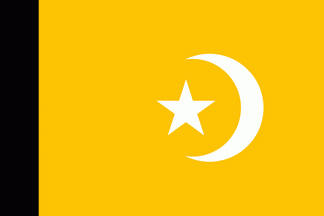 image by Horváth Zoltán, 15 Jan 2011
I came across with an interesting page about Mohéli/Mwali. This is website of Mwali International Services Authority (MISA), which is frequently updated (latest news put in January of 2010). It says that black-yellow flag with crescent and star has been adopted in 2002, stating that this is current flag of Mwali. Flag depicting on this page is slightly different than previously reported. Black stripe is narrow, and horn of crescent is short. The crescent and star emblem is small and slightly placed near to fly.
Horváth Zoltán, 15 Jan 2011
There is an official photo of 2002-2007 island President Fazul with the (new) national flag and a dark yellow flag with white crescent and star facing the hoist (the flag draped in such a way that a black hoist stripe would not be visible). This flag is still the one shown as the Moheli flag in several versions of Wikipedia: English and French (which it is not an authoritative source, as the official government webpage, but surely Comorian Wikipedia visitors would change the image or at least warn the editors about it…?)
António Martins, 24 Feb 2008
According my references, the flag is vertical dark and yellow (dark about 1/4 of the flag) probably black and yellow. Some info appear in Flag Report 36 [frp].
Jaume Ollé, 06 Aug 2003
Apparently, the island constitution of Mwali (Moheli) says nothing about flags; no "drapeau" nor "emblème" in this page.
António Martins, 02 Apr 2003
---
Separatist flag (11-28 August 1997)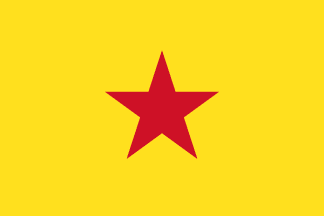 image by Ivan Sache, 13 Oct 1997 and 10 Oct 2002
It seems that the self-proclaimed Democratic Republic of Mwali lasted only from 11 to 28 August 1997.
Ivan Sache, 20 Apr 2002
Country: Moheli Island, Archipelago of Comoros
Status: Self-proclamated independent state (unrecognized)
Date: 1997.08.11-?
Usage: Unofficial "national" flag
Ratio: 3:2
Source: Franciae Vexilla 6/52 (1997.09) [frv]
Accuracy: High
Ivan Sache, 13 Oct 1997
On 6 August, NANDO Times reported that «The separatists in Fomboni, the main town on Moheli, hoisted the yellow-and-black flag of Queen Fatima Djoumbe, the last ruler of Moheli before colonization by France.» As usual, no design details are offered. (Source: "Separatists on Comoran island Moheli follow lead of Anjouan", NANDO Times, Global Briefs, 6 August 1997)
Jan Oskar Engene, 06 Aug 1997
The flag used by Fatima Djumbe is shown by Calvarin [clv02]: it was yellow and red, not yellow and black.
Ivan Sache, 20 Apr 2002
---
Other flags in Moheli
Grande Comore
The flag of Grande Comore can be seen on all official buildings in Moheli, because the island is also the head of the union and there is a conflict between the island and the union governments.
Eric Milan, 04 Dec 2003
France
The French flag was attempted raised for the French national day 14 June. (Source: "Barrages et drapeaux français à Moheli", Le Journal de L'Île, 6 August 1997)
Jan Oskar Engene, 06 Aug 1997
Reporting riots against the central power that broke out in Mohéli in May 2010, AFP, 27 May 2010, states:
A few home-made French flags have been hoisted on electricity poles, together with the Moheli flag, yellow with a red star.
Ivan Sache, 18 Sep 2010

---