This page is part of © FOTW Flags Of The World website
Lord of the Rings (series of movies)
Last modified: 2016-03-19 by peter hans van den muijzenberg
Keywords: movie | tolkien | lord of the rings | fellowship of the ring | the two towers | return of the king |
Links: FOTW homepage | search | disclaimer and copyright | write us | mirrors

---
See also:
---
The official site of the Lord of the Ring movie (based on the trilogy by J.R.R. Tolkien) has a wallpaper showing banners from the movie. The site is here and the wallpaper/screensavers appear when the cursor touches the "Legends" button. Clicking one of the two sizes will product and enlarged view of part of the picture, downloading and viewing the downloaded version will allow seeing the whole picture.
Michael P. Smuda, 11 May 2001
---
As far as I can see, they do not correspond to any flags mentioned in the books with the possible exception of the one in the lower right corner (Rohan: white horse in a green field). The animal on the wallpaper looks more like a dog, though.
Stefan Schwoon, 12 May 2001
---
The flags in the movies are slightly different from the plain sense of the text (for example, the Stewards' flag is not plain white, but has a white charge on white).
Nathan Lamm, 2 January 2004
---
It is my opinion that one may say that Tolkien was not much interested in heraldry and vexillology compared to the depth of his interest into other unusual fields of expertise he was providing in his works (e.g. scripts and calendars). His descriptions of flags are found scattered across the books but they are rarely useful to reconstruct what he really meant and how he imagined them to be. The flags are described mostly with most simple descriptions, like the one currently under the entry for Rohan
Thus we cannot know the shape of the flag was and how much intricate details it included. Most of the artists providing flags in their artistical visions of the Tolkien's world interpret these flags as full of details and ornamentations, giving a "celtic" ornaments etc. of which Tolkien mentioned nothing. The flag as he described, if we would follow the description of rohan - would be just a banner of arms of "vert a horse courant argent".
Željko Heimer, 2 January 2004
---
I'm pretty sure the flags in the film were as in the book, not as seen in the The tolkien shop flags.
James Dignan, 16 February 2004
---


Image taken from The tolkien shop's website.
Found by Lewis A. Nowitz
While they are nice, The tolkien shop's versions are not exactly "replicas." Aragorn's flag is a good example. First, the flag used in the movie and the color described in the book is black, not blue. Second, in the movie, the top and bottom edges curve to a point in the center, much like the bottom of a shield, not just curving the bottom to a flat fly end.
I may be nit-picking, but to me a replica should look the same as the original, except perhaps in scale. It should like contain many of the elements, but be different in shape.
Michael P. Smuda, 9 February 2004
---


Image taken from The tolkien shop's website.
Found by Lewis A. Nowitz
---


Image taken from The tolkien shop's website.
Found by Lewis A. Nowitz
---


Image taken from The tolkien shop's website.
Found by Lewis A. Nowitz
A blue flag for what every source gives black?! Is it like this on the movie?!...
António Martins-Tuválkin, 15 February 2004
---
Gondor was certainly black - but note that the Shop versions may simply be a "lighter" black (navy blue?)
Nathan Lamm, 16 February 2004
---
The Stewards' flag was not plain white, but had white charges (tree, stars) on it. (I think it was only in the Extended Version of The Two Towers.)
Nathan Lamm, 16 February 2004
---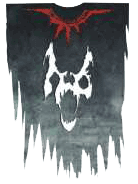 Image taken from The tolkien shop's website.
Found by Lewis A. Nowitz
Orcs in the Lord of the Rings movie carry all-red and all-black banners (with devices of their overlords).
Nathan Lamm, 5 January 2004
---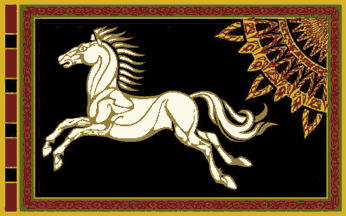 Image taken from The tolkien shop's website.
Found by Lewis A. Nowitz
Looks like it's modeled on a Tibetan "wind-horse" flag. Pretty.
Albert Kirsch, 11 February 2004
---
Shouldn't this be green? I've never saw any other color as the background of the white horse of Rohan...
António Martins-Tuválkin, 11 February 2004
---
Actually, this flag is the best "replica" they offer and the background is the color of the original in the movie.
Michael P. Smuda, 11 February 2004
Gondor was certainly green - but note that the Shop versions may simply be very dark green.
Nathan Lamm, 16 February 2004
---


Image taken from The tolkien shop's website.
Found by Lewis A. Nowitz