This page is part of © FOTW Flags Of The World website
Dominican Republic
República Dominicana
Last modified: 2016-03-14 by randy young
Keywords: dominican republic | republica dominicana | cross (white) | coat of arms: cross | dios patria libertad | liberty | fire | blood | struggle | sacrifice | olive | palm | flag | book: bible | bible | cross: latin (yellow) |
Links: FOTW homepage | search | disclaimer and copyright | write us | mirrors

---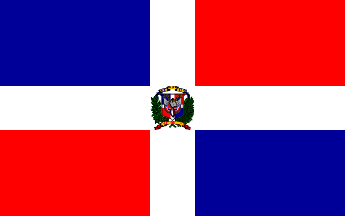 image by Željko Heimer, 16 June 2001
Proportions: possibly 2:3, 5:8, or 15:23
Usage Code:



Local Name: República Dominicana
ISO Code: DO DOM 214
FIPS 10-4 Code: DR
MARC Code: dr
IOC Code: DOM

---
See also:
External links:
Flags page at the Dominican Republic presidential website
reported by Vatse, 6 October 2001
(Ill-designed) flags page at the Dominican Republic army website
reported by Santiago Dotor, 9 April 2002
Escudo de la República Dominicana
reported by Dov Gutterman, 23 August 1999
---
Quartered with a white cross, first and fourth fields blue, second and third red. Origin of colours is from Haitian flag. It was officially accepted on 1844.11.06.
Željko Heimer, 12 December 1995
The flag with arms is not, in fact, merely the State Flag (

) in the way that this is normally meant in South America, but is the National Flag (

), as laid down in the Constitution:

The Constitution of the Dominican Republic
28 November 1966 (last amended 10 August 1994)
Article 95:

The National Flag consists of the colours ultramarine blue and vermilion red in alternate quarters, placed in such a way that the blue is towards the upper part of the staff, separated by wide white cross half as wide as the height of one quarter, and bearing in the centre the arms of the Republic. The merchant flag is the same as the National Flag without the coat of arms.

[cp. original]
Christopher Southworth, 11 August 2003

War ensign and jack (as of 1939): This is one of the five Dominican Republic naval flags in Flaggenbuch (1939-1941) [neu39]. (The others are civil ensign, flag of the Generalissime, flag of rear-admiral, head of a flotilla, and admiral flag)
Ivan Sache, 10 April 1999

This is acording the presidential decree of 1913.
Jaume Ollé, 14 November 1998

Adoption dates of the flags and arms is 6 November 1844 for both emblems [merchant ensign and national flag].
Ivan Sache, 18 November 2001
The blue is said to stand for Liberty, red for the fire and blood of the independence struggle, and the white cross is a symbol of sacrifice.
Dave Martucci, 12 October 1999

(The above is indeed a quote of Smith's Flags and Arms across the World [smi80], repeating Flags through the Ages and Across the World [smi75b].)
Ivan Sache, 19 October 2006

In El Nacional, 17 October 2006, Víctor Martínez mentions the symbolic value of the national flag, whose colours have a specific meaning:

blue represent the sky
red represents the blood shed by the patriots
white represents dignity, the peaceful character of the Dominicans, and their dedication to peace.
Ivan Sache, 19 October 2006

---
I would have assumed azul ultramar was ultramarine blue, which in US use is about plain blue (

) or dark blue (

). Pictures I've seen of the Dominican Republic flag, including in Album 2000 [pay00], seem to use very dark blue (

).
Joe McMillan, 7 January 2002

All Dominican flag images in Album 1995 [pie95] employ a light blue shade, but that was changed on Correction 30 [pay98] to dark blue and should not be significant.
Željko Heimer, 19 June 2001
The flag of the Dominican Republic is detailed in the Constitution, and whilst this lays down a width for the cross it does not give a ratio.
Christopher Southworth, 22 June 2003

It is remarkable how the legislators are able to write ambigous descriptions when trying to be as precise as possible. In the Constitution, the width of the white cross is described to be "half as wide as the height of one quarter" when it is not quite clear what is meant by the quarter — i.e. is it one quarter of the flag or one of the coloured quarters? The first option would make the cross width equal 1/4 of the hoist (i.e., hoistwide division of 3+2+3). The other one would make the cross width equal 1/5 of the hoist (i.e., hoistwise division of 4+2+4).
Željko Heimer, 12 August 2003

Kannik [kan56] says: (6+3+6):(10+3+10), making 15:23 (≈0.652).
Ole Andersen, 22 June 1998

The construction details are given in the Album [pay00] as (8+4+8):(13+4+13), =2:3 (≈0.667), though the picture does not conform to it (white cross seems wider). Other sources do not agree on the flag ratio, so that, e.g., [zna99] and [vdv00] have 5:8 (=0.625); [smi75c] and [smi82] have ≅2:3 (≅0.667).
Željko Heimer, 16 June 2001

Christian Fogd Pedersen also gives hoist measurements of 8-4-8 but proportions of 15:23.
Christopher Southworth, 12 August 2003
In El Nacional, 17 October 2006, Víctor Martínez complains about the national flag of Dominican Republic hoisted over the Palacio Nacional, which has been added a golden border ("el color dorado agregado en sus bordes," "un doradito" — I understand this is not a golden fringe). Martínez writes that the addition of the border might have aesthetic reasons but would decrease the symbolic value of the national flag.
Ivan Sache, 19 October 2006

---
The protocol manual for the London 2012 Olympics (Flags and Anthems Manual, London 2012 [loc12]) provides recommendations for national flag designs. Each NOC was sent an image of the flag, including the PMS shades, for their approval by the London Organising Committee of the Olympic and Paralympic Games (LOCOG). Once this was obtained, LOCOG produced a 60 x 90 cm version of the flag for further approval. So, while these specs may not be the official, government, version of each flag, they are certainly what the NOC believed the flag to be. For Dominican Republic: PMS 5255 blue, 032 red, 355 green, 109 yellow and black. The vertical flag is the horizontal version in 5:3.
Ian Sumner, 10 October 2012

---
According to Almomento.NET, of 7 April 2007, the Executive of the Dominican Republic has prescribed by Decree the half-staffing of the national flag as a sign of mourning, recording Jesus' crucifixion. The half-staffing, which concerns the Presidential palace as well as the army and police grounds, shall start on Good Friday (Crucifixion Day) and end on Easter Sunday at noon (Resurrection time).
Ivan Sache, 14 April 2007
José Arias Almánzar, in El Caribe (Santo Domingo), 2 September 2005, reports that a law proposal restricting the use of the national flag has been submitted to the Congress and the Senate on 25 August 2005. The proposal was motivated by the Dominican Academy of History, in order to "give brightness to the national identity in the current difficult situation of the Dominican nation." The proposal shall prohibit the use of the national flag on coffins of people who are not próceres and prohibit its reproduction on clothes, caps and "other dresses which would desecrate its patriotical value." Article 9 of the proposal prohibits the use of a partial or complete representation of the national flag for electoral propaganda and in politics, culture, sports and commerce, or as the distinctive emblem of a private organization. I understand they try to define a State flag and limit its use to State-sponsored event, but it is unfortunately not said whether this would apply also to the flag without the coat of arms in the middle.
Ivan Sache, 4 September 2005

---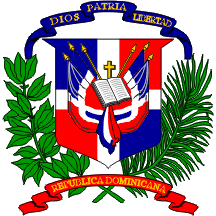 image by Željko Heimer, 16 June 2001 (clipart source: CorelDRAW)

Editor's note: The normal spelling of the country name is "República Dominicana" (with acute on "u"). However, when inscriptions are written in all capital letters, the accents in Spanish (like in some other Latin languages) are generally not included.

Various sources have the coat of arms of different size within the cross, reaching from height bigger than the cross width to height approximately 2/3 of the cross width.
Željko Heimer, 16 June 2001

This emblem is similar to the flag design and shows a Bible, a cross of gold, 4 Dominican flags and two spears on a pattern from the flag. there are bracches of olive and palm around the shield and above on a ribbon is the motto "Dios, Patria, Libertad" meaning "God, Fatherland, Liberty." Below the shield is another ribbon bearing the name of the country "República Dominicana."
Dave Martucci, 12 October 1999

On the flags page of the Dominican Republic presidential website the arms are quite different from the one we see generally for this country: letters in white, book outlining in black, different design of ribbons and of palms, etc.
Armand du Payrat, 15 October 2001

The correct spelling of the country name is "República Dominicana" (with acute on "u"), right? Shouldn't there be an acute over "U" in the arms ribbon as well?
Željko Heimer, 19 June 2001

By convention, the Spanish acute accents can be omitted when writing in all caps. But the tilda (~) on the Ñ can never be omitted because it is considered to be a separate letter and not an N with an accent. You will notice that the "AMERICA CENTRAL" is written without an accent on the emblems of that region.
Alex Garofolo, 25 April 2014

---