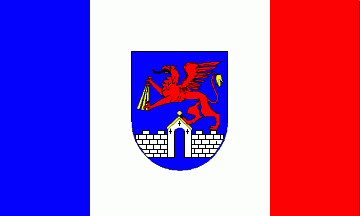 3:5, image by Stefan Schwoon, 18 Dec 2011
---
On this page:
See also:
---
Anklam city
Description of flag:
The ratio is 3:5. It is a vertical blue-white-red tricolour with ratio 1:2:1. In the centre of the white stripe is the traditional coat of arms. The seat of former Ostvorpommern County had been granted city rights in 1264 by Duke Barnim I of Pomerania.
Source: Günther 1998
Erwin Günther, translated by Klaus-Michael Schneider, 18 Dec 2011
The local council adopted the flag on 23 October 1997. The flag was approved by minister of interior of Mecklenburg-Westpomerania on 23 January 1998. The traditional coat of arms was confirmed in 1995.
Variant in Pomeranian Colours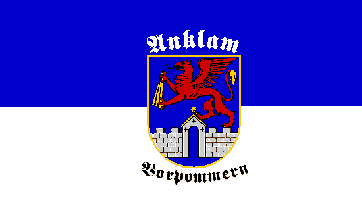 3:5, image by Jan Oskar Engene, 13 May 1996
Anklam is a city of ca. 18,000 citizens in the Pomeranian part of Mecklenburg-West Pomerania, seat of Ostvorpommern county. The flag is that of Pomerania, dark blue over white, with the coat of arms of Anklam on it. The coat of arms shows a red griffin armed golden (= yellow) of Pomerania over a grey town wall (for Anklam) on a blue field. The griffin is holding the symbol of Stralsund (a bundle of three straight horns, musical instruments). [On an actual flag I saw] above the shield was the word Anklam in white, underneath it the word Vorpommern [Hither Pomerania] in black. I tried asking the people representing the town whether the words were officially a part of the flag or just put there for convenience, but I did not get a clear answer. To my knowledge Anklam was kicked out of the Hansa back in the 1500's or 1600's, when revolting citizens murdered the senate and the mayor, but this information needs verification.
Tilo Moede, 15 May 1997
Anklam Flag in Use (until 1950)
Before WW2 the citizens used horizontal blue over white over blue tribands with ratio 1:2:1. The coat of arms was in the centre. Those flags were hardly ever used after 1950.
Source: Günther 1998
Erwin Günther, translated by Klaus-Michael Schneider, 18 Dec 2011