This page is part of © FOTW Flags Of The World website
Nova Scotia (Canada)
Nouvelle-Écosse
Last modified: 2023-10-21 by rob raeside
Keywords: nova scotia | canada | saltire | cross: saltire | lion | salmon | thistle (3) |
Links: FOTW homepage | search | disclaimer and copyright | write us | mirrors

---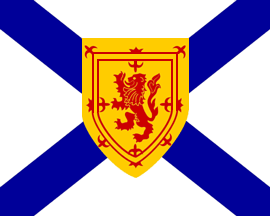 4:5, image by Clay Moss, 18 August 2009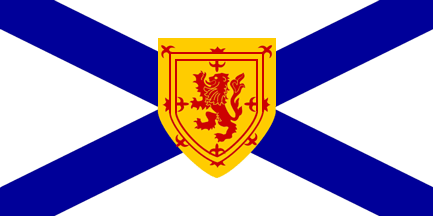 1:2, image by Clay Moss, 18 August 2009

ISO 3166-2 Code: CA-NS
MARC Code: nsc
---
See also:
---
Flag
White with blue saltire and 'Scottish lion' in a shield in the middle. Ratio 3:4. officially confirmed 19 January 1929. Civil and state flag on land and civil ensign on sea.
Željko Heimer, 16 July 1996
1. The N.S. flag is a reverse of the Saint Andrew's Cross of Scotland, with the royal badge of Scotland in the centre. Nova Scotia's flag was granted in 1625 by King James I, (James VI of Scotland) to Sir William Alexander, a Scottish noble and explorer for the establishment of a Colony in what was then French Acadia. At this time, Nova Scotia's coat of arms was also granted.
2. At the time of Confederation, Queen Victoria assigned new coats of arms and flags to all of the provinces. All of these flags may have been based on a Red Ensign, but I have never seen an N.S. Red or Blue Ensign. Nova Scotians hated this new coat of arms.
3. In 1925 a movement came forth asking for the return to the old flag and arms. King George V assented their request.
John MacLean, 19 July 1999
I have the text of the 'Royal Warrant Assigning Armorial Bearings to the Province of Nova Scotia' dated 19 January 1929. This was published in 'The Royal Gazette', Halifax, 4 December 1929, and refers both to the grant of Arms by H.M.. Queen Victoria on 26 May 1838 (which it cancels and annuls), and to those "recorded in or about the year 1625 in the Office of Our Lyon Kings of Arms in Scotland" (which it "grants and confirms"). The flag is only referred to in passing when it says that the arms may be used "upon Seals, Shields, BANNERS or otherwise according to the Laws of Arms" which is indeed (at least as far as I am aware) in any case "implicit in (any) grant of arms"?.
The only thing I have which refers to an official ratio is contained in 'Nova Scotia, Symbols', 1997 (published in both French and English), which states - without giving any further authority - that "The flag consists of Arms, with the Cross of St Andrew extended in a rectangle three-quarters as wide as its length". Despite this the accompanying illustration is of a flag in 1:2.
I should, perhaps, remark that on both the full Achievement of Arms, the flag, the Shield of Arms and House of Assembly Crest as illustrated in this last, the inescutcheon is shown with an obvious black border.
Christopher Southworth, 25 January 2005
As reported by CBC, http://www.cbc.ca/news/canada/nova-scotia/story/2013/05/08/ns-forgotten-flag.html, Nova Scotia's provincial flag is now confirmed.
An oversight from Nova Scotia's past is about to be fixed thanks to the work of an 11-year-old girl. Regan Parker was working on a heritage project for her class when she discovered that the coat of arms that represents Nova Scotia has never officially been recognized as the provincial flag. The student from the Fanning Education Centre in Canso flagged the anomaly to her local MLA, Jim Boudreau. He enlisted the help of researchers at the Legislative library.

"We checked with the executive council, leg library, Communications Nova Scotia, and so on, and in fact, it had never been recognized as the official flag," Boudreau said. Boudreau introduced a bill on Tuesday to confirm the 155-year-old white and blue flag as the official flag of Nova Scotia. He said he's impressed that a school project has found its way to the floor of the house.

The bill is expected to receive third and final reading on Thursday.
Rob Raeside, 9 May 2013
---
Proportions of the Flag
Canadian Provincial flags are often made in 1:2 to match the Maple Leaf, or just because the Canadian manufacturers are geared for 1:2 flags, just like those in many other places make all flags in 2:3 proportions.
According to the official <http://www.gov.ns.ca/cmns/flagspublic.asp> Nova Scotian website the flag is supposed to be 1:2 (not 3:4)!
Dean McGee, 20 February 2006
Yes, but see also www.gov.ns.ca where the "historic description" shows a flag that is 2:3.
I suspect the disparity lies in the fact that the provincial flag in NS has never been formally adopted - according to Fraser:
The authority for the armorial banner of Nova Scotia rests squarely with the grant of arms in 1625, but an armorial banner is not a provincial flag. The provincial flag of Nova Scotia has never been authorized, but relies on a tradition dating back to its first informal use in 1858. But neither 1858 nor any of the other frequently mentioned dates serves to establish the birth of a flag which formally does not exist. It seems that from the multiple-choice list of competing dates, the best answer is "none of the above."

It is firmly to be hoped that the government of Nova Scotia will one day pass the necessary legislation to officially give to the public that which it has coveted for so long.
Almost every flag seen flying in NS is 1:2, to match the national flag. That however, as Dean has already pointed out, is probably simply because they are made that way.
Rob Raeside, 20 February 2006
Whatever Fraser says, an armorial banner of the arms granted in proper form (and due process) to a province is de facto and de jure the provincial flag until the democratic process decides otherwise. The critical fact is (as I see it) does the grant of arms to a province entitle the residents of that province to fly an armorial banner of those arms, or is use of any such flag restricted to the provincial government?
Christopher Southworth, 20 February 2006
---
Erroneously reported red ensign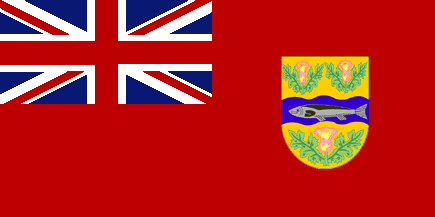 image by Jaume Ollé
Flags Through The Ages and Across the World by Whitney Smith shows the following ensigns for the provinces of Canada :
Nova Scotia - Red Ensign with a coat of arms that I'm not familiar with.
Chris Pinette, 30 June 1998
---
Flag of the Lieutenant-Governor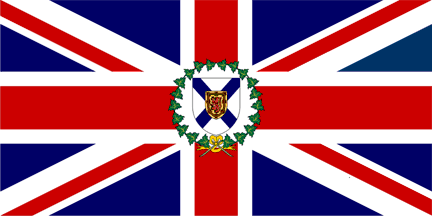 image by Martin Grieve, 6 September 2019
Badge detail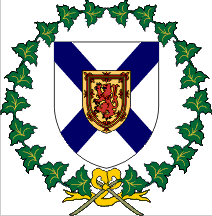 image by Martin Grieve, 6 September 2019
'NOVA SCOTIA : Approved 1869/08/07. The document is signed by Queen Victoria.'
This is the date of the Order in Council which instituted the whole system of Union Flag defacements for 'Governors of Her Majesty's dominions in foreign parts, and Governors of all ranks and denominations administering the Governments of British colonies and dependencies,'. It wasn't until 1870 that the Governor General of Canada received sanction to adopt a defacement which varied from the design stipulated by the Order in Council, i.e. a garland of maple leaves instead of laurel leaves. A book called 'Flags of the World; Their History, Blazonry and Associations' by F.E. Hulme published about 1890 is quoted for this. This variation was then extended to Lt. Governors. Defacements world-wide totaled 145, of which 24 are still current.
David Prothero, 17 February 1997
Do you know when Nova Scotia adopted the current defaced Union Flag design of 'A full ring of 18 green maple leaves....', which is set well within the circumference of the white disc? The original garland was the same as the maple leaf garland used on the flags of all the other provincial Lieutenant-Governors between each one's inception and the change to the current blue flag. This was a much more luxuriant garland, tied with a yellow ribbon, the whole garland concealing the interface between the edge of the white disc and the rest of the flag.
David Prothero, 17 February 1997
Lieutenant Governor of Nova Scotia from 1929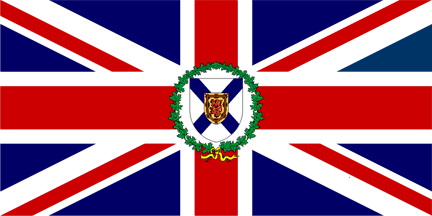 image by Martin Grieve, 6 September 2019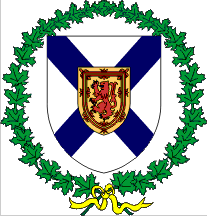 image by Martin Grieve, 6 September 2019
The 1992 reprint of the 1939 Flaggenbuch shows an illustration of Nova Scotia's badge complete with garland (as well as all the other provincial versions of LG flags) but with a rather intricate maple wreath instead of what the Admiralty show. Where did Neubecker get this from I wonder, as he would most certainly had access to the AFB?
Martin Grieve, 6 September 2019
Former Lieutenant Governor flag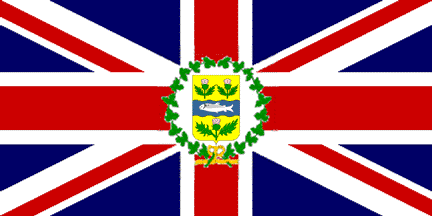 image by Martin Grieve
Former badge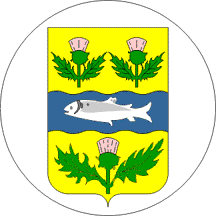 image by Martin Grieve
Nova Scotia was one of the four founding provinces and the thistle and salmon arms granted on 26 May 1868 were approved for use on the Union Jack of the Lieutenant-Governor afloat in 1870. I do not known whether it was used on land.
The 1868 arms were granted even though Nova Scotia already had arms. The original c1625 grant by Lyon King of Arms had been lost. It was re-entered in the register at the Lyon Court in Edinburgh sometime between 1805 and 1810, but ignored when arms for the Canadian provinces were being considered. These original arms, the Royal Arms of Scotland on a blue saltire were re-instated by royal warrant dated 19 January 1929.
This badge replaced the thistle and salmon badge on the Lt-Governor's flag afloat, but, according to Alistair Fraser in Flags of Canada, was probably not used on land until comparatively recently, except as a car flag in the 1950s, at which time the armorial banner was flown at Government House.
Nova Scotia's provincial flag, unlike those of all other Canadian provinces, has never been made official by legislation [but see Confirmation of the flag - ed.]. It is claimed that the right to create an armorial banner is implicit in a grant of arms, but British Columbia, New Brunswick and Prince Edward Island, which also have armorial banners as provincial flags, have made them official by Order in Council, Proclamation, or Act of Legislature. Fraser points out that in this respect the provincial flag of Nova Scotia is similar in status to the national flag of the United Kingdom.
David Prothero, 19 December 2002
---
Subdivisions of Nova Scotia
The Nova Scotia Federation of Municipalities maintains an updated list of regional municipalities, rural municipalites and towns.
Municipal entities (2023):
4 Regional Municipalities
9 County Municipalities
11 Municipal Districts
25 Towns
Aboriginal entities:
26 Indian Reserves (in 2007)
Flags of Subdivisions

indicates the municipality has informed us it does not have a flag.