This page is part of © FOTW Flags Of The World website
Halifax Regional Municipality, Nova Scotia (Canada)
Last modified: 2021-12-31 by rob raeside
Keywords: nova scotia | halifax | bird | kingfisher | ship | saltire |
Links: FOTW homepage | search | disclaimer and copyright | write us | mirrors

---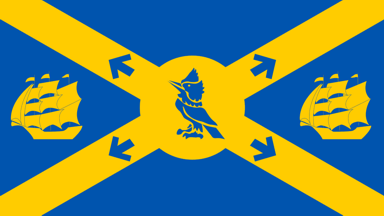 9:16 (1:2 usage) image by Eugene Ipavec
Source: Canadian City Flags, Raven 18
---
See also:
---
Halifax
The Halifax Regional Municipality came into existence on April 1, 1996 as a result of the amalgamation of the cities of Halifax and Dartmouth, the Town of Bedford and Halifax County Municipality.
Chris Pinette, 03 April 1999
---
Text and image(s) from Canadian City Flags, Raven 18 (2011), courtesy of the North American Vexillological Association, which retains copyright. Image(s) by permission of Eugene Ipavec.
The flag of the Halifax Regional Municipality has a blue field bearing a saltire (X-shaped cross) in yellow. In the centre is a yellow disc, half the height of the flag, bearing a kingfisher (Alcedo atthis) in blue with yellow details, looking toward the hoist. On each arm of the cross, near the disc, are short broad arrow shapes in blue pointing toward the corners of the flag. In the hoist and fly quarters are stylized 18th-century ships, with three masts, square sails, and pennants flying, in yellow and sailing toward the left.
Rob Raeside, Canadian City Flags, Raven 18, 2011
The flag is a banner of the municipality's arms. The Halifax Regional Municipality Council's Coat of Arms Committee originally proposed the saltire, a St. Andrew's cross, to celebrate the Scottish heritage of many citizens and to recall the cross in the provincial flag, symbolizing the municipality's status as the capital of Nova Scotia. The arms honour the four communities forming the Halifax Regional Municipality in 1996 (Halifax, Dartmouth, Bedford, and Halifax County). Each is represented on the arms by a specific element: the kingfisher for the City of Halifax, the 1760-era ships for the City of Dartmouth, the wavy blue bars (appearing only on the coat of arms, not on the flag) for the County of Halifax, and the broad arrows for the Town of Bedford. Some elements are repeated for aesthetic balance.
The blue field represents the harbours, the sea generally, and the nearby lakes, rivers, and the Shubenacadie Canal. The broad arrows refer not only to Bedford, but recall the long involvement of the authorities of the sovereign in defence and the presence of both land and sea-based forces. The arrows point in four directions, symbolizing the region's naval tradition, and indicating connections with all corners of the world. The sailing ships refer to the naval tradition of Halifax and the history of settlement. The kingfisher is a symbol of industry and appears in the centre, in part as it is the oldest symbol specifically created for a public government in the capital region (1860).
Rob Raeside, Canadian City Flags, Raven 18, 2011
The Halifax Regional Council applied to the Canadian Heraldic Authority for a grant of a flag, which it adopted through Administrative Order Number 19, respecting the Corporate Coat of Arms, Logo, and Flag. The Canadian Heraldic Authority made the formal grant on 15 July 1999.
Rob Raeside, Canadian City Flags, Raven 18, 2011
Robert D. Watt, Chief Herald of Canada, Canadian Heraldic Authority.
Rob Raeside, Canadian City Flags, Raven 18, 2011
The flag was not initially available to the public, and was provided only to civic authorities and flown only on civic property. An amendment to the Administrative Order in 2010 made the flag available for sale to the public, but restricted its use to "respectful purposes".
Rob Raeside, Canadian City Flags, Raven 18, 2011
---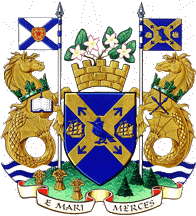 image based on Canadian Heraldic Authority
The symbols of the Halifax Regional Municipality were granted on 15 June 1999 by Letters Patented published in the Public Registry of Arms, Flags and Badges, Vol. III, p. 333, as announced on 22 July 2000 in the Canada Gazette, Vol. 134, p. 2,264.

Blazon
Arms
Azure a saltire or and a bezant merged thereon a kingfisher between four broad arrows points outward azure in fess two sailing vessels tempore 1760 flags flying to the dexter or;

Crest
On a mural coronet or issuant therefrom a sprig of mayflower of four blossoms proper;

Supporters
On a grassy mound vert set dexter with garbs or and sinister with spruce trees vert between barry wavy azure and argent dexter a seahorse or gorged with a circlet set with maple leaves vert pendant therefrom an open book argent bound azure holding between its legs a staff argent flying therefrom the banner of the Province of Nova Scotia proper sinister a like seahorse similarly gorged pendant therefrom two paddles in saltire azure holding between its legs a staff argent flying therefrom the banner of Halifax Regional Municipality proper;

Motto
E MARI MERCES;

Flag
A banner of the arms;

Badge
A bezant charged with a saltire of four anchors flukes outward first and fourth fouled azure ensigned by a coronet argent set with mayflowers proper.

Original concept of Robert D. Watt, Chief Herald of Canada, assisted by the heralds of the Canadian Heraldic Authority.
Painter: Linda Nicholson
Calligrapher: Suzzann Wright

Symbolism
Arms
The principal charge on the arms, St. Andrew's cross, identifies the municipality as the seat of government of the Province of Nova Scotia, whose arms also feature this charge. The four arms of the cross represent the four predecessor municipalities – the City of Halifax, the City of Dartmouth, the County of Halifax, and the Town of Bedford – which were amalgamated in 1996 into the Halifax Regional Municipality. The kingfisher is taken from the arms of the City of Halifax, while the ships and arrows recall the emblems of Dartmouth and Bedford respectively.

Crest
The crest is a version of that granted to the City of Halifax by the Chief Herald of Canada in 1992. The mural coronet is a centuries-old symbol of municipal government. The mayflower is the floral emblem of Nova Scotia, and its four blossoms honours the Halifax Regional Municipality's four predecessor local governments.

Supporters
The sea-horses signify Halifax's maritime location and heritage; their maple-leaf coronets celebrate the community's status as Canada's eastern gateway, and commemorate its contribution to the country's defence. The book honours the community's position as the seat of several institutions of higher learning. The paddles recall the canoes of the Mi'kmaq people and of the local settlers that once plied the region's waterways; they also pay tribute to the community's proud tradition of recreational water sports. The Nova Scotia flag is included by permission of the provincial government in recognition of the municipality's status as the provincial capital. The municipal flag recognizes the municipal government's obligations to defend the community's interests. The garbs of wheat and the trees represent the region's agricultural lands and forests respectively, and the blue and white wavy bars symbolize its maritime location while recalling the emblem of the former County of Halifax.

Motto
E MARI MERCES, meaning "Wealth from the sea", was for many years the motto of the City of Halifax.

http://archive.gg.ca/heraldry/pub-reg/project.asp?lang=e&ProjectID=855 - Public Registry of Arms, Flags and Badges

The memoir produced by Robert D. Watt (final version, 29 September 1999) provides an even more detailed description of the coat of arms. Some "technical" considerations were not repeated in the final grant:

Arms (Shield):
[..]
Council's Coat of Arms Committee proposed the idea of the St. Andrew's cross. [...]
It should be noted that the reason for repeating certain elements is purely aesthetic - to respect the rules of the artform and ensure balance. It is noteworthy, also, that several elements have multiple significance. The blue quadrants represent the harbours, the sea generally, as well as lakes, rivers and the canal. The broad arrows not only refer to Bedford but recall the long involvement of the authorities of the Sovereign in defense and the presence of the forces, both land and sea-based. The ships have a symbolism beyond Dartmouth and can represent the ongoing importance of the great sheltered harbour, of maritime-based commerce and defense. The kingfisher is placed in the centre, in part, as it is the oldest symbol specifically created for a public government in capital region (1860).

Crest (above the shield):
At the Committee's request, this is set directly on the shield. Torques or wreaths are granted with most municipal arms in Canada but this grant continues the exception given in the grant to the former City of Halifax in 1992. [...]

Compartments and Supporters:
[...]
The seahorses were selected by the Committee and approved by Council as being the best option for meaning, symmetry and optimum aesthetic impact. [...]

Motto:
[...] After the motto of the Province, this is the second oldest motto for a government in Nova Scotia.

Flag:
Following the major flag tradition in heraldry, the civic flag is a banner of the arms, that is the elements of the shield are set out on a rectangle, redrawn so that they properly fill the new space.

http://www.halifax.ca/Community/coatofarmsdetail.PDF - Municipal website

Administrative Order Number 19 "Respecting the Corporate Coat of Arms, Logo and Flag", aka "Corporate Coat of Arms, Logo and Flag Administrative Order" was passed by the Regional Municipality on 19 October 1999. The symbols are described as in the grant of arms. Some Articles are specific to the flag and its use:

3.4. The official flag shall be hung in the Council Chamber and shall be flown at City Hall. The official flag shall be reserved for official or ceremonial purposes such as presentation to community groups, use at commemorative parks or use at traditional sites such as the Public Gardens and Point Pleasant Park, with its availability and distribution to be in the discretion of the Mayor and Councillors.

3.5. Not withstanding subsection (4), the public may, in accordance with Schedule A, purchase duplicate copies of the official flag for use in a manner respectful of the values and image of the Municipality.

3.7. The logo flag may be flown at all municipal buildings and facilities other than City Hall.

4.1. The coat of arms, official flag, the shield and badge, and logo and logo flag of the Municipality as well as any coats of arms, flags and symbols of the former City of Dartmouth, City of Halifax, Town of Bedford and Halifax County Municipality shall only be used by a corporation or individual other than the Municipality with the permission of the Regional Council in accordance with the terms and conditions set forth in Schedule "A". [This Article suggests that the former symbols of the components of the HRM were not formally abolished.]

Schedule A, approved on 16 January 2001, includes the following prescriptions:

1. The official flag shall only be used in public settings, provided that the official flag is used in an appropriate and respectful manner.

a. Duplicate copies of the official flag may be produced and sold to the public provided that they are produced based on the standards and guidelines as outlined by the Office of the Municipal Clerk to be registered in the registry of the Government of Canada Public Register of Arms, Flags and Badges.

3. a. The logo flag shall not be for use by members of the public.

http://www.halifax.ca/legislation/adminorders/documents/AO19.pdf - Municipal website

The new flag was unfurled on 28 March 2000.
"Mayor Walter Fitzgerald and Members of Halifax Regional Council will officially unfurl the municipality's new flag at a ceremony in Grand Parade next week. Mayor Fitzgerald will officially proclaim the flag, which bears the municipality's new coat of arms, and raise it up the flagpole in Grand Parade. Citizens are invited to attend the ceremony and share in a special cake which is being prepared, bearing HRM's new coat of arms."
http://www.halifax.ca/mediaroom/pressrelease/pr2000/000324fe.html - Municipal website, Media Room

A photo of the flag is shown on the municipal website, presented by Halifax members of the Multinational Brigade, North West (MNB NW) Headquarters located in Banja Luka, Bosnia-Hercegovina (2004).
http://www.halifax.ca/council/mayor/news/bosnia2004.html - Municipal website, Office of the Mayor

It appears that the blue shade is lighter than on the image shown on the FOTW website, and that the flag has 1:2 proportions. Some details of the kingfisher are also omitted on our image.

As far as the City of Halifax is concerned:

"Its prospering seaport and military importance were symbolically linked in the City's Coat of Arms granted in 1860. It displayed a fisherman with a cod fish in his right hand and a Naval seaman as supporters of a blue shield consisting of a gold kingfisher (an heraldic symbol for the fishing industry) surmounted by a golden mural crown in the form of an embattled wall, a device widely used in civic heraldry. On a ribbon at the shield's base was the City's motto E MARI MERCES ("WEALTH FROM THE SEA")."
http://www.halifax.ca/community/HalifaxCityHall/prospering_halifax.html - Municipal website

"During the celebrations surrounding the bicentenary, the lack of standardization in the reproduction of the City's "arms", caused City Council to authorize the preparation of a revised coat of arms. After considerable deliberation, a new coat of arms gained approval from Council and the Provincial government on 22 October 1964 before its official registration with the Patents Office in Ottawa to prevent unauthorized use. It differed chiefly from the old coat of arms in having the cod fisherman and naval seaman portrayed in 1860 dress, the year the first arms had been adopted."
http://www.halifax.ca/community/HalifaxCityHall/coat_of_arms_and_mace.html - Municipal website
Ivan Sache, 1 August 2012
---
Logo Flags of Halifax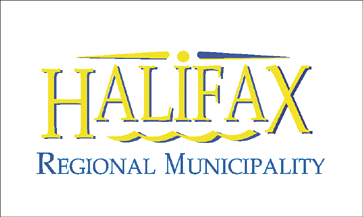 image by Jaume Ollé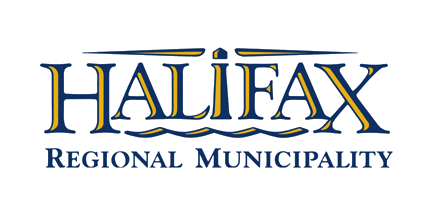 1:2 image by Eugene Ipavec


Source: Canadian City Flags,

Raven 18

In the 1998 administrative order adopting the flag, a Halifax Regional Municipality logo flag was also defined. It has a white field with HALIFAX in large serif letters, running over three-fourths the length of the flag. The central "I" has a dot or a disc above it (in some variants this "I" is shown in the shape of a lighthouse), with beams extending to the left and right across the top of the word, and the middle five letters, "ALIFA", shorter, with a wave below them. All these are in blue with yellow highlights to the left, giving the font and other elements a three-dimensional effect. Below, running the length of "HALIFAX", is Regional Municipality in blue serif letters. This logo flag was widely used in the first few years of the existence of the Halifax Regional Municipality, but has largely dropped out of use in favour of the official flag, which has proven more popular. The logo flag is restricted to municipal purposes only.
Rob Raeside, Canadian City Flags, Raven 18, 2011
---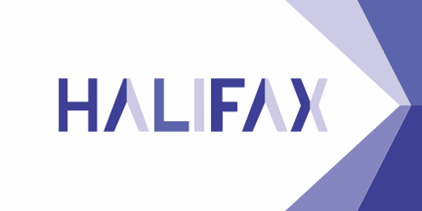 image by Rob Raeside, 12 June 2017
I encountered a new flag in Grand Parade, which with a bit of googling turns out to have been introduced in May 2014 (http://thechronicleherald.ca/metro/1209524-halifax-s-new-flag-flies-at-grand-parade). "Halifax" commonly refers to the city on the east side of Halifax Harbour, but can also refer to the Halifax Regional Municipality, which includes the former city of Dartmouth, town of Bedford and Halifax County. I gather this new banner is somewhat controversial as the name "Halifax" is being used alone, a term which residents of other parts of the Regional Municipality object to.
The colour in the article states that it is blue (specifically huckleberry blue, moss blue, lupine blue and dogwood blue – I think that refers to the four shades from darkest to lightest on the fly). The flag I observed was definitely on the purple side of blue, but so are huckleberries, lupines and dogwood.
Rob Raeside, 12 June 2017
Photographs seem to show it a bit less purple, to me, like lupins in more acidic soil. More on the subject: http://halifaxbloggers.ca/noticedinnovascotia/2015/01/run-it-up-the-flagpole.
Peter Hans van den Muijzenberg, 12 June 2017
---
First flag of Halifax (to 1995)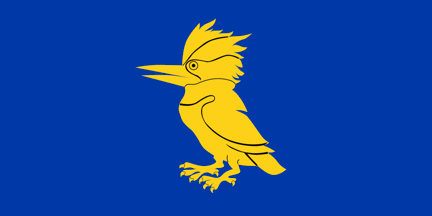 1:2 image by Eugene Ipavec


Source: Canadian City Flags,

Raven 18




The former flag of the City of Halifax depicted a golden yellow kingfisher, a symbol of industry, on a blue field. Although use of the kingfisher dates to 1860, the flag was approved by the minister of municipal affairs on 22 October 1964 and adopted on 1 July 1992 when the Chief Herald of Canada granted the city its arms.
Rob Raeside, Canadian City Flags, Raven 18, 2011
---
Former flag of Dartmouth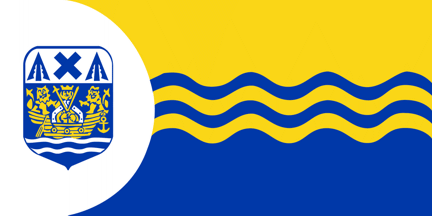 1:2 image by Eugene Ipavec
Source: Canadian City Flags, Raven 18
The former flag of the City of Dartmouth is a yellow over blue bicolour, horizontally divided by four blue and yellow wavy lines, and a semicircular field of white at the hoist bearing the municipal arms in blue, white, and yellow.
Rob Raeside, Canadian City Flags, Raven 18, 2011
---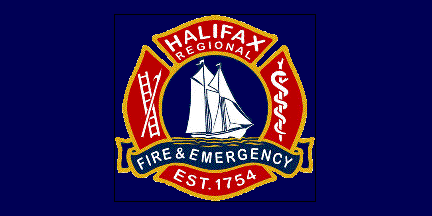 image by Ivan Sache, 1 August 2012
The Union Fire Club was formed in Halifax in 1754, effectively becoming the first organized fire department in Canada, and one of the oldest in North America. It became the Union Engine Company in 1768. In 1996, following the formation of HRM, 38 fire departments were incorporated into Halifax Regional Fire and Emergency Service.

Halifax Regional Fire & Emergency Service unveiled its new flag on 13 January 2004, when celebrating its 250th anniversary. The flag is dark blue, with a golden fringe, in the middle the badge of the service.
http://www.halifax.ca/fire/PDFs/feedline_vol_32.pdf - "FeedLine", No. 32, January-February 2004
http://www.halifax.ca/fire/August172011.html - Opening of the annual Halifax County Exhibition, 17 August 2011
Ivan Sache, 1 August 2012
---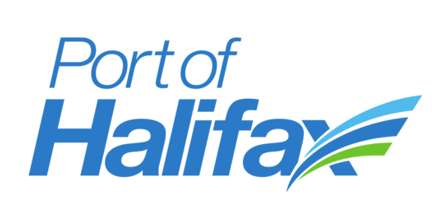 image by Dave Fowler, 21 December 2021
Flag is a logo on white.
Port website: https://www.portofhalifax.ca/
Dave Fowler, 21 December 2021