This page is part of © FOTW Flags Of The World website
Maine (U.S.)
Last modified: 2021-05-08 by rick wyatt
Keywords: maine | united states |
Links: FOTW homepage | search | disclaimer and copyright | write us | mirrors

---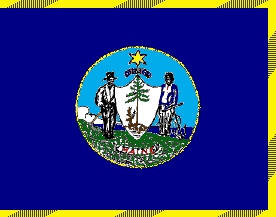 image by Dave Martucci, 6 September 1996
Official Maine State Flag on Land since 1909

---
---
See also:
---
In 1820, two stars were added, representing Alabama and Maine, bringing the total number of stars on the U.S. flag to 23. There were thirteen stripes representing the thirteen original colonies.
---
Official Flag of the State of Maine
On February 23rd, 1909, the 74th Maine Legislature passed the following law:

Section 1. The flag to be known as the official flag of the State of Maine shall be of blue, same color as the blue field in the flag of the United States, and of the following dimensions and design; to wit, the length, or height, of the staff to be nine feet including brass spear-head and ferrule; the fly of said flag to be five feet six inches, and to be four feet four inches on the staff; in the center of the flag there shall be embroidered in silk the same on both sides of the flag, the coat of arms of the State of Maine, in proportionate size; the edges to be trimmed with knotted fringe of yellow silk, two and one-half inches wide; a cord, with tassels, to be attached to the staff at the spearhead, to be eight feet six inches long and composed of white and blue strands.

Section 2. The flag of the State of Maine to be carried by the regiments of the National Guard of Maine shall be the same as the flag described in the first section of this Act, with the addition of two scrolls in red, one above and one below the coat of arms of the State; in the upper scroll the inscription '___ Regiment Infantry,' and in the lower scroll the inscription 'National Guard State of Maine.'

Section 3. The Adjutant General of the State of Maine is hereby directed to provide a flag, in accordance with the description given in the first section of this Act, and keep the same deposited in the office of the Adjutant General, as a model; and for this purpose the sum of two hundred dollars, or so much thereof as may be necessary, is hereby appropriated, out of any moneys in the State Treasury not otherwise appropriated.

Section 4. Chapter 233, An Act to establish a State Flag, approved March 21, 1901, and all acts or parts of Acts inconsistent with the provisions of this Act be and the same are hereby repealed."
Note that the military flag was modified in 1954 by the deletion of the top scroll and a change in the wording on the bottom scroll to "Maine National Guard." In addition, the governor, as Commander- in-Chief uses a 3'x 5' indoor State of Maine with fringe, on a staff as his rank flag. The earliest known State of Maine Militia Flags were white with the shield of Arms in the center.
by Dave Martucci 6 September 1996
---
Maine Flag as Commonly Used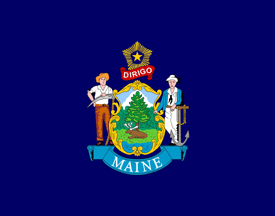 image by Clay Moss, 12 March 2009
The Maine State Flag as defined by law does not exist. There are no examples of the flag that correspond to the written description of it found in the Maine Statutes. Even the Adjutant General's Model Flag doesn't correspond: it is not made of silk, does not have the silk fringe and cord and tassel made of silk, is not embroidered, and it bears the common usage Coat of Arms rather than the Official Coat of Arms as adopted in 1820. (The commonly used arms were drawn in 1919 supposedly by the book illustrator Henry Gibson.)

There are no official colors for the arms, so there are considerable variations in flags as used. Particularly in the coloring of the forest scene on the shield. The Model State Flag shows purple trees behind the White Pine Tree on the shield. Other known examples show the trees as yellow, pink, red, orange, and even green!

Typically, the Flag as commonly used is 3 by 5 feet or 2 by 3 feet in size, screen printed nylon with the common version of the arms in the center. It is not fringed, not mounted on a 9 foot pole and does not have the cord and tassel attached to it.
Dave Martucci, 6 September 1996
---
Maine Coat of Arms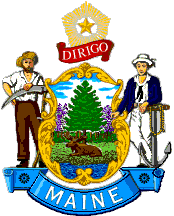 image by Joe McMillan, 20 February 2004
The coat of arms of Maine was adopted by a law of June 9, 1820, three months after Maine's admission to statehood. The law described the arms as "A Shield, argent, charged with a Pine Tree, a Moose-Deer, at the foot of it, recumbent. Supporters; on dexter side, an Husbandman, resting on a scythe; on sinister side, a Seaman, resting on an anchor. In the foreground, representing sea & land, & under the Shield, the name of the State, in large Roman capitals, to wit MAINE. The whole surmounted by a Crest, the North Star. The Motto, in small Roman capitals, in a label interposed between the Shield & Crest, viz. DIRIGO."

This language is quoted verbatim in the current law defining the state seal, Title 1, Maine Revised Statutes, Section 201. The arms were proposed by a committee chaired by state senate president William Moody. The concept of the design is credited to Benjamin Vaughn, the official description and explanation to Isaac G. Reed, and the original sketch of the design to Reed's stepdaughter Bertha Smouse. Reed's explanation of the design identifies the "moose-deer" as Cervus alces, A NAME now reserved for the European elk; the North American moose native to Maine and depicted on the arms is correctly Cervus canadensis. The moose symbolizes the unsettled lands of Maine as well as the spirit of independence and liberty.

The pine tree was described by Reed as "the staple of the commerce of Maine [and] the pride of her forests." He specifies the tree shown as a mast pine, and describes it as having five needles in each cluster. This identifies it as an Eastern white pine (Pinus strobus), which commonly grows to 30 meters (100 feet) and can reach 50 meters and more. On account of its size, the trees were prized for use in making ships' masts, hence the name "mast pine." Reed also cites the evergreen ("semper viridis") nature of the pine as reflecting the hopes of the citizens for the future of the state.

The crest, a single star, represents Maine as a state, alluding to the stars in the crest of the U.S. coat of arms a representing the collection of states. The North Star (Polaris, Alpha ursae minoris) is specified as appropriate for what was at the time the northernmost state. The motto, "Dirigo," which translates as "I direct" or "I guide" refers to the role of the North Star as the mariner's guide, implying a similar role for the state within the Union.

The supporters symbolize agriculture (dexter) and commerce and fisheries (sinister).

The website of the Maine secretary of state points out that there have been many variations in the way the emblem on the seal has been portrayed, but also notes that "all the variations [were] based on the language above." This includes the difference between Bertha Smouse's original sketch and the current rendition. On the other hand, it is worth pointing out that the current version of the arms, fixed by the legislature in 1919, does not conform to the blazon, in that the field of the shield is shown as a landscape with blue sky, not white (argent) as stipulated in the law. In addition, it would appear from the original sketch that the design committee intended the "sea & land" prescribed for the "foreground" to form a compartment upon which the farmer, sailor, and shield would stand, not to be shown on the shield itself. Given the ambiguous and un-heraldic phrasing, however, this variation is not surprising.

Now the controversial part. On our Maine page, Dave Martucci contends that the flag in common use as the Maine state flag is not the official state flag prescribed by law. In arguing this, he agrees with Whitney Smith, who shows the same flag shown at the top of our page as the Maine state flag in [smi75b]. This flag has on the center a circle bearing a reproduction of the 1820 sketch. This implies that only the 1820 Smouse sketch is a valid representation of the coat of arms, but under traditional heraldic practice as well as according to the obvious intent of the Maine state legislature, this is not the case. As stated on the Maine secretary of state's website, any rendering that conforms to the verbal blazon is a valid coat of arms, something that Americans of the 19th century seemed to understand more instinctively than we do today. The 1820 legislature did not enact the Smouse sketch but rather the Reed "blazon." The artist who engraved the 1880 seal and the legislature that approved it would not have considered it as deviating or changing the arms adopted in 1820 but simply as depicting them in a different style. Thus, it seems to me that what is shown on the Maine flag in actual use is in fact a legitimate representation of the coat of arms of Maine as prescribed by law and that therefore the supposed distinction between the "official flag" and the "common use flag" is spurious.

Joe McMillan, 20 February 2004
---
Governor's Flag
I have a letter in my files from the Governor of Maine that he uses a 3x5' Maine State Flag with fringe as his official flag and this custom has been in effect since Governor Curtis proclaimed it in the early 1970s.
Dave Martucci, 27 February 2000
---
State Military Crest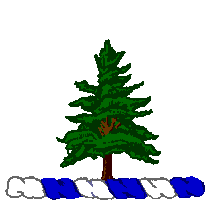 image by Joe McMillan, 21 April 2000
The state military crest, which is the crest used in the coats of arms of units of the National Guard, as granted by the precursor organizations of what is now the Army Institute of Heraldry. The official Institute of Heraldry blazon is "A pine tree proper."
Joe McMillan, 21 April 2000