This page is part of © FOTW Flags Of The World website
Dutch Houseflags of Shipping Companies [k]
Last modified: 2022-06-18 by rob raeside
Keywords: kemperman | koole | kooren |
Links: FOTW homepage | search | disclaimer and copyright | write us | mirrors

---
Other "K" companies:
See also:
---
Van der Kamp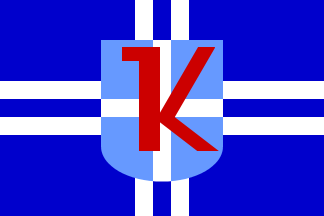 image by Eugene Ipavec, 20 Feb 2010

Van der Kamp bv is a Dutch dredging firm (also active in the production of concrete which does not need concern us here) established at Zwolle, capital of Overijssel province. Website, Dutch mostly – click on the "K" flagoid: The company offers an overview of different tasks pertaining to dredging (left menu): deposition of sand or gravel extracted by them at sea and inland, removal of polluted deposits, and water injection as an alternative means of dredging.
'Baggerschepen' (i.e. dredging ships) presents five specialized vessels none of which flies a regognizable house flag.
The flagoid on the website, does represent the real item. Witness this photo. Blue field traversed by twin horizontal and vertical stripes, forming a slightly offset cross at the centre of which appears a blue shield bearing a white cross throughout (Zwolle; drawn in softer tones) over which is placed a red initial "K" in a fantasy font.
Above description is based on the flagoid but a photo of 'Alinda B' – the biggest I could find – seems to show a flag with a traditional cross! Reached by clicking the name on this page. The Van der Kamp concrete production part of the site uses a completely different logo but an indistinct blue flag, possibly the one presented above, appears on that section's every page.
Jan Mertens, 4 Feb 2010
---
Kemperman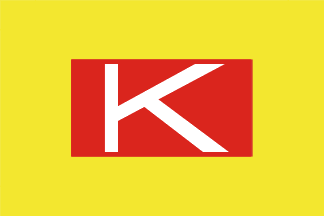 image by Jarig Bakker, 8 Apr 2007

Seen several times by Jarig at Amsterdam on a Dutch, then on a Belgian barge a striking inland house flag, yellow, having a red rectangle in the centre bearing a large white initial 'K'.
This flag can be seen on this Binnenvaart page (vessel named 'Rina' since 1987), and identified (the vessel) as belonging to R.J. Kemperman, Rotterdam, private owner. The same boat is shown here, first photo of a series showing that flag (less clearly however).
Further research did not yield very much although a list surfaced of inland navigation fodder transporters, one of which is Kemperman.
Jan Mertens, 8 Apr 2007
---
A.M. van der Kolk bunkerstation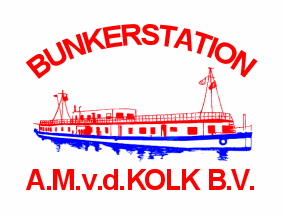 image by Eugene Ipavec, 31 Jul 2008

Thanks to the Marktplaats site I am able to attach a white flag showing the floating bunker station of A.M. van der Kolk – rendered in the national colours! - and bow pointed towards fly end – with bowed name above it 'BUNKERSTATION' (in red) and company name 'A.M. v.d. KOLK B.V.' underneath (also in red). No. 173288007 offered by Ghis (Westdorpe, Zeeland), page accessed today, dimensions given as 73 cm x 96 cm, made of nylon.
"BS Dintel" to be considered the brand or operational name of the company legally known as 'A.M. Van der Kolk b.v.'
Jan Mertens, 3 Jul 2008
---
Jan Kooren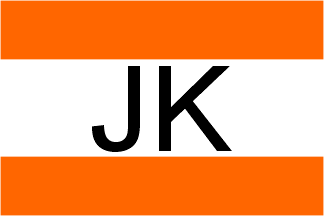 image by Jarig Bakker, 24 Mar 2006

'Sleepdienst Jan Kooren v/j Rederij Antonie Kooren & Zonen' (Towage Service Jan Kooren formerly Shipping Co. Antonie Kooren & Sons" at Rotterdam is featured in "Duwvaart" by Jansen & Van Heck on pp. 48-50.
A brief note tells us that Kooren already maintained tugs in 1911 and that current (i.e. 1988) heavy transport is a job for push navigation vessels, most of them chartered.
Various archived articles on the web mention Jan Kooren's acquisition by competitor Smit Internationaal late 1998 or beginning (effective?) 1999.
The b/w flag show by Jansen & Van Heck is horizontally divided orange – white – orange with black initials 'JK' in the white stripe (which takes up ? of flag height).
Such a flag is shown by Josef Nuesse, (second from top), but I do wish the orange was more orangey, the stripes look red. Another difference is the white stripe which is not wider than the others, and lastly 'JK' is not centred but "Duwvaart" shows it so.
Photos of flying JK flags I found on the net are inconclusive, alas.

Please do not confuse with Adriaan Kooren at Rotterdam, the present Kotug.
Jan Mertens, 16 Mar 2006
---
Ton Kooren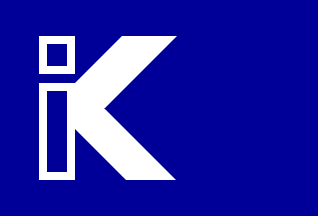 image by Anto'nio Martins-Tuva'lkin, 25 Jan 2008

Featured in 'Duwvaart' by Jansen & Van Heck is 'Ton Kooren / International Marine Services' at Rotterdam. Shown in b/w, the flag is said to be blue with a white initial 'K' the left part or stem of which is voided and transformed into an initial 'i' which must be, logically, white. This mark is shown in the centre of the flag taking up about 1/3 of the length and 3/5 of the height.

Recently a Ton Kooren table flag (unidentified however) appeared up on 'Marktplaats' (Dutch auction site) under no. 135781141 put up by "flyto26" (site accessed 17 Dec 2007). This version has the logo shifted to the hoist, taking up 1/2 of the flag.

Unfortunately I have not yet found any photo showing this flag in action so the question remains where the logo is, or was, really placed assuming, of course, that only one version exists, or existed.

Briefly mentioned on the Kotug site, Ton Kooren aka International Marine Services is presented as "handling all national and international enquiries in respect of world-wide towages, salvages, dredging-assistances, barge transportations and offshore operations": This sounds more like an auxiliary service-oriented company than the push boat operator it must have been at one time (the book 'Duwvaart' was published in 1988).
Jan Mertens, 24 Jan 2008
---
Gebr. de Korte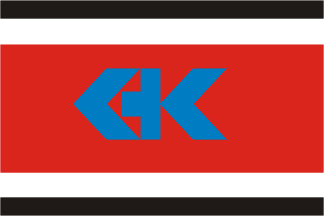 image by Jarig Bakker, 20 May 2006

The Netherlands are a godsend to people who like waterways, and there are lots of navigating brothers, too! At Tholen in Zealand, for instance, we find Gebr. de Korte Handel- en Transportmaatschappij BV (De Korte Brothers Trading and Transportation Co.) which is active in freighting.

The aptly named Vlootschouw ("fleet review") site shows a flagoid of this firm. Essentially a red flag with blue stylized 'GK' initials in the centre, it is horizontally edged by black (outer) and white (inner) stripes. The division seems to be something like 1:2:6:2:1. See it on this page, middle of logo column:
This is a real flag however, and it can be seen waving on the 'Onderneming II' (the vessel 'Enterprise II' indeed), here, confirmed by the information down the page, that Gebr. De Korte operated this barge between 1979 and 1989. (I do not know when this firm was founded.).
Jan Mertens, 19 Apr 2006
---
H. van Krieken & Co.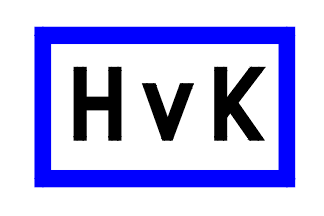 image by Jarig Bakker, 20 Jul 2008

A site dedicated to Rotterdam's colourful – and partly maritime – past "Rotterdammers" seems to be down again. They had a page titled (Dutch, old spelling) "Maatschappij-vlaggen en schoorstenen der voornaamste Reederijen Rotterdam in 1925" i.e. Company flags and funnels belonging to the most important shipping companies at Rotterdam, 1925. This suggests the house flags had been taken from a chart or some other publication.

H. van Krieken & Co.' meaning: H. van Krieken & Co., Ltd: White field with black initials 'HvK' (no serifs) within a blue orle (inner border).
I am indebted to this weblog for essential information: Ships listed on this page were active between 1917 and 1936:
'Milly' owned by Skandia at Rotterdam was operated by VK between 1917 and 1919; 'Hollandsch Diep', also operated by VK 1918-1922, belonged to Hollandsche Vrachtvaart at Rotterdam; 'Marsdiep' operated for same owner 1918-1919; 'Poeldiep' owned by Frisio at Rotterdam operated by VK 1924-1936, then owned for two more years.
Further traces seem to indicate existence till 1947 – I have no idea about the year of foundation nor do I know anything about the presumable founder(s).
Jan Mertens, 16 Jul 2008
---
Krolex Shipping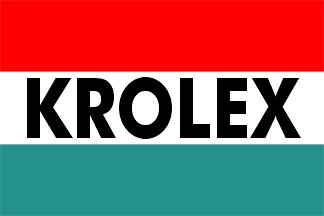 image by Jarig Bakker, 11 Jul 2008

Another recent Maatstaf (Dutch auction site) feature was the flag of a tiny Dutch company, Krolex Shipping. Image based on the offer (no. 173093584 dated 2 Jun 2008 and put up by "Ghis" from Westdorpe, Zeeland) concerned a flag horiziontally divided red-white-green with the name 'ROLEX' in large black letters in the white stripe. Dimensions given as 90 cm x 140 cm.

This page presents Krolex and its founder, Hans Krol: Founded in early 1968, Krolex started out as a clearance agency and developed into a brokerage company for inland and coastal shipping, exclusively so since between 1983 and 1993/ Then the firm turned into a one-man maritime consultancy business (project development and ship construction). A stint with a Dutch shipyard 1993-99 offered Mr Krol valuable insights into the river cruise business resulting in several building orders.
Krolex is established at Delfzijl, a port in NE Netherlands opposite the German Emden.
Jan Mertens, 7 Jul 2008
---