This page is part of © FOTW Flags Of The World website
Graft-De Rijp (The Netherlands)
Noord Holland province
Last modified: 2021-07-03 by rob raeside
Keywords: graft | de rijp |
Links: FOTW homepage | search | disclaimer and copyright | write us | mirrors

---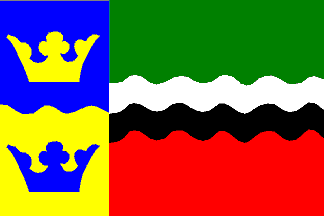 by Jarig Bakker, 10 Sep 2004
adopted 9 Sep 2004 See also:
---
Graft-De Rijp municipality
A flag was adopted 9 Sep 2004 by municipal resolution:
"A hoist of two equally high wavy bars of blue and yellow, with two three-leaved cloverleaf-crowns countercharged, the crowns of 1/5 flag height; a fly of four wavy stripes of green, white, black and red, proportioned 5:2:2:5".
On 1 Aug 1970 the municipalities of Graft and De Rijp merged to form the new municipality Graft-De Rijp, which had no flag until now. All colors from the municipal arms are represented in the new flag.
The two crowns symbolize the original independent municipalities, which received its wealth (the crowns) from and out of the water (the blue and wavy bars), and the earth (black), and the meadows (green).
Source: Graft-De Rijp municipal website.
Number of inhabitants (1 Jan 2003): 6.396; area: 21,76 km². Settlements: De Rijp (seat), Graft, Markenbinnen, Noordeinde, Oost-Graftdijk, Starnmeer, West-Graftdijk.

---
Graft-De Rijp Coat of Arms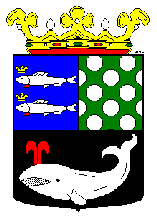 image from Ralf Hartemink's site.

Granted 16 Dec 1970. Graft-De Rijp does have a Coat of Arms, in which the Rijper herring-fishing and whaling have been depicted. Most remarkable are the silver pennies, which remind of the so-called "zeevarende buidels" (seafaring bags). They were a kind of insurance for sailors, a.o. for ransoms for sailors who had been taken prisoner by privateers.
Source: "Noord-Holland en zijn gemeenten", 1981
Jarig Bakker, 2 Jun 2003
---
Graft village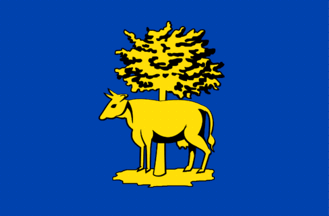 image located by Valentin Poposki, 17 May 2021, after image from the Graft-De Rijp municipal website.

Here is the flag of Graft village. It is a banner of arms. In Koffie Hag "Nederlandsche Gemeentewapens", 1924, T van der Laars wrote:
"In blue on a loose base a cow in front of a tree, all or.
This Coat of Arms originated in the old village seal from the beginning of the 17th century. Graft was a former "Ämbachtsheerlijkheid" (manor) and the largest "banne" (judicial area) of the Schermereiland (island in the former Schermer lake), and was first mentioned in 1216. The first settlers of the Schermereiland were people from the "Geestkant" (Akersloot and Limmen), who were farmers and stock-breeders. Although they intended to stay there temporarily the conditions were so favorable that they stayed there."
Jarig Bakker, 2 Jun 2003

---
Graft Coat of Arms

image from the Graft-De Rijp municipal website.

Granted 26 Jun 1816

---
De Rijp village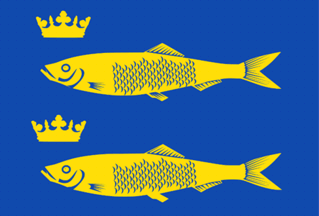 image located by Valentin Poposki, 17 May 2021

Graft and De Rijp are both beautiful villages with two beautiful 17th century municipal buildings.
At this webpage is the village flag of De Rijp, a blue field with two yellow herrings, each with a yellow crown. It's a banner of arms of the old municipal arms, referring to the old fishing tradition, including whaling. (more info in Dutch on Ralf Hartemink's site).
Jarig Bakker, 23 Aug 2002

De Rijp village was founded by Grafters, who wanted to profit from the then still open connection with the sea. De Rijp owned, after Enkhuizen, in the 17th century the most herring-houses in Noord-Holland. In c. 1654 whaling began; it was a De Rijper. who was the first harpooner, Marten Michielszoon. In this village was born Jan Leeghwater, one of the most famous Dutch polder-makers. He was a simple miller; from 1608-12 he had 26 mills built, to make the Beemster lake dry. From 1631-35 he used 51 mills to make the Schermer lake dry. In between he built the Council House of De Rijp in renaissance-style (a precious jewel!).
Jarig Bakker, 2 Jun 2003
---
De Rijp Coat of Arms

image from the Graft-De Rijp municipal website.

Granted 26 Jun 1816
---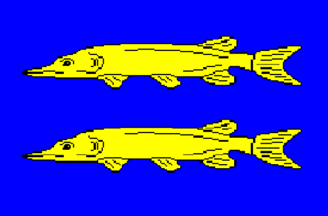 image located by Valentin Poposki, 17 May 2021
Two yellow sturgeon on a blue field.
Source: https://en.wikipedia.org/wiki/Grootschermer
Valentin Poposki, 17 May 2021
---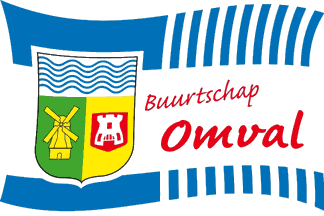 image located by Valentin Poposki, 17 May 2021
Flag of the Hamlet of Omval from its Facebook page https://www.facebook.com/media/set/?vanity=BuurtschapOmval&set=a.311702058882181
Valentin Poposki, 17 May 2021
---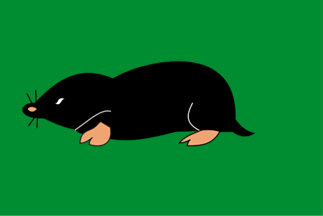 image located by Valentin Poposki, 17 May 2021
A mole on a green field.
Source: https://en.wikipedia.org/wiki/Schermerhorn
Valentin Poposki, 17 May 2021