This page is part of © FOTW Flags Of The World website
Leeuwarden municipality (The Netherlands)
Provincial capital, Fryslân province
Last modified: 2018-12-15 by rob raeside
Keywords: leeuwarden | lion |
Links: FOTW homepage | search | disclaimer and copyright | write us | mirrors

---

Shipmate Flagchart : http://www.flagchart.net
adopted 1 August 1947
Other Leeuwarden pages:
See also:
---
Leeuwarden municipality
Number of inhabitants (1 Jan 2003): 90.516; area: 84,11 km². Settlements: Leeuwarden (seat), Goutum, Hempens/Teerns, Lekkum, Miedum, Snakkerburen, Wirdum/Swichum, Wytgaard.
Leeuwarden/Ljouwert (Ljout, locally: Luwarden) is the capital of the Dutch province Friesland/Fryslân.
This flag was readopted 1 August 1947 after an image from a flagbook of 1708. Before that the citizens used a flag of two bars of Blue and Yellow. But no less than 21 sources depict for Leeuwarden a flag with a yellow lion; in 16 cases on a green field, in 5 cases on a blue field.
Source: Sierksma, Nederlands Vlaggenboek, 1962.[sie62]
Jarig Bakker, 28 August 1999

---
Leeuwarden pennant

image by Jarig Bakker, 21 Oct 2006
unofficial; design: Fryske Rie foar Heraldyk.

Mr. Rudolf J. Broersma just sent me the municipal pennant (wimpel) of Leeuwarden: square blue hoist charged with a yellow lion passant, a two colored fly of blue and yellow. (Frisian city-colors). It is not yet officially adopted but used very often.
Jarig Bakker, 21 Oct 2006

---
Leeuwarden Coat of Arms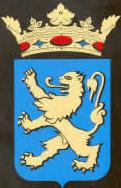 image from this webpage.

Granted 25 Mar 1818.

---
Goutum village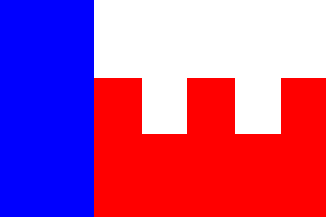 Shipmate Flagchart : http://www.flagchart.net
adopted 1994; Design: Rudolf J. Broersma

Goutum, municipality Leeuwarden/Ljouwert, Friesland/Fryslân, the Netherlands. It was till 1944 part of Leeuwarderadeel.
The battlements on the flag refer to the Wiarda State, one of the last 'stinzen' (castles) in Friesland (demolished 1882).
Jarig Bakker, 18 January 2001

The flag of Goutum is an abstraction of the arms, which include a.o. three goblets. These refer to the jocular nickname for the former "states" (fortified houses) near the village: Emingastate was "Drinkuitsmastate" (drink me), Burmaniastate was "Putsmastate" (draw me), and Wiardastate "Schenkinsmastate" (pour me). These "states" are represented in the flag by the three red embattlements in white (colors of Oostergo). The blue stripe symbolizes the Van Harinxmakanaal, on which the village lies.
Rudolf J. Broersma, 1 Sep 2006

---
Huizum (Huzum) village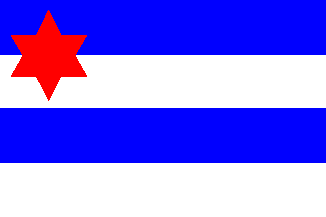 Shipmate Flagchart : http://www.flagchart.net
adopted 1994; Design: Rudolf J. Broersma

The flag of Huizum is based on Leeuwarden's flag, the colors blue and white refer to the colors of the municipality of Leeuwarderadeel, to which Huizum belonged until WWII - it was even its seat, hence the star. Blue and ahite are also the colors of Huizum's main claim to fame, the soccerclub Blauw-Wit '34.
Rudolf J. Broersma, 1 Sep 2006

---
Swichum village
Shipmate Flagchart : http://www.flagchart.net
adopted 1994; Design: Fryske Rie foar Heraldyk

The flag of Swichum has an opposite and elegant diagonal division compared with the flag of Wirdum; from that division emanates one of the cloves from the coat of arms. The clover was chosen because Swichum was a purely grass-village ("greidedoarp"), where no corn was cultivated, so that the sheaf from the Aytta-arms didn't qualify for placement on the flag.
Rudolf J. Broersma, 1 Sep 2006

---
Wijtgaard (Wytgaard) village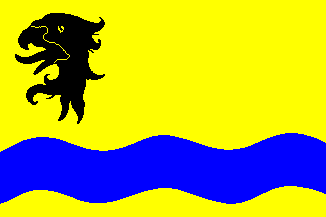 Shipmate Flagchart : http://www.flagchart.net
adopted 1994; Design: Rudolf J. Broersma

The flag of Wytgaard contains two elements, namely the eagle's head, referring to the many noble families in this area, and the blue wavy stripe, wymbolizing the small harbourm which the village used to have, and the Swette, a remnant of the old Middelzee.
Rudolf J. Broersma, 1 Sep 2006

---
Wirdum (Wurdum) village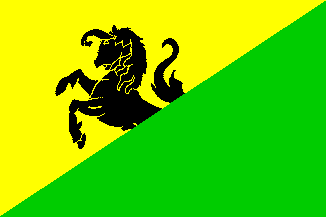 Shipmate Flagchart : http://www.flagchart.net
adopted 1994; Design: Fryske Rie foar Heraldyk

The flag of Wirdum has a so-called St. Martin's division, referring to the Martinie-church of the village. From the diagonal division, but in the opposite direction from Swichum emanates the horse from the village arms (that is not the old village arms of Wirdum, but of the Werdum-family, with probably an issuing horse in the heraldic left half. The arms was "launched" some time ago as beiung the village arms, but it occurs in the second part of family arms of Andries Schoemaker).
Rudolf J. Broersma, 1 Sep 2006

---
2012 Proposed flag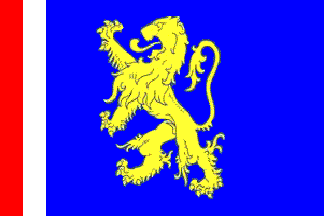 Eugene Ipavec, 19 May 2012

"Leeuwarder Courant", 11 May 2012, and "Friesch Dagblad", 14 May 2012 (as well as several other local sources), report a proposed new flag for the to-be municipality of "Greater Leeuwarden".

The flag is blue with a yellow lion in the middle, along the hoist two thin vertical stripes, red and white, respectively. The new design was proposed by Folkert Popma, the former Municipal Councillor Marco Florijn, and the Queen's Chamberlain in Friesland, Rienk Wegener Sleeswijk, with the advice of Piet Bultsma, expert in heraldry. Designing a new flag was originally proposed by Municipal Councillor Piet Van der Wal. The proposal's rationale is the administrative merging of Leeuwarden with the northern part of the today's municipality of Boarnsterhim, scheduled for 1 January 2014. The need of a new flag is supported by the two mayors of Leeuwarden and Boarnsterhim

After having submitted the flag proposal to the two mayors, the promoters of the new flag expect it to be adopted by the new municipal council and, subsequently, validated by the Higher Council for Nobility. The lion on the blue field represents Leeuwarden, while red and white are the colours of the old Oostergo rural quarter ("krite"). These two colours are also used in the arms [rather, flag] of Boarnsterhim.
Ivan Sache, 19 May 2012
---