Unidentified flags
See also:
---
Air Force Ensign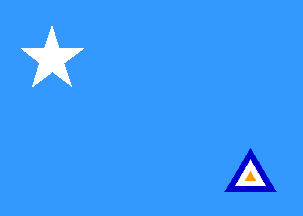 by Ivan Sache
This flag was stocked by a flag manufacturer in Yangon who called it the Myanmar Air Force flag. I looked for this flag in front of the Air force unit at Yangon International Airport, but saw no flags flying at all. The Mig's were certainly interesting to look at though. They are painted in a really interesting blue camouflage. The roundel and fin marking are exactly the same as on the illustration below.
Clay Moss, 18 June 2003
My rendition of the Air Force flag is based on Clay's photograph. It seems to be 5:7 rather than 5:9, unless a part of the flag had remained folded.
Ivan Sache, 18 June 2003
Note on the Myanmar Air Force flag how small the triangle roundel is and where it's located. If the flag was vertically divided into fourths, the roundel would occupy the lower corner of the 4th fly quarter. The roundel is roughly 6 inches tall on the 36 inch wide flag. The white star is 9 inches tall.
Clay Moss, 25 June 2003
---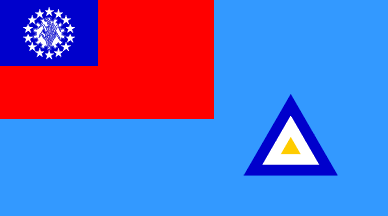 by Željko Heimer, as reported in Album des Pavillons (1990)
Light blue field with national flag in canton and the roundel (blue-white-gold triangle) at the lower fly.
Ivan Sache, 29 January 1998
With this Burmese military video as my evidence (using the pre-2010 national flag) this air force flag is debunked as fiction. However, I am not certain when this video was first published.
Zachary Harden, 19 November 2018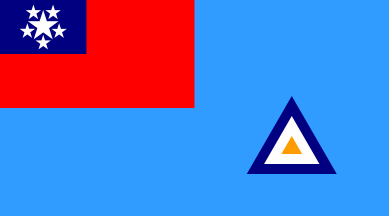 5:9
Image by Zachary Harden, 4 December 2018
Light blue field with national flag in canton and the roundel (blue-white-gold triangle) at the lower fly. Sources: Fachinger (1974), Pedersen (1970).
M. Schmöger, 11 November 2001
In use 1952-1974. The flag is based on the British model.
Ivan Sache, 2 May 2002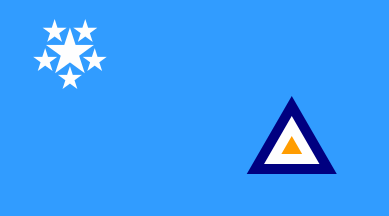 5:9
Image by Zachary Harden, 4 December 2018
I believe there might have been an early variant of the air force ensign. On a Burmese Facebook page there is an old record cover that shows the flags of the three armed services (Army, Navy and Air Force). This cover shows the six-star pattern of the national flag on a light blue background (presumably) with the roundel in the fly (the pattern for that we see to this day). Did this flag exist in cloth? I have no evidence if it has (along with the army flag on this cover). However, seeing information like this from Burma during this time frame is not easy to get.
Zachary Harden, 4 December 2018
---
Fin Flash and Aircraft Marking

Željko Heimer
Former Burma was of the exceptional states [with] its fin flash as nothing to do with the national flag. The Tambaw Lay used a square, vertical yellow/gold-white-blue (2:1:2) as its flash. Based on Wheeler (1986).
Dov Gutterman, 8 October 1999
The Burmese (and Myanmar) fin flash is still in use today (since 1955).
Dov Gutterman, 25 March 2000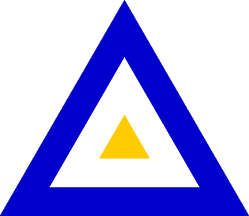 by Željko Heimer
The current aircraft "roundel" consists of three concentric equilateral triangles of blue-white-yellow.
Željko Heimer, 30 June 2002
Formed as the Union of Burma Air Force in 1955 , the Myanmar Air Force (Tamdaw Lay) has used the same markings since its formation. A yellow white blue triangle and corresponding vertical stripes (2:1:2) as fin flash. These markings are reported by Cochrane & Elliott (1998) and Wheeler (1986).
Dov Gutterman, 20 June 2004
---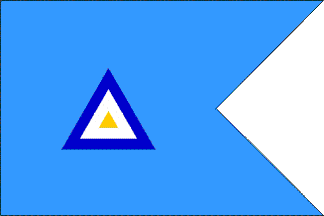 by Miles Li
Flags of All Nations (HMSO 1958) shows this flag as "air force senior officer". No naval equivalent is shown. It is not clear whether this flag is still in use.
Miles Li, 14 February 2004
---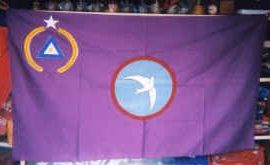 by Clay Moss
Here's another interesting Myanmar Air Force flag of some sort. I'm not sure what it is, and the manufacturer was not able to explain it to me. The bird emblem in the middle is double sided with the bird facing toward the hoist on the reverse side. I brought home a flag similar to this one except mine has a dark green background and a different bird.
Clay Moss, 18 June 2003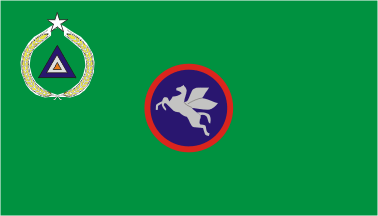 by Rob Raeside
This green Myanmar Air Force flag was described as such by a flag seller in Yangon.
Clay Moss, 2 July 2003