This page is part of © FOTW Flags Of The World website
Myanmar
The Republic of The Union of Myanmar
Last modified: 2023-06-03 by

zachary harden
Keywords: star white | cogwheel | rice | industry | agriculture |
Links: FOTW homepage | search | disclaimer and copyright | write us | mirrors

---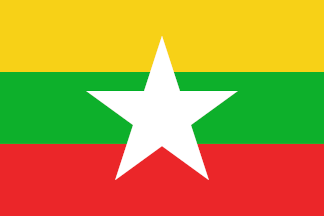 2:3 image by Željko Heimer, 19 December 2010
Flag adopted 21 October 2010
---
See also:
---
According to reports the constitutional convention has now finished its job and the constitution has found its final wording. The flag enshrined in the final document is the yellow, green, and red flag reported earlier, but the star is not positioned in the upper, green stripe, as suggested before. In the final version the star is centered and enlarged so that it reaches into the upper and lower stripes.

Quoting "The New Light of Myanmar" newspaper for 3. September 2007, here is the section on the flag:
Chapter XIII
State Flag, State Seal, National Anthem and the Capital Regarding the State Flag,
"(1) The State Flag shall be prescribed as follows: The Flag is marked with yellow, green and red stripes in a proportionate ratio. On the green stripe in the centre of the State Flag is a large white star covering all the three stripes directing upwards.
"(2) Law shall be promulgated concerning the State Flag."
The drawing above is based on the report in "The Irrawaddy" for 3. September 2007, see: http://www.irrawaddy.org/article.php?art_id=8478. It should be emphasized that the flag is far from being run up the flagpole. The constitution has yet to be adopted and it remains unclear when it will come into effect (or if it will at all). Unsurprisingly, both the constitution and the new flag is being criticized by the opposition to Myanmar's military government.
Jan Oskar Engene, 9 September 2007

At website http://burmadigest.info/2008/03/28/2008-constitution-of-burma/ the new State Constitution of Myanmar (2008) is published (in Burmese language). At the page nr.190 of the pdf-files http://burmadigest.info/wp-content/uploads/2008/03/constitution-2008.pdf one finds the images of the new emblem and of the new flag.
Jens Pattke, 5 June 2008

The text of this draft constitution is available in English together with draft constitutions of several states (all in Burmese and English) where you can find descriptions (and images in some cases) of the official flags at: http://www.burmalibrary.org/show.php?cat=1140.
Chrystian Kretowicz, 31 August 2009

A quick exchange of emails with Jos Poels revealed that the same document is available from the website of the Myanmar mission at the UN in Switzerland, indicating the document has official status:
http://mission.itu.ch/MISSIONS/Myanmar/pressrelease_PMGev/NationalConstitution(Draft)2008.pdf.
Jan Oskar Engene, 5 June 2008

Xinhua People's Daily Online reported that Myanmar officially hoisted the new flag - the one that we already know with three horizontal stripes of yellow-green-red and white five-pointed star in the middle: http://english.peopledaily.com.cn/90001/90777/90851/7173655.html. Also reported by http://infox.ru/authority/foreign/2010/10/21/Myanma_pomyenyala_fl.phtml.
Valentin Poposki, 21 October 2010

More information and a picture about the new Myanmar flag is posted at: http://au.news.yahoo.com/a/-/world/8177818/myanmar-gets-new-flag-official-name-anthem/. The official name of the country has became: Republic of the Union of Myanmar.
Zoltan Horvath, 21 October 2010

Quoting the AP dispatch, 21 October 2010, relating the event:
"[...] Government offices replaced the old standard with the new one at exactly 3 p.m. At a fire station in central Yangon, blue-uniformed officers lined up at attention during the replacement ceremony. The new flag has horizontal stripes of yellow, green and red with a big white star in the middle. The announcement of the new flag was made on state television just prior to the ceremonies, which were supposed to take place simultaneously all over the country.
"We received the instruction to bring down the old flag and to fly the new flag at 3 p.m.," said an education officer in Pathein township in Irrawaddy Division, who added that shortly before the ceremony his office still had not received its replacement. The 2008 constitution pushed through by the military called for fresh national symbols, including a new flag whose colors of yellow, green and red would stand for solidarity, peace and tranquility, and courage and decisiveness. Still, the abrupt release of the new flag came as surprise. [...]"
Ivan Sache, 21 October 2010

It may be worth of noting that the old flag was ordered to be burned (I guess in proper ceremonious manner, as the old US flags are commonly burned). More curious is the order that "the old flag had to be lowered by someone born on a Tuesday and the new flag had to be raised by someone born on a Wednesday".
Željko Heimer, 21 October 2010

Managed to find http://mrtv-web.mrtv3.net.mm/open7/221010iss.html, which is the website of Myanmar National Television 3. The text of the article is about the new national symbols and the legislation that will include these symbols. The text of the article is below:
"21 Oct 2010: The State Peace and Development Council of the Union of Myanmar issued State Flag Law with State Peace and Development Council Law (8/2010); State Seal Law with State Peace and Development Council Law (9/2010); National Anthem Law with State Peace and Development Council Law (10/2010); State Flag Rules with State Peace and Development Council Rule (1/2010); State Seal Rules with State Peace and Development Council Rule (2/2010); and National Anthem Rules with State Peace and Development Council Rule (3/ 2010) dated 13th Waxing of Thadingyut 1372 ME (21 October 2010).

Article 443 of State Constitution of the Republic of the Union of Myanmar says that the State Peace and Development Council shall do the preparatory work to bring the Constitution into operation. So, the abovementioned Laws and Rules are promulgated in line with the provisions of State Constitution as the occasion arises to promulgate necessary laws for ensuring smooth operation of State's legislative, executive and judicial functions, enabling upcoming laws to assume charge of their duties, and doing preparatory work in accordance with the law. Those Laws and Rules are featured in the supplements of today's issues of the newspapers."
Zachary Harden, 6 November 2010

The protocol manual for the London 2012 Olympics (Flags and Anthems Manual London 2012) provides recommendations for national flag designs. Each NOC was sent an image of the flag, including the PMS shades, for their approval by LOCOG. Once this was obtained, LOCOG produced a 60 x 90 cm version of the flag for further approval. So, while these specs may not be the official, government, version of each flag, they are certainly what the NOC believed the flag to be. For Myanmar: PMS 116 yellow, 361 green, 1788 red. The vertical flag is simply the horizontal version turned 90 degrees anti-clockwise.
Ian Sumner, 11 October 2012
---
Construction sheet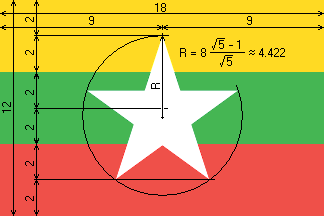 2:3 image by Željko Heimer, 19 December 2010
I have received copies of the official laws (in the Burmese language) about the anthem, emblem and flag of Myanmar from the Myanmar embassy in Berlin. The relation of height to width is 2:3. The white five-pointed star has 2/3 of the height of the cloth.

The official colors of the stripes are:
Yellow: Pantone 116 PC (C:0 M:12 Y:100 K:0)
Green: Pantone 361 PC (C:75 M:0 Y:100 K:0)
Red: Pantone 1788 PC (C:0 M:88 Y:80 K:0)
Jens Pattke, 19 December 2010
This is from State Flag Law with State Peace and Development Council Law (8/2010) (13th Waxing of Thadingyut 1372 ME (21 October 2010)), according to http://www.mrtv3.net.mm/open7/221010iss.html.
Zachary Harden, 19 December 2010
The hoist dimensions of 2-2-4-2-2 are clear enough as are the fly 9-9. Now, if one wants to construct a regular star that fits these dimensions (in "real" geometry, not using computer shapes which make the job much easier) one needs the radius of the circle circumscribing it. It could be shown (if I have not made any errors in calculations) that the radius R is R = 2/3 * H * (sqrt(5)-1)/sqrt(5) where H is the flag hoist, in this case being 12, i.e., R = 8 * (sqrt(5)-1)/sqrt(5) ~ 4.422.
Željko Heimer, 19 December 2010
---
Meanings of the current State Flag of Myanmar: - The inclusion of yellow colour, green colour and red colour as background is honourably indicating the three-coloured flag which was applied magnificently during the period of struggle for independence of Myanmar. - The yellow colour indicates the meaning of unity, conformity, huge wisdom, happiness and unity of all national races amicably. - The green colour indicates the meaning of soil fertility, conformity, fairness and being a peaceful, pleasant, and greening nation. - The red colour indicates the meaning of bravery and decisiveness - The white colour of the star indicates the meaning of purity, honesty, fullness of compassion and power. According to The State Flag Law ( The State Peace and Development Council Law No. 8 / 2010 ) and Myanmar Textbook, Second Standard Grade 3.
Edward Mooney, 07 May 2022
---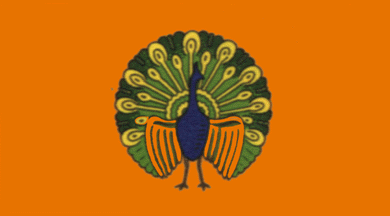 image by Martin Grieve
Petersen (1971) shows an orange flag with a peacock as the president's flag.
Michael Smuda, 22 October 2001
Crampton (1990) shows a very similar flag and says: "The flag of the President (1948-62) was orange with a peacock in the centre." However, Barraclough
(1965) still showed the orange flag with the peacock, while Barraclough and Compton (1981) says: "Prior to 1974 there was a flag for the President, but it is
uncertain if this still is in use".
Mark Sensen, 22 October 2001
Pedersen (1970) reported "The flag shows Burma's national symbol, the peacock, which was used from about 1800 as a Royal Beast by the last King of Burma."
Ivan Sache, 2 May 2002
Evans (1959), Carr (1961), Kannik (1959) all imply this flag was in use since 1948.
Jarig Bakker, 17 September 2002
---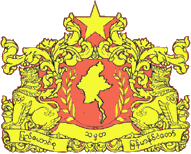 image located by Zachary Harden 14 February 2022
The new emblem removes the color blue and instead just uses the colors red and gold/yellow. Also, the cogwheel has been removed and replaced with laurel or olive branches and the words on the scroll have been changed to its new name of the country.
Zoltan Horvath, 24 October 2010