This page is part of © FOTW Flags Of The World website
Associate State of Saint Christopher, Nevis and Anguilla (1967-1969)
Last modified: 2020-07-04 by rob raeside
Keywords: st. christopher nevis anguilla | saint kitts and nevis | saint christopher | nevis | anguilla | caribbean | palm tree | lion | crown | governor |
Links: FOTW homepage | search | disclaimer and copyright | write us | mirrors

---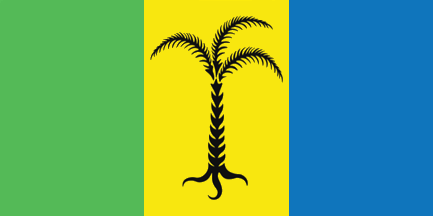 image by Hemendra Bhola, 22 June 2020
---
See also:
---
About the flag
In 1967 the "triple palm" flag was introduced. Smith 1982 [smi82] shows undefaced red ensign as

, the palm flag as

.
Željko Heimer, 01 Jan 2003
---
History
The vertical tricolour with the palm tree was adopted on 27 February 1967 when St. Christopher (=St. Kitts) - Nevis - Anguilla became an Associate State. The palm tree had three branches, standing for the three islands. On 12 July the same year Anguilla seceded and declared its independence in 1969.
Mark Sensen, 26 October 1995
Why these three Caribbean flag, all from of 1967, are so similar?
St. Christopher - Nevis - Anguilla: blue - yellow - green vertical black palm tree on the yellow area
Saint Vincent and the Grenadines (proposal): green - yellow - blue horizontal with lozenge white bordered blue in the centre (and a flower in the white)
Grenada: blue - yellow - green horizontal with oval white bordered red in the centre (and an upside down flower in the white)
António Martins, 02 Aug 1999 and 08 Jul 2006

Anticipating that St Vincent would become an Associated State the College of Arms designed a new flag; green over yellow over blue with a central badge of berries and leaves. They seem to have been trying to create a family of flags for islands of the former West Indian Federation.
David Prothero, 04 Aug 1999

Flagwise, history starts with Leeward Islands flags (blue ensign, governor). These were used until, what? 1958? Then there was West Indies with the blue wavy flag 1958-1962.
Željko Heimer, 01 Jan 2003

Here are details culled from the Encyclopædia Britannica: All three islands were discovered by Columbus in 1493. He named the principal island San Cristóbal after his patron saint. The nearby island (3 km away) of Nevis takes its name from "las nieves" (="the snows"), a reference to Columbus's observation of the cloud cap on the island peak.
San Cristóbal was officially named Saint Christopher by the English (note: this was an English colony — the English were very possessive about their colonies, even after the union of the English and Scottish crowns), but the colonists who went to live there in 1623 almost immediately called it St Kitts. Both names were used.
A French settlement was also established on St Kitts in 1827. The Treaty of Utrecht handed the island in its entirety to Britain in 1713. The French invaded the island again in 1782, capturing Brimstone Hill, but were expelled. Anguilla was named by the French because of its resemblance to an eel ("anguille") — it is 25 km long, and nowhere wider than 5 km. It became an English colony in 1650. Reference to an atlas tells me that Anguilla lies some distance to the north of St Kitts and Nevis, being separated by St Barthélemy and St Martin/Sint Maarten, and is the northernmost island of any size to the east of the Anegada Passage (Sombrero islet lies to the north, however).The three islands were joined in a single colony in 1882, but the name Anguilla was initially not used in the colony's name. It was called either St Christopher and Nevis or St Kitts-Nevis. The name St Christopher, Nevis and Anguilla (or St Kitts-Nevis and Anguilla) was first used on postage stamps only in the late 1940s, when the portrait of the grey-haired King George VI was introduced in place of the previous younger portrait.
Mike Oettle, 05 Jan 2003

I found once a copy of Life dated March 17, 1967, which has an article about the "new" Caribbean states that were just gaining statehood (and will gain full independence another 15 years later).
I tore out page 37 and 38 (the magazine was headed for the garbage anyways) because of the vex-aspect of a few pictures.
Page 37 has a VERY interesting photo - I wish my scanner was working so I could scan and show it. (If there's interest, I'll hold on to it until I can get it scanned) - the caption is "NEW FLAG. St. Kitts new flag is strung on a barbed-wire fence (left, above) alongside the British colors that first flew over the island in 1623."
Now, before you get a mental picture in your head, the picture shown is quite misleading. There are indeed two Kittisians stringing up two flags on a barbed wire fence, but the left flag is a horizontal tricolour of the then-national colours, basically a carbon-copy of Gabon, but a lighter field of blue. To confuse matters more, there is what seems to be a cheap 1 by 2 foot national flag (vertical tricolour of g-y-b) sticking out of a fencepost in the picture, but there doesn't seem to be a tree on the middle stripe (although the middle stripe isn't that clear, as the flag is bent at that stripe). The biggest surprise of all, the "British colors" referred to in the caption are what looks to be a Dutch flag! (I've studied the picture over and over and can't see a British connection to that at all - the flag isn't completely shown, the picture cuts off, but 2/3 of it at least is shown, and that 2/3 is the Dutch flag!) They are the British colours in the sense that they use red-white-blue on their flag, but, what the Dutch flag is even doing there is beyond my comprehension ...
David Kendall, 11 October 2005
---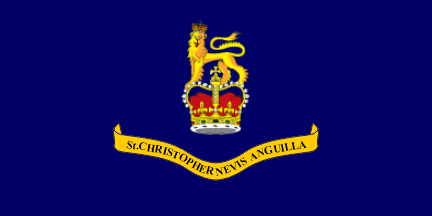 image by Željko Heimer, 01 Jan 2003