This page is part of © FOTW Flags Of The World website
Historical flags of Grenada
Last modified: 2021-08-25 by rob raeside
Keywords: british associated state | colonial badge | flower | nutmeg | mace | spice | hae tibi erunt artes | sugar mill | trapiche | sail ship | clarior e tenebris |
Links: FOTW homepage | search | disclaimer and copyright | write us | mirrors

---
See also:
---
British associated state flag, 1967-1974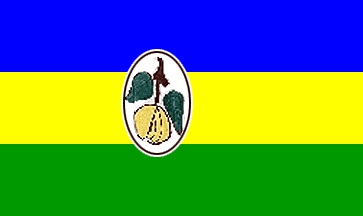 image by António Martins, 24 Mar 2010
This flag was adopted in 1967 when the island became a British associated state. It was replaced by the present flag when Grenada became independent in 1974.
Vincent Morley, 23 Apr 1997
The emblem is the nutmeg which grows throughout Grenada (otherwise known as the Spice Island) and grows downwards inside of a yellow pod. The red in the emblem signifies the mace that grows on the outside of the nut and is also used as a spice.
Leslie Wilson, 19 Apr 2001
Last year a real item was offered on eBay store "Edwin's Stuff" as no. 200302665516 (end 31 Jan 2009), giving dimensions as 21×36″. Quote from description:
Colors are yellow, blue and green. Hoist edge has a lot of soiling and spotting. Emblem in center [more or less, jm] is stained also but not quite as bad. Also has stains and soiling on the stripes. Stripes are sewn. Center emblem is screen printed and sewn in around the edges.
TWM disclaimer: This and other flags were part of the Tumbling Waters Museum which sold out the collection in the early 80s to the Heritage Society because of financial difficulty in keeping the museum running. The best were kept and these are the culls.
Jan Mertens, 18 Mar 2010
Alternate depiction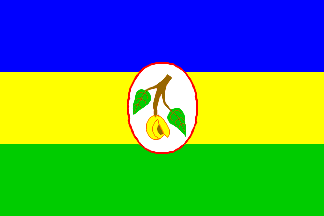 image by Vincent Morley, 23 Apr 1997
This drawing is based on the illustrations in [ped70] and in [eva70], which differ slightly in the details of the central badge.
Vincent Morley, 23 Apr 1997
Common design
Why these three Caribbean flag, all from of 1967, are so similar?
Grenada: blue - yellow - green horizontal with oval white bordered red in the centre (and an upside down flower in the white)
Saint Vincent and the Grenadines (proposal): green - yellow - blue horizontal with lozenge white bordered blue in the centre (and a flower in the white)
St. Christopher - Nevis - Anguilla: blue - yellow - green vertical black palm tree on the yellow area
António Martins, 02 Aug 1999 and 08 Jul 2006

Anticipating that St Vincent would become an Associated State the College of Arms designed a new flag; green over yellow over blue with a central badge of berries and leaves. They seem to have been trying to create a family of flags for islands of the former West Indian Federation.
David Prothero, 04 Aug 1999
---
Colonial flag, 1903-1974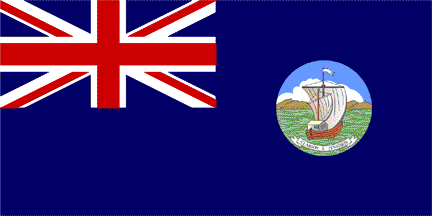 image by Martin Grieve, 04 Jun 2003
The Latin inscription beneath the ship — clarior e tenebris translates as "light out of darkness", and the ship, it has been suggested is to represent that of Columbus. Dates for the Blue Ensign in [zna99] are given as 1903-1967.
Martin Grieve, 04 Jun 2003
It appeared on the Blue Ensign from 1903 to 1974. It may possibly have been used on the Union Jack after the Windward Islands administration was dissolved in 1960, or after the Associated States were established in 1967, until independence in 1974.
David Prothero, 29 Jul 2002
Governor flag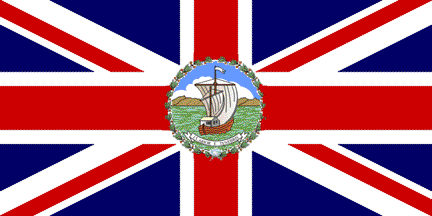 image by Martin Grieve, 05 Jun 2003

The World Statesmen web-site has a list of Administrators up to 1967, and thereafter, Governors from 1967 to 1974. I have no idea if this flag ever actually existed.
Martin Grieve, 05 Jun 2003

I've found an (admittedly small) example of one: Obverse and reverse.
Laird Keir, 27 Dec 2009
Detail according to Evans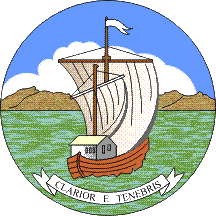 image by Martin Grieve, 04 Jun 2003
There seem to be 2 main variations on the sea colour. Observers Book of Flags (1966) [eva66] and Znamierowski's World Encyclopedia (1999), [zna99] show predominantly green sea, whilst Flaggenbuch by Neubecker [neu39], shows a blue sea. There may of course been a few variants in use at that time.
Martin Grieve, 04 Jun 2003
Detail according to Neubecker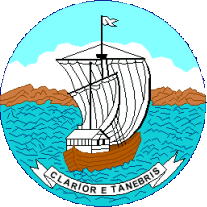 image by Blas Delgado, 01 Dec 2002
---
Previous colonial flag, 1875-1903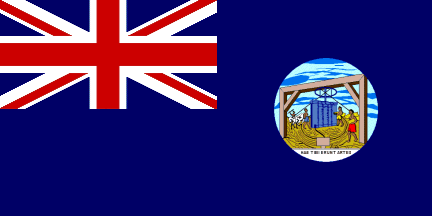 image by Blas Delgado, 01 Dec 2002

The old badge is a sugar mill. It appeared on only the Blue Ensign, 1875 to 1903.
David Prothero, 29 Jul 2002

The motto is HAE TIBI ERUNT ARTES.
Jaume Ollé, 01 Dec 2002

According to the first of these three videos, made by PALS (Presentation Association for Life and Service) of PBC, at (12:20), this translates as: "This field will be ours."
Esteban Rivera, 06 Apr 2011

In the center of the badge you can see a sugar cane mill moved by oxen. This mill is apparently made of metal, due to the blue color of it. In Puerto Rico they were made of wood. This very kind of sugar cane mill, known in Spanish America as trapiche, was called "Blood Sugar Cane Mill" or Trapiche de Sangre, because many slaves lost their hands when they were trampled and squashed by the moving rolls of this particular mill. The slave had to pass by hand through the moving rolls the bundle of sugar cane they were carrying, and sometimes there hands got caught in too.
Blas Delgado, 01 Dec 2002
Detail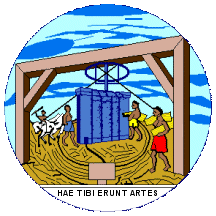 image by Blas Delgado, 02 Dec 2002
From The Arms and Badges of the Several Colonies of Great Britain [hms81] published by Her Majesty's Stationery Office in 1881.
David Prothero, 03 Dec 2002