This page is part of © FOTW Flags Of The World website
British shipping companies (J)
Last modified: 2021-05-29 by rob raeside
Keywords: shipping lines |
Links: FOTW homepage | search | disclaimer and copyright | write us | mirrors

---
See also:
---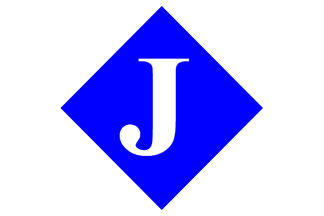 image by Ivan Sache, 25 April 2021
Cory, Lohden & Co., was formed in 1869 by Ebenezer Cory (1841-1886) and Jacob Lohden. They went into partnership with George and Walter Jackson of London as ship agents and ship insurance brokers. In December 1881 Jacob Lohden left the partnership and started up as J. Lohden & Co. Ebenezer started up as E. Cory & Co. By 1885 the company had become Jackson Bros. & Cory. Ebenezer was also part of the firm of Cory, Wilcocks & Co., colliery agents of Fenchurch Street, London. Jackson Bros. & Cory was broken up in 1923 and became Jackson Bros.

http://www.hhtandn.org/venues/4975/jackson-bros-and-cory
Hartlepool History Then and Now

Lloyd's Book of House Flags and Funnels (1912) shows the house flag of
Jackson Bros. & Cory (#589, p. 65) as white with a blue square diamond inscribing a white "J".
https://research.mysticseaport.org/item/l011061/l011061-c008/30/
Ivan Sache, 25 April 2021
---
Associated Oil Carriers Ltd.
Shipping Syndicate Ltd.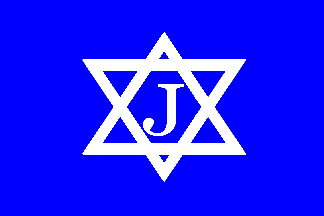 image by Jarig Bakker
J.I. Jacobs & Co., Ltd., London; blue flag, white Magen David, white "J".
Source: Brown's Flags and Funnels of British and Foreign Steamship Companies [Wedge 1926]
Jarig Bakker, 20 February 2005
John Jacobs purchased his first steamship in 1905 having previously owned a fleet of sailing ships. His first ships were fitted with tanks for the carriage of molasses mostly from Cuba. In 1914 the fleet was used to carry oil as well as molasses and four ships were lost to enemy action. Purpose built tankers were delivered in the 1920 to trade to the Gulf of Mexico and Cape Town.
During WWII four Jacobs tankers were requisitioned by the Admiralty as naval oilers. In 1940 two new dry cargo tramps joined the fleet and at the end of the war, the company owned six vessels. The last dry cargo tramp was sold in 1949 and the tanker fleet built up by the delivery of eight new tankers. In 1960 three new dry cargo vessels were ordered in addition to the tanker fleet and by 1975 the company owned four tankers, one ore carrier, one bulker and a chemical tanker. The tanker companies were wound up between 1975 and 1977. The "Pearleaf" continued on Admiralty charter until 1986 when sold. Later a fleet of coasters was built up and managed by R. Lapthorn & Co. Rochester. These were sold to Lapthorn in 1994 and Jacobs retired from shipping.

Most Jacobs' ships were named "...wood": "Oakwood", "Beachwood", "Teakwood", "Laurelwood", "Longwood", "Rosewood", "Glenwood", "Denewood", "Valewood", "Cherrywood", "Hollywood", and "Sandalwood".

http://www.mariners-list.com/mobi/site_pages.php?section=Shipping+Companies&category=English&page_name=John+I+Jacobs+%26+Co
Mariners L

The same flag is shown in Lloyd's Book of House Flags and Funnels (1912) (#1331 p. 100) for John I. Jacobs & Co. - Associated Oil Carriers Ltd. - Shipping Syndicate Ltd.
https://research.mysticseaport.org/item/l011061/l011061-c008/#65
Ivan Sache, 30 April 2021
---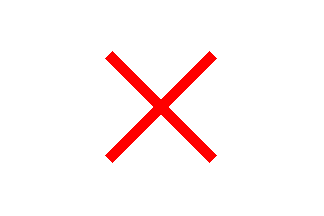 image by Ivan Sache, 29 April 2008
Lloyds Book of House Flags and Funnels (1912) shows the house flag of "George Jacques & Co." (#323, p. 52), a company based in Newcastle-on-Tyne, as white with a red saltire, not reaching the edges of the flag.
Ivan Sache, 29 April 2008
---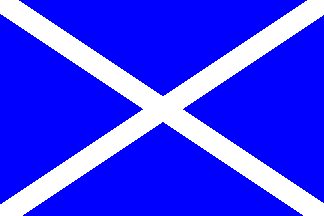 image by Ivan Sache, 3 May 2021
Lloyd's Book of House Flags and Funnels (1912) shows the house flag of Japp & Kirby (#1619, p. 114), a London-based shipping company, as blue with a white saltire.
https://research.mysticseaport.org/item/l011061/l011061-c008/#7
Ivan Sache, 3 May 2021
---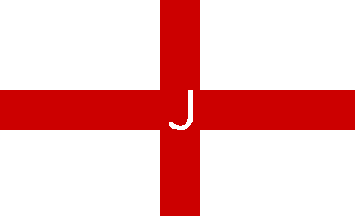 image by Alex Jarvis, 6 July 2010
I am the Great Grandson of Williams Collings Jarvis, the proprietor of W C Jarvis & Sons that operated a fleet of sailing ships from 1876 to 1911 out of Liverpool. After that date they operated a ships chandlery business in Liverpool.

Although we still have some of the fleet crockery in the family, all the flags have gone missing. I attach my own drawing of the flag copied from the flag sheet of The Liverpool Journal of Shipping, dated 1909.
Alex Jarvis, 6 July 2010
---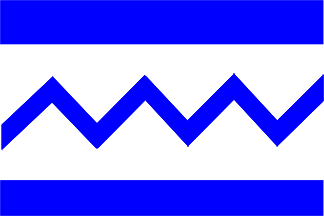 image by Jarig Bakker, 30 November 2005
Kristian Jebsen - Jebsens (U.K.) Ltd., London - horizontal blue-white-blue flag; in center blue horizontal zigzag-line. (Bergen is mentioned too as base; guess it's the same company as Jebsen in Norway).
Source: Loughran (1995)
Jarig Bakker, 30 November 2005
---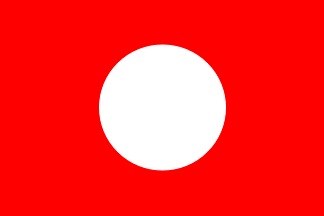 image by Ivan Sache, 24 April 2021
Lloyd's Book of House Flags and Funnels (1912) shows the house flag of G.W. & H.B. Jeffs (#408, p. 56), a Grimsby-based company, as red with a white disc in the center.
https://research.mysticseaport.org/item/l011061/l011061-c008/#21
Ivan Sache, 24 April 2021
---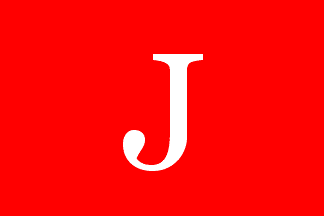 image by Ivan Sache, 19 April 2008
Lloyds Book of House Flags and Funnels (1912) shows the house flag of "E. Jenkins & Co." (#254, p. 50), a company based in Cardiff (Wales), as red with a white "J" in the middle.
Ivan Sache, 19 April 2008
---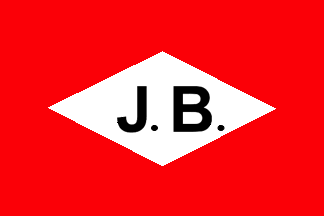 image by Ivan Sache, 21 April 2021
Lloyds Book of House Flags and Funnels (1912) shows the house flag of"Jenkins Bros." (#62, p. 39), a company based in Cardiff (Wales), as red with a white lozenge charged with the black letters letters "J.B.".

In his "Short histories of some Cardiff area shipping companies", Bob Sanders introduces the company as follows:
"James Jenkins and his brother-in-law David Jenkins, both Master Mariners from Aberporth who had been employed by Evan Thomas, Radcliffe of Cardiff, set up this company when W.J. Williams left their previous partnership in the Gathorne Steamship Co. In 1906 they bought the Glamorgan and in 1907 the Cardigan was added and by the beginning of the First World War the company had five ships. All but one were lost during the war and in 1919 David Jenkins died and the company was wound up."
http://www.angelfire.com/de/BobSanders/SHIPCO.html
In January 1985, the National Museum of Wales published "Jenkins Brothers of Cardiff - A Ceredigion Family's Shipping Ventures", by David Jenkins.
Ivan Sache, 12 March 2008
---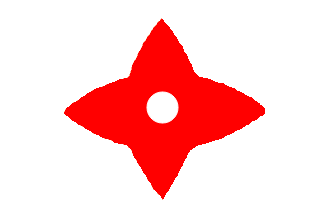 image by Ivan Sache, 24 April 2021
Lloyd's Book of House Flags and Funnels (1912) shows the house flag of
Jenneson Taylor & Co. (#504, p. 60), a Sunderland-based company, as white with a red quatrefoil with a white disc in the center.
https://research.mysticseaport.org/item/l011061/l011061-c008/#25
Ivan Sache, 24 April 2021
---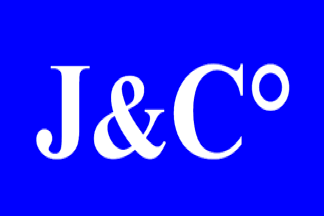 image by Ivan Sache, 21 March 2008
Lloyds Book of House Flags and Funnels (1912) shows the house flag of "R. Jobson & Co." (#63, p. 39), a company based in West Hartlepool, as blue with the white letters "J&Co".
Ivan Sache, 21 March 2008
---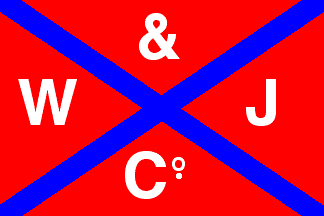 image by Ivan Sache, 4 May 2021
William and Edmund Johnston purchased their first steamer in 1872 to operate to the Black Sea, Greece and Turkey. In 1876 the Saint Andrews Steam Shipping Co. was formed. In 1880 Atlantic services commenced in conjunction with Baltimore & Ohio Railroad Co and specialised in the live cattle trade. 1890 a direct London - Boston service commenced by William Johnston & Co. Ltd. In 1914 Furness, Withy & Co. acquired a 50% interest in William Johnston & Co and the company became Johnston Line Ltd. 1916 Johnston Line became a wholly owned subsidiary of Furness, Withy & Co. and in 1934 Johnston-Warren Lines Ltd was formed and all ships transferred to this company.

The ShipsLists
http://www.theshipslist.com/ships/lines/johnston.htm

Lloyd's Book of House Flags and Funnels (1912) shows the house flag of W. Johnston & Co., Ltd. (#1758, p. 120), a Liverpool-based shipping company, as red with a blue saltire, charged in the respective quarters with the white letters "W", "&", "J", and "Co.".
https://research.mysticseaport.org/item/l011061/l011061-c008/#85
Ivan Sache, 4 May 2021
---

image by Ivan Sache, 4 May 2021
The W. & T. Jolliffe company was founded in 1852 in Liverpool by William and Thomas Jolliffe. The company owned up to 40 tugs, some of them named for ladies of the family ("Jane Jolliffe", 1888; "Sarah Jolliffe", 1890). In 1908, the company was absorbed by Alexandra Towing Co.

Lloyd's Book of House Flags and Funnels (1912) shows the house flag of W. & T. Jolliffe, Ltd. (#1807, p. 123) as horizontally divided blue-white-blue.
https://research.mysticseaport.org/item/l011061/l011061-c008/#88
Ivan Sache, 4 May 2021
---
(Field Line (Cardiff), Ltd.)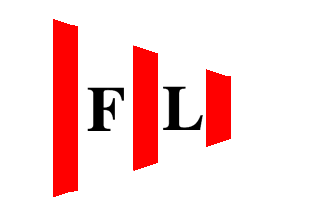 image by Ivan Sache, 30 April 2021
Lloyd's Book of House Flags and Funnels (1912) shows the house flag of Evan Jones & Co. (Field Line (Cardiff), Ltd.) (#1269, p. 97) as triangular, white with three thin red vertical line and the black letters "F" and "L" in between.
https://research.mysticseaport.org/item/l011061/l011061-c008/#62
Ivan Sache, 30 April 2021
---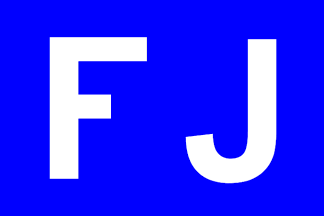 image by Ivan Sache, 21 April 2021
Lloyds Book of House Flags and Funnels (1912) shows the house flag of "Frederick Jones" (#40, p. 38), a company based in Cardiff (Wales), as blue with the white letters "FJ".

In his "Short histories of some Cardiff area shipping companies", Bob Sanders introduces Frederick Jones, as the owner of "The Abbey Line",
as follows:
"Frederick Jones, a Cardiffian, born in 1868, though of a Cardiganshire family, served his apprenticeship with the Tubal Cain Foundry. He was a member of Charles Street Congregational Church where he came into contact with shipowner John Marychurch resulting in the offer of a post as engineer on one of Marychurch's ships. In 1899 he became Marine Superintendent with Capel & Co. of Cardiff. In 1907 Jones set up his own business with the ship Melrose Abbey. In 1909 he added a newly built ship, the Tintern Abbey. The company continued to operate a number of ships until 1971, though latterly with only one ship (a later Tintern Abbey). The company continues to exist in Cardiff, however, run by his son as an investment company. All the company's ships had been named after Abbeys."
Source: http://www.angelfire.com/de/BobSanders/SHIPCO.html
Ivan Sache, 16 March 2008
---
image by Ivan Sache, 28 April 2021
Lloyd's Book of House Flags and Funnels (1912) shows the house flag of J. & J. Jones (#1028, p. 85) as white with concentric red, blue and red circles.
https://research.mysticseaport.org/item/l011061/l011061-c008/50/
Ivan Sache, 28 April 2021
---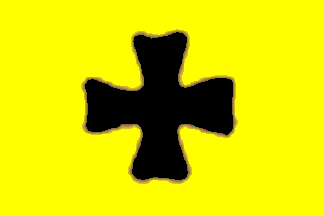 image by Ivan Sache, 30 April 2021
Lloyd's Book of House Flags and Funnels (1912) shows the house flag of Jones & Prosser (#1253, p. 96), a London-based company, as yellow with a black trefoiled cross.
https://research.mysticseaport.org/item/l011061/l011061-c008/#61
Ivan Sache, 30 April 2021
---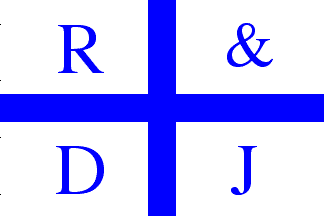 image by Ivan Sache, 4 May 2021
Lloyd's Book of House Flags and Funnels (1912) shows the house flag of R. & D. Jones, Ltd. (#1790, p. 122), a Liverpool-based shipping company, as white with a blue cross, charged in the respective quarters with the blue letters "R", "&", "D", and "J".
https://research.mysticseaport.org/item/l011061/l011061-c008/#87
Ivan Sache, 4 May 2021
---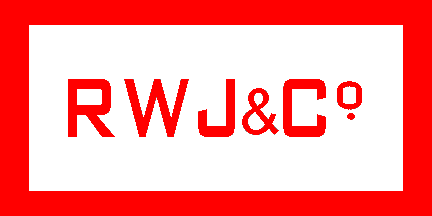 image by Jarig Bakker, based on the website of the National Maritime Museum.

From the website of the National Maritime Museum, the house flag of Richard W. Jones & Co. Newport, Monmouth. A white, rectangular flag with a red border and the initials 'RWJ & Co.' in red across the centre. The flag is made of a wool and synthetic fibre bunting. It has a cotton hoist and is machine sewn."
Jarig Bakker, 25 August 2004

Lloyd's Book of House Flags and Funnels (1912) shows the same house flag (#1178, p. 93).
https://research.mysticseaport.org/item/l011061/l011061-c008/#58
Ivan Sache, 29 April 2021
---

image located by Ivan Sache, 22 April 2021
W. & C.T. Jones Steamship Company Ltd. was one of the leading shipowning companies in Cardiff. Originally known as W.H. & C.T. Jones, the company was established by three brothers: William Jones, who served in the military in India; Henry Jones, who fought in the American Civil War and was at one time a town councillor for Cardiff, and Charles Jones, who emigrated to, and died in New York. The company's first ship was the "Cymmrodorion", followed by the "Kate B. Jones", which was built by Slesinger Davies and Co. of Wallsend. This was the first ship with electrical illumination throughout to be introduced to Cardiff.
On the death of the brothers, the sons of William Jones - William Edwin Jones, and Henry Jones - William Henry Jones, carried on and increased the operations of the firm. W.H. Jones retired upon taking up residence in New York on the death of his uncle, Charles Jones, leaving W.E. Jones as the owner and sole director of the company.
W. & C.T. Jones Steamship Company Ltd. was voluntarily liquidated around 1920.

https://archiveshub.jisc.ac.uk/search/archives/69e9003f-0522-3484-a8d3-7b6cb4e6658a
Jisc Archives Hub

Lloyd's Book of House Flags and Funnels (1912) shows the house flag of
W. & C.T. Jones S.S. Co., Ltd. (#222, p. 47), as white with a black disk inscribing a shield.
https://research.mysticseaport.org/item/l011061/l011061-c008/#12
Ivan Sache, 22 April 2021
---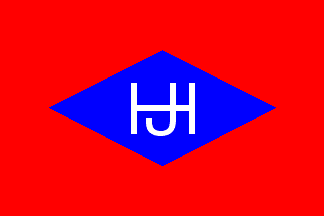 image by Ivan Sache, 29 April 2008
Lloyds Book of House Flags and Funnels (1912) shows the house flag of "Jones, Hallett & Co." (#330, p. 52), a company based in Cardiff (Wales), as red with a blue diamond charged with a white "JH" cypher.
Ivan Sache, 29 April 2008
---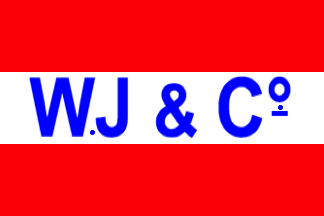 image by Ivan Sache, 21 April 2021
Lloyds Book of House Flags and Funnels (1912) shows the house flag of "Wm. Just & Co. (Bank Shipping Co., Ltd." (#121, p. 42), a company based in Liverpool, as horizontally divided red-white-red and the blue letters "WJ&Co" in the white stripe.
Ivan Sache, 29 March 2008
---
British Shipping lines: continued