This page is part of © FOTW Flags Of The World website
British shipping companies (B)
Last modified: 2018-12-05 by rob raeside
Keywords: brittany ferries | brocklebank | brussels steamship | bssco |
Links: FOTW homepage | search | disclaimer and copyright | write us | mirrors

---
See also:
---
Brittany Ferries Truckline
Removed to this page.
---
Thos. and Jon Brocklebank Ltd

image by Ivan Sache, 12 March 2006

from Stewart and Styring's Flags, Funnels and Hull Colors 1963

The company was founded in 1801 in Whitehaven (Lake District), with one sailing ship trading coal. In 1813, the monopoly of the East India Company to India was abolished, and India became Brocklebank's main field of operation, along with Northern and Southern America, and West and East Indies. In 1819, the company moved to Liverpool. It bought its first steamships in 1889 but carried on operating sailing ships until 1901. After the Second World War, the company had only eleven ships. In 1947, the independence of India and Pakistan imposed new trade rules in the area, where Brocklebank's trade was more than halved. The closure of the canal of the Suez Canal in 1967 and the containerization caused the end of trade with India. In 1968, Brocklebank pooled its ships with Cunard in the Cunard-Brocklebank Ltd. The last two ships under Brocklebank's flag were sold in 1983, and it was the end of the company.

Source: The Ships Lists website

The house flag of Brocklebank was vertically divided white-blue. It can be seen on a medal kept in the National Maritime Museum in London. The medal commemorates the loss of SS Matra, mined and sunk by enemy action off Ramsgate on 13 November 1939.

Source: National Maritime Museum website http://collections.rmg.co.uk/collections.htmlcollectionsDetail.cfm?ID=MEC2776

Ivan Sache, 28 February 2004
Pre-1820 house flag, T. & J. Brocklebank Ltd.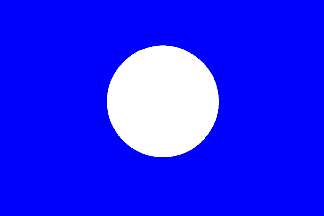 image by Jarig Bakker
T & J Brocklebank, Ltd. was founded about 1770. Their first houseflag was altered in 1820 to the one which flies today at the foremast. The reason usually given for this is that many of Brocklebank's early vessels were privateers, whose mainmasts were reserved for the letters-of-marque pennant, so the houseflag was relegated to the fore. In books it is asserted that Brocklebank's is the only houseflag worn thus - however Sandbach, Tinne & Co. did it too.

Source: Loughran (1979) "A Survey of Mercantile Houseflags & Funnels"
Jarig Bakker, 28 February 2004
See also: British Privateers
Larousse Commercial Illustré (1930) shows Anchor Brocklebank & Well Lines, Liverpool: vertically divided white-blue, white nearest the hoist. On FOTW-ws under 'Thos. and Jon Brocklebank Ltd'. The company name Larousse gives makes more sense if we know that Cunard purchased Brocklebank and Anchor Line in 1911, followed by the Well Line in 1916.
Jan Mertens, 28 May 2004
---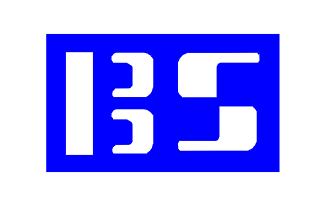 image by Jarig Bakker, 11 November 2005
Bromley Shipping plc, Bromley - blue flag bordered white; stylized white "BS".
Source: Loughran (1995)
Jarig Bakker, 11 November 2005
---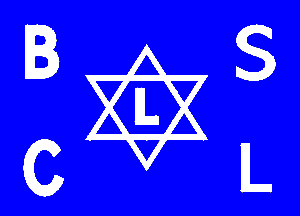 image by Jarig Bakker
Bromport Steamship Company, Limited, Liverpool - blue flag, white 6-pointed contoured star, with in center white "L", in all corners white "BSCL".
Source: Brown's Flags and Funnels of British and Foreign Steamship Companies [Wedge 1926]
Jarig Bakker, 20 February 2005
Bromport Steamship Co. Ltd. The company, which operated from 1916 to 1923, was a subsidiary of Lever Brothers which presumably accounts for the extra "L".
Neale Rosanoski, 19 May 2005
---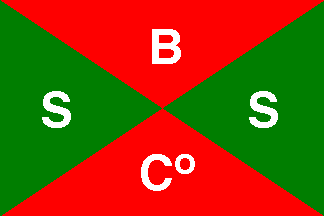 image by James Dignan
Based on Sampson (1957)
James Dignan, 11 October 2003
This company was registered in London (Stewart & Styring, 1963). In 1954 the company appears to have had two coastal vessels: the "City of Brussels" and the "City of London." But this is different from the other more famous "City of Brussels" which was the first ship to cross the Atlantic in 8 days (different owner, different era).
Phil Nelson, 12 October 2003
---
British Shipping lines: continued