This page is part of © FOTW Flags Of The World website
Oxford University (England)
Last modified: 2020-11-21 by rob raeside
Keywords: oxford university |
Links: FOTW homepage | search | disclaimer and copyright | write us | mirrors

---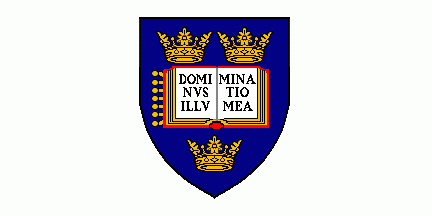 image by Klaus-Michael Schneider, 22 March 2019
---
See also:
---
University of Oxford
Latin name: Universitas Oxoniensis
Full name: The Chancellor, Master and Scholars of the University of Oxford

Flag:
A white flag with centred arms.
Source: https://www.123rf.com/photo_71285815_close-up-of-waving-flag-with-university-of-oxford-emblem-3d-rendering.html
(also available as animated image at https://de.depositphotos.com/141131340/stock-video-close-up-of-waving-flag.html but I am in doubt, whether there is more than an animation).

Coat of Arms:
Shield Azure, on an open book Argent bound Gules, garnished and having on the dexter side seven seals Or, between three coronets Or. On the book is a black inscription "DOMINUS (on dexter page) ILLUMINATIO MEA(on sinister page)", literally "The Lord is my enlightenment", often translated as "The Lord is my Light"

Meaning:
Neither was Oxford University founded by King Alfred nor Cambridge by King Arthur. There is evidence of teaching as early as 1096. The university grew rapidly from 1167 when Henry II banned English students from attending the University of Paris. A representation of the arms is known since the middle of the 15th century. The words on the book have not always been the same and the present inscription, though it dates from the middle of the sixteenth century, was not universally used. The arms seem to be inspired of those of the University of Paris (see here:
https://en.wikipedia.org/wiki/University_of_Paris#/media/File:Coat_of_arms_of_the_University_of_Paris.svg), similar but distinct: fleurs-de-lis instead of coronets in different order, close book instead of open book.
Sources: https://en.wikipedia.org/wiki/University_of_Oxford
And John P. Brooke-Little: Oxford University and its Colleges, Oxford 1962
Klaus-Michael Schneider, 22 March 2019
---
In general, most of the college boat clubs fly a banner of arms of the college concerned. The best time to see these flags are during Eights Week, in 5th Week of Trinity term in late May and during Torpids in Hilary term, in February. These are regattas held on the River Thames, featuring crews from most of the colleges and private halls, plus a few other organisations (medical schools & so on) connected with the University. The majority of the college boat houses are located on the Thames in Christ Church Meadow and this is where and when you can see the most colourful display of flags in Oxford, as each boat houses flies at least one flag during Eights Week and Torpids. Many fly more than one as the boat houses are shared between colleges. It is possible that some of the college boat clubs have their own individual flags. You can also see college flags at their own premises elsewhere in the City on other occasions, mainly associated with the University, the death of college Fellows and so on. They tend to fly the Union Flag on national occasions. However, the greatest concentration in a small area is during Torpids and Eights Week.
Colin Dobson, 16 June 2005
Most boat clubs borrow a banner of arms from the Porter for the day. The postcards [linked above] are historical, rather than a reflection of current practice. I am not sure there are any hard and fast rules in respect of the construction of these flags; if anything it looks rather good that there are some unusual sizes and ratios along that stretch of the river in Christ Church Meadow.
Colin Dobson, 12 April 2007
Boat clubs of Oxford colleges have crests, but the pattern isn't unique. Many of them display the college arms superimposing a pair of oars in saltire, others display the oars in saltire with the coat of arms above, some a logo or the club flag pattern instead the coat of arms. St. John's Boat Club has additional club arms, having the pattern of the club flag. All others have in common that the crest also displays the blade pattern. An example can be seen for Worcester College, which is the only one to display two different blade patterns, one for the men's crew, one for the women's crew. The coat of arms in the crest displays the college pattern but in the boat club colours pink and black.
Klaus-Michael Schneider, 20 March 2019
Oxford University Rowing Clubs (OURCs) is a federation of the Oxford
University Boat Club (OUBC), the Oxford University Women's Boat Club (OUWBC), the Oxford University Lightweight Rowing Club (OULRC), and the Oxford University Women's Lightweight Rowing Club (OUWLRC), as well as all college boat clubs. OURCs is a purely administrative organisation with no training or crews. It was created in 1986 in order to remove the organisational burden from the university squad and is responsible for organising inter-collegiate competitions and overseeing the conduct of college rowing. The student-led organisation of OURCs is supported by senior members of the university, the Council for Oxford University Rowing, which issues advice and deals with aspects of rowing safety.

For additional information go to:
Oxford University Boat Club (official website: http://www.oubc.org.uk)
Oxford University Women's Boat Club (official website: http://www.ouwbc.org)
Oxford University Women's Lightweight Rowing Club (official website:
http://www.ouwlrc.org)
Oxford University Lightweight Rowing Club (official website: http://www.oulrc.org)
Oxford University Rowing Clubs (official website: http://www.ourcs.org.uk)
Source: https://en.wikipedia.org/wiki/Oxford_University_Rowing_Clubs
Esteban Rivera, 21 November 2020
---
(…) A charming 18th Century engraving displaying the coats of arms of the major colleges in Oxford, which was published in John Owen and Emanuel Bowen's pocket road atlas, Britannia Depicta or Ogilby Improv'd (London: T. Bowles, 1720). The mileage chart above relates to the road from Oxford to Cambridge.

'Britannia Depicta' (1720-1764) was one of the most popular atlases of the 18th century being published in many editions for close to fifty years. The maps themselves were engraved by Emanuel Bowen (1694?-1767), who was one of the most renowned and prolific map makers of the period. As with many of his maps, he has included copious amounts of text -- written by John Owen -- describing the county.

An original copperplate engraving with later hand colour was available. The printed areas are approximately 11.6 cm by 18.2 cm. (…) Guaranteed to be over 290 years old" at https://www.wellandantiquemaps.co.uk/arms-colleges-c-oxford-j-owen-e-bowen-c1720.
I made a screenshot from the enlargements of the single coats of arms. Except for New College all have been drawn with baroque shields, bordered with rococo ornaments. Some general differences to modern sources I mention just in total:
Probably due to physical limits the heraldic metals might be not always depicted properly.
1) The leopards of the English Arms are always depicted as Argent, which might be a mark of differentiation, but I don't believe that. (arms of Oriel, Lincoln, Brasenose). It is the same with a few charges, e.g. Virgin Mary in the arms of the Lincoln Bishopric (Brasenose, Lincoln) and the pelican (Corpus Christi)
2) The tincture of stars is not always recognisable (Lincoln, St. John's).

Here are the significant aberrations of single colleges, note the encoding in Petra Sancta and the later hand colour:
3) Queens: background tincture Or and mullet on 1st eagle's breast missing
4) Merton had used the current pattern in a Baroque shield.
5) Exeter: bordure Gules instead of Sable.
6) All Souls: background tincture Argent
7) Jesus: background tincture encoded as Azure in Petra Sancta but recoloured Vert, thus the blue background had been in use at least until 1720, encoding is distinct to that one in Lincoln arms, where the background is encoded as Vert
8) Brasenose: the quartered arms at sinister here have different chevron tinctures, those of Sutton with horns are Sable, but those of Southworth with crosslets are Gules.
9) Balliol: shield Gules with orle Argent, completed version of the current sinister field
10) Corpus Christi: in a baroque shield a round badge as follows: parted per pale, at dexter Gules a sword Argent in bend beneath a pair of keys Argent in bend sinister, i.e. mirrored in comparison with current arms of the bishopric, at sinister Azure a pelican Argent etc. in stead of Or; the badge is surrounded by the belt (Argent) of the Order of the Garter
11) New: Round badge charged with the colleges arms surrounded by the belt (Azure) of the Order of the Garter without shield.
Klaus-Michael Schneider, 12 March 2019
The University of Oxford has 38 Colleges and six Permanent Private Halls (PPHs) for a total of 46 higher education institutions. Not all of them have individual Boat/Rowing Clubs though. The main source, the list of "Oars, Flags and Arms" of Oxford University Colleges displays the following (22 out of a total of 35 Boat Clubs).