This page is part of © FOTW Flags Of The World website
Saint-Georges, Quebec (Canada)
Ville de Saint-Georges-de-Beauce
Last modified: 2019-08-06 by rob raeside
Keywords: saint-georges-de-beauce | quebec | saint george cross | fer de moline | horse | maple leaf | fleur-de-lis |
Links: FOTW homepage | search | disclaimer and copyright | write us | mirrors

---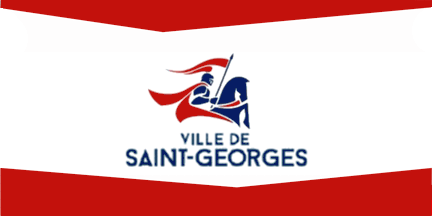 image by Rob Raeside, 12 May 2017
---
See also:
---
The Municipality
The City ("Ville") of Saint-Georges-de-Beauce (30,268 inhabitants in 2007; 19,951 ha) is the seat of the Municipalité régionale de comté Beauce-Sartigan, Région of Chaudière-Appalaches, Québec. In 2002 it amalgamated with Saint-Georges-Est (4,110 inh.), Aubert-Gallion (2,444 inh.) and Saint-Jean-de-la-Lande (786 inh.).
The territory of Saint-Georges was settled around 1697 by Catholic, French-speaking Abénaquis (Algonquin Indians), who founded the village of Sartigan near the confluence of the river Famine with the Chaudière. The Jesuit Father Gabriel Druillettes, Ambassador of the King of France, had visited the region of Beauce in 1646, 1650 and 1651, but these visits were not immediately followed by European colonization. On 24 September 1736, the territory of Saint-Georges, then part of the Kingdom of France, was divided into the two domains of Aubert-Gallion (located west of the Famine and granted to Marie-Thérèse de la la Lande Gayon) and Aubin de l'Isle. In 1768, the domain of Aubert-Gallion was transferred to the English William Grant, while the domain of Aubin de l'Isle was split into three parts, Fief Saint-Charles de la Belle-Alliance, Fief Sainte-Barde de la Famine and Fief Cumberland. Considered as the true founder of the parish of Saint-Georges, the German Jean Georges Pfotzer became in 1808 the fourth lord of Aubert-Gallion.
The village of Saint-Georges developed after the opening of the Justinian Road to Québec in 1812 and of the Kennebec Road, between Québec and Maine, in 1830. The economic boost of Saint-Georges started after the inauguration of the railway station in winter 1907.
Source: Municipal website
Ivan Sache, 30 January 2008
The top and bottom red stripes are not rectangular - although it is hard to say what exactly is their shape.
Olivier Touzeau, 8 April 2017
---
On 13 October 2016, the municipality of Saint-Georges unveiled its new visual identity, designed by the Image de Mark company. "Riding his horse; Knight St. George is now the town's key figure. In a reared-up position and holding high his lance, he leads his troops forwards while bearing with dignity the colours of the town he represents. Solid and proud, the knight, draped in a cloak, is strong-minded and rushes straight to the future. He is confident to lead his followers on the way of surpassing and success. Firmly in the saddle, he stands on a base made of the words 'Ville de Saint-Georges'."

The flag, part of the new visual identity, is white with two thin horizontal red stripe on top and bottom and the logo in the center.

http://www.enbeauce.com/actualites/politique/300813/la-ville-de-saint-georges-devoile-sa-nouvelle-signature-visuelle - En Beauce, 13 October 2016

Photos of the flag in official use:
http://www.enbeauce.com/actualites/politique/301476/un-referendum-aura-lieu-concernant-la-construction-dun-foyer-pour-personnes-agees-dans-louest-de-saint-georges
http://www.enbeauce.com/actualites/culturel/309150/la-gagnante-du-concours-noel-dans-ma-cite-est-devoilee
Ivan Sache, 1 April 2017
---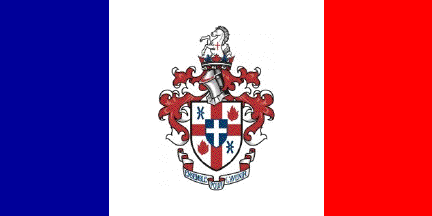 image by Ivan Sache, 1 April 2017
The arms of Saint-Georges were inscribed on 15 July 1992 on the Public Register of Arms, Flags and Badges, Vol. II, p. 156. The announcement of the Letters Patent was made on July 25, 1992, in Vol. 126, p. 2,304 of the Canada Gazette.

Blazon
Arms
Argent a cross gules in the first and fourth quarters a fer-de-moline azure in the second and third quarters a flame gules and over all an escutcheon azure a cross argent

Crest
A demi horse argent charged on the shoulder with a Latin cross gules and issuant from a coronet composed of a circle argent heightened with maple leaves gules and fleurs-de-lis azure set alternately.

Motto
ENSEMBLE POUR L'AVENIR, meaning "Together for the future"

Artist Information
Creator(s): Original concept of Auguste Vachon, Saint-Laurent Herald, assisted by the heralds of the Canadian Heraldic Authority
Painter: Petru Botezatu
Calligrapher: Judith Bainbridge

http://reg.gg.ca/heraldry/pub-reg/project.asp?lang=e&ProjectID=1573 - Public Register of Arms, Flags and Badges

The escutcheon represents the French origin of the town, as the cross used by France at the time of Samuel de Champlain. The red cross on a white background is the St. George's Cross. The fers-de-moline represent industry. The red flames represent energy empowering industry and commitment to work of the local people. They also represent warm welcome to people. The coronet of blue fleurs-de-lis and red maple leaves reflect the belonging of the town to Quebec and Canada.
http://www.saint-georges.ca/decouvrir/marques-distinctives/armoiries/ - Municipal website

Photos of the flag
http://www.enbeauce.com/upload/www.enbeauce.com/photos-region/2015/5/saint-georges-quebec-canada.jpg
http://www.enbeauce.com/upload/www.enbeauce.com/diaporama/419222612007-620x348.JPG
http://www.enbeauce.com/actualites/politique/279509/attentats-a-paris-ville-de-saint-georges-met-ses-drapeaux-en-berne
http://www.famillesdionne.com/FR/activites/2009/index.html>
http://www.enbeauce.com/actualites/politique/120328/manon-bougie-nommee-mairesse-suppleante-de-ville-saint-georges
http://www.leclaireurprogres.ca/actualites/politique/2015/5/26/pres-de-1-4-m--pour-un-nouveau-camion-echelle.html
http://beaucemagazine.com/2014/07/28/saint-georges-et-lisieux-en-france-sont-officiellement-jumelees/
Ivan Sache, 1 April 2017