This page is part of © FOTW Flags Of The World website
Bonaire, Saint Eustatius and Saba - Caribbean Netherlands
Caribisch Nederland, Hulanda Karibe
Last modified: 2020-09-12 by rob raeside
Keywords: bonaire | saint eustatius | saba | caribbean netherlands | netherlands antilles | bes islands | antilles |
Links: FOTW homepage | search | disclaimer and copyright | write us | mirrors

---

image by António Martins, 22 April 1999
---
| | | |
| --- | --- | --- |
| image by Mark Sensen, 14 Dec 2003 | image by Arnaud Leroy, 16 Dec 2004 | image by Mark Sensen, 14 Dec 2003 |
| Bonaire | Saint Eustatius | Saba |
---
Official Name: Bonaire, Saint Eustatius and Saba
Other Names: Caribbean Netherlands, BES Islands
Previous name: the Netherlands Antilles
Capitals: Kralendijk, Oranjestad, The Bottom
Location: Group of Islands in the Caribbean
Government Type: Constitutional Monarchy, Dutch Overseas Public Bodies
Established: 10 October 2010 (dissolution of the Netherlands Antilles)
Flags adopted: 11 December 1981 (Bonaire), 16 November 2004 (Saint Eustatius) 6 December 1985 (Saba)
ISO Code: BQ
---
See also:
---
"The Caribbean Netherlands" is just a description; there is no entity to bear that name. It's a newly created term to distinguish the three islands of Bonaire, Saint Eustatius and Saba from The European Netherlands, the historical country bordering the North Sea. This distinction became necessary on 10 October 2010, when those three islands, that used to belong to The Netherlands Antilles became part of The Netherlands instead. There is therefore no entity to fly a flag for The Caribbean Netherlands. Should such an entity be formed in the future, they might consider continuing the flag of The Netherlands Antilles, but with only three stars remaining. They might go either way, though: Enlarging the stars, or removing them altogether.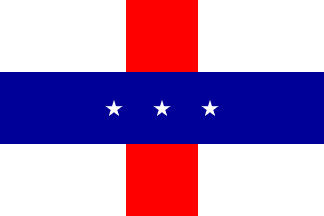 Virtual flag of the Caribbean Netherlands
image by Peter Hans van den Muijzenberg, 11 May 2011
The status of each of the islands is that of a public body (openbaar lichaam), rather than that of a municipality (gemeente). As a result large portions of the law on municipalities (gemeentewet) had to be copied to give the administration of each island a structure similar to those. A major difference is that a municipality has a province (provincie) above it to take care of more regional tasks, whereas the islands each have to fulfil those tasks themselves. The National Service Dutch Caribbean (Rijksdienst Caribisch Nederland) takes care of the implementation of certain national tasks on each of the islands. As a National Service, though, it will use the general governmental flag.
Though the islands have several things in common, each having inherited a lot of laws from The Netherlands Antilles, all having English as their major language, and each having the United States Dollar as their monetary unit, they are distinct entities. Every law etc. has to be made to apply to each of the islands separately. In fact, counter to the impression given by the name of the National Service, there is no single "Dutch Caribbean": Saint Eustatius and Saba are in the Leeward Islands, while Bonaire is on of the Leeward Antilles.
Peter Hans van den Muijzenberg, 11 May 2011
The Kingdom of the Netherlands consists of four separate countries: Aruba, Curaçao, Netherlands and Sint Maarten. All are autonomous in their internal affairs. The Kingdom takes care of foreign affairs and defence. For Kingdom affairs there is a special Kingdom government, consisting of the Netherlands ministers plus one minister for each of the other countries.
This system has been in place since 1954 (with Netherlands, Netherlands Antilles and Surinam), so there is nothing new happening. (see Wikipedia under Kingdom of the Netherlands).
The three BES-islands are now 'public bodies' of the Netherlands (ex art. 134 of the Constitution) and will become normal municipalities in due course.
Maxim van Ooijen, 11 October 2010
---
The text of "EILANDSVERORDENING van de 11e december 1981, no. 1 tot het vaststellen van de vlag van het eilandgebied Bonaire", the official law creating the flag on 11 December 1981 is available at http://decentrale.regelgeving.overheid.nl/cvdr/xhtmloutput/historie/Bonaire/812/812_1.html. It is captured below for the record.
De iskundig exacte aanwijzingen voor het ontwerp van de Boneriaanse Vlag.

Vlakverdeling

1.1. De verhouding van de totale rechthoekige oppervlak van de vlag is: lengte staat tot breedte als drie staat tot twee.

1.2. Bij de eerste stap wordt: de rechthoek diagonaalsgewijs verdeeld met vlakverdeling wit boven, blauw beneden, zodat wit tegen de vlaggestok zit.

1.3. Bij de tweede stap wordt: de vlaggebreedte gedeeld door 2,4 waardoor een lengte "x" wordt verkregen.

1.4. Bij de derde stap wordt punt I bepaald door lengte x vanaf de bovenhoek A naar beneden toe af te passen langs de vlaggebreedte.

1.5.Bij de vierde stap wordt vanuit punt I een lijn schuin naar boven getrokken die parallel loopt met de diagonaal en de bovenste driehoek (A-I-B) die nu ontstaat is geel.

De ster

2.1. Bij de vijfde stap wordt lengte x langs de vlaggelengte afgepast waardoor punt II bepaald wordt.

2.2. Bij de zesde stap wordt een denkbeeldige loodlijn vanuit punt II neergelaten zodat punt III en punt IV bepaald worden.

2.3. Bij de zevende stap wordt met lengte x als straal en punten III en IV als achtereenvolgende middelpunten een soort oogfiguur geconstrueerd, en de ooghoeken bepalen punt V en punt VI.

2.4. Bij de achtste stap wordt een denkbeeldige verbindingslijn getrokken tussen punt V en punt VI waardoor punt M ontstaat als middelpunt van dezespuntige ster.

2.5. Bij de negende stap wordt met punt M als middelpunt een cirkel geconstrueerd waarvan de cirkellijn precies samen valt met de boven en beneden lijnen van het oogfiguur , zodoende hebben we de omgeschreven cirkel van de ster.

2.6. Bij de tiende stap wordt de zespuntige ster binnen haar omgeschreven cirkel geconstrueerd, zodat haar boven en beneden punten precies op de loodlijn vanuit punt II vallen.

Deze ster is rood.

Het kompas

3.1. Bij de elfde stap wordt met punt M als middelpunt de omgeschreven cirkel beschreven van de kompas door als straal te gebruiken de diameter van de omgeschreven cirkel van de zespuntige ster.

3.2. Bij de twaalfde stap worden de kompaspunten geconstrueerd door vanuit deze punten raaklijnen te trekken tegen de omgeschreven cirkel vande ster.

3.3. Bij de dertiende stap wordt de buitenste cirkel van de kompasring geconstrueerd door als straal te gebruiken een van de zijdes van de grootste gelijkzijdige driehoeken die de zespuntige ster vormen.

3.4. Bij de veertiende stap wordt de binnenste cirkel van de kompasring geconstrueerd door als straal te gebruiken de loodlijn van één van de grootste gelijkzijdige driehoeken die de zespuntige ster ­vormen.
There was a question as well regarding the flag colors. While I did not see anything amended in the 1981 law to stipulate the colors needed for the flag, http://bonairegov.nl/nl/downloads has style sheets for both the flag and arms of Bonaire. In this style sheet ( http://bonairegov.nl), published on 23 September 2019, it gives the following Pantone codes for all colors used (with the exception of white):
Gold (Pantone 012C)
Blue (Pantone 287C)
Black (Pantone Black 6C)
Red (Pantone 199C)

Zachary Harden, 5 August 2020
---
The status of Curaçao and Sint Maarten are the same now as that of Aruba. Aruba has its own IOC delegation, I'm sure that Curaçao and Sint Maarten will get everything Aruba has (IOC delegation, ISO 3166 code, etc) in time, probably by the time of London 2012.
The BES (Bonaire, St. Eustatius, Saba) islands is a different kettle of fish - they are now considered integral parts of the Netherlands, I would assume any Olympic athletes from the BES islands would march with the Netherlands team.
David Kendall, 11 October 2010
The Netherlands Antilles will continue to exist not as a country but as a (sports) region in the Caribbean. Please visit: http://www.naoc.info/new-status/
"New status:
NAOC was founded in the year 1931 and as such is one of the oldest Olympic Committee of the Caribbean region. On a political level it was decided in 2005 that the country Netherlands Antilles will seize to exist within a couple of years. Together with the Antillean Minister of Sports, as well as all five insular commissioners of sports the goal was unanimously set (29th of October 2006) to maintain NAOC and its members as umbrella sport organizations. This was approved by the International Olympic Committee (28th of June 2007) and ratified during the General Assembly of NAOC on the 5th of July 2007. The name Netherlands Antilles will no longer refer to a country, but to a region in the Caribbean. NAOC will keep its status as highest sport's governing body for all five islands. The support towards the federations, the islands and all athletes will be intensified in the near future."
Juan Manuel Gabino Villascán, 4 January 2011
On Jan. 13 this year, the Executive Board of the IOC agreed to allow athletes from former Netherlands Antilles to compete under the Olympic Flags as independet athletes, just like those from East Timor in Sydney 2000, Yugoslavia in Barcelona 1992. Other sources declare that even the IAAF has withdrawn recognition to the former Netherlands territory, then the athletes are to compete under the Dutch flag.
Sources: http://www.rnw.nl/caribiana/article/atleten-tot-2012-onder-olympische-vlag
http://news.yahoo.com/s/ap/20110113/ap_on_sp_ol/oly_ioc_meetings
http://www.tsn.ca/olympics/story/?id=349231
http://insidethegames.biz/summer-olympics/2012/11628-ghana-and-netherlands-antilles-set-to-miss-london-2012
http://www.thedailyherald.com/sports/local-sports/12395-netherlands-antilles-loses-olympic-charter.html
http://www.thestate.com/2011/01/13/1644125/ap-sources-ioc-suspends-ghanas.html
Juan Manuel Gabino Villascán, 25 January 2011
---
ISO has issued new country codes for islands in the Dutch West Indies to reflect their new administrative status following constitutional reform by the government of the Netherlands.
The islands of Curaçao and Sint Maarten become autonomous countries of the Kingdom of the Netherlands, with the following two-letter and three-letter country codes issued under the ISO standard, ISO 3166-1:
Sint Maarten (Dutch part) - SX SXM
Curaçao - CW CUW
The islands of Bonaire, Saint Eustatius and Saba become Dutch municipalities which are assigned the following ISO 3166-1 code:
Bonaire, Saint Eustatius and Saba - BQ BES
The codes for the Netherlands Antilles are deleted from ISO 3166-1 and transitionally reserved for a period of 50 years:
Netherlands Antilles - AN ANT
Source: http://www.iso.org/iso/pressrelease.htm?refid=Ref1383 2010-12-20
Jarig Bakker, 29 December 2010
---
Taking a look for this page:
http://postzegelverenigingaalsmeer.nl/Caribisch-Nederland.htm
It seems that a stamp issuing authority (local or Dutch) have issued a stamp on the day of dissolution of the Netherlands Antilles with title of Caribbean Netherlands. This is not an evidence for administrative entity. But UPU recognizes this entity as a separate body by this name, and displaying coat of arms and portrait of HRH the Queen on these stamps, is a sort of recognition even from Dutch authorities. It is not the same as ISO standards, but everything could be changed in the near future, even it could be a new province of the Netherlands.)
Zoltan Horvath, 7 March 2011
"I have the impression that these were indeed issued, on 10 October 2010, but only for the remainder of the year."
They would not have waited a whole year after 10-10-2010 before issuing stamps and then made them available for three months only. 2012 has a series in a style similar to the fish, but with dinghies. And, indeed the sails are coloured, but the only one I can recognise as a flag is 99 ct, which is an Optimist with an Bonaire-like sail.
Peter Hans van den Muijzenberg, 08 May 2012