This page is part of © FOTW Flags Of The World website
Qulla Suyu (Inca Empire)
Last modified: 2017-12-09 by antónio martins
Keywords: qulla suyu | aymara |
Links: FOTW homepage | search | disclaimer and copyright | write us | mirrors

---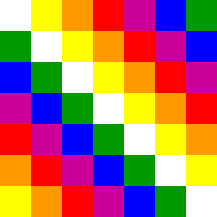 image by Kjell Roll Elgsaas, 14 Dec 1997
---
See also:
External sites:
Online 2005 photo (context), showing a 7×7-checkers white-diagonal Qullasuyu flags
reported by António Martins, 24 Nov 2006
---
Presentation
Flag which have squares in the rainbow colors instead of stripes is for Kollasuyo.
Laila Holtet (of tawantinsuyu.com), 09 Jul 2001
This is the flag of Qullasuyu, one of the Inca "quarters".
António Martins, 17 Jul 2004
The square flag with seven squared checkers colored diagonally from top hoist to bottom fly in white, yellow, orange, red, violet, blue and green (complete diagonai being white) is widely used Inca-descent identity manifestations, much more than any of the other three (with complete diagonals in yellow, red, and green).
António Martins, 11 Jul 2004
---
Usage as "the" Bolivian Indian flag
See also:
Bolivia does correspond more or less to Qullasuyu, so an identification with the local Inca flag with the whole Empire/community is understandable.
António Martins, 20 Dec 2005
The winner of today's Bolivian presidental election is Evo Morales of the Movimento al Socialismo — MAS, who will be the first Indian president of Bolivia. Morales was shown at the election party with the Bolivian flag and the "Bolivian Indian flag" [i.e., the 7×7 white-diagonal square flag] behind him.
J. Patrick Fischer, 19 Dec 2005
The current Head of State of Bolivia, Evo Morales, uses the flag of the Inca Empire [the Qulla Suyu flag] as a State flag on most official events.
Esteban Rivera, 31 Jul 2016
These four 7×7 squares square flags are hard to tell apart at a distance, their interchangeable use is likely: An example of this in this Morales/MAS banner, where a Kuntisuyu flag (yellow diagonal) is used, blending smartly with a bolivian national flag.
António Martins, 20 Dec 2005
---
Usage as "the" Aymara flag
This square flag, purported to be that of the Aymara people, is popular with native South American ethnic independence movements, sometimes referred to as indigenous, or indigenismo movements. It is also sometimes called the Wiphala of Qulla Suyu (Estandarte del Collasuyo) and has been called a dual "official" flag of Bolivia since 2009. (Sources: Katari.org: Tawantinsuyu, Ask.com: Wiphala, Katari.org: Wiphala)
Pete Loeser, 19 May 2014
About the Aymara
The Aymara are a native American tribe that live in the Andes regions of South America. It is estimated that over 2 million still live in their ancestral homelands. They have lived in the region for centuries. They were conquered by the Inca in the late 1600s, and then the Spanish in the 1700s. After the Wars of Independence, their lands became part of Bolivia, Peru, and later Chile. (Sources: Katari.org: Tawantinsuyu, Ask.com: Wiphala, Katari.org: Wiphala)
Pete Loeser, 19 May 2014
---
Usage as "the" Inca flag
This webpage [mmfXX] shows the 7×7-chequered white-yellow-orange-red-purple-blue-green flag (with white "diagonal") and calls it the Emblema Nacional del Pusinsuyo = Tawantinsuyo — which contradicts all other sources.
António Martins, 11 Jul 2004
The 1994 Flags of Aspirant Peoples chart [eba94], shows as flag No. 198 («Tawantinsuyo Liberation Front») the chequered flag, which at the time was believed to be used in Ecuador, Peru, and Bolivia.
Ralph Bartlett, 18 Aug 2005
It is noteworthy that, in Bolivia, the 7×7 squares square flag with white squares (Qullasuyu quarter) is seen more often (than the other three), apparently standing for the whole of native andeans (Quechua and Aymara), not for a specific quarter.
António Martins, 20 Dec 2005
On a page that reports and illustrates (by means of photos) the hoisting of the Qullasuyu Inca regional flag in a Buenos Aires school, after a field trip to the Aymaras in Jujuy, northwestern Argentina, aiming to educate the students (non-Indians) about the nature of native/conqueror relationship in South America and to avert discrimination, the Qullasuyu Inca regional flag is named «LA WIPHALA, el emblema de los aborígenes andinos» — note that the Tawantisuyu territory in Argentina is within the Qullasuyu "quarter" (the southern quadrant).
António Martins, 11 Jul 2004
---
Usage as "the" South American Indian flag
Mapuche do use the square rainbow Whipala flag as a kind of "symbol of Native peoples from South America". The whipala flag is a symbol associated with the Inca Empire. The wiphala flag has become a kind of general symbol used by native American people in South America. (However this present day use is the opposit of the original relations between the Inca Empire and its neighbors.) In Argentina the wiphala flag is usually used by northern native peoples.
Francisco Gregoric, 17 Jul 2004
---
History
See also:
This Kara Chukiwanka's article [qch9X] quotes also an interesting report (referenced as «Razzini: 193» with no bibl. ref.), by researchers Portugal Zamora and Ibarra Grasso (apparently bona fide archeologists / historians), 1957: (…)« parecido con la bandera del Kollasuyu que esta compuesta por una serie de cuadrilateros, de distintos colores, muy semejante en su composición gráfica a un tablero de ajedrez. En aymara o Kolla, se llama Wip'ala». This seems to describe the chakana symbol with moon ("◐") on the center, and compares it to the checkered Kollasuyu flag (thus reported as common place already in 1957).
António Martins, 03 Jun 2008
---
Variant with 14×14-square chakana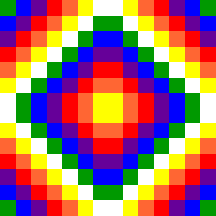 image by António Martins, 30 Oct 2017
On photos (here and here) of a MAS (Bolivian party) rally in early 2017, among a few Bolivian tricolors, many party flags, and a couple of regular 7×7 yellow-diagonal (Qulla Suyu) whiphalas, we can see two unusual checkered flags: This one and a 14×14 square flag with all four rotations of the Qulla Suyu pattern stitched together (with the original at top fly), creating a sort of very compact (lozenge) chakana as outlined by the white squares (as an extended version of this one), leaving a 2×2-squares yellow center and four single green squares at the corners. It seems to be made of four flags sttitched together, probably printed: not likely these are appliqueed, although it's also possible. The result is a pattern that clearly refers to the Qulla Suyu flag and includes the chakana symbol in caleidoscopic superimposition/stacking — from an orange-outlined 2+4+4+2-square chakana at the center outwards to a white-outlined 2+4+6+8+10+12+14+12+10+8+6+4+2-square chakana.
António Martins, 30 Oct 2017
---
Anything below this line was not added by the editor of this page.