This page is part of © FOTW Flags Of The World website
Corinthian Yacht Club (U.S.)
Massachusetts
Last modified: 2022-09-23 by rick wyatt
Keywords: corinthian yacht club | united states yacht club | massachusetts |
Links: FOTW homepage | search | disclaimer and copyright | write us | mirrors

---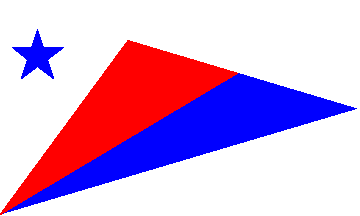 image by Ivan Sache, 18 July 2010
---
---
See also:
---
Corinthian Yacht Club
The Corinthian Yacht Club (CYC) was founded on 7 July 1885 in Marblehead. Famous visitors of the club were the presidential yacht "Mayflower", 1925-1926, and USS "Constitution", 1997. CYC originally had "males only" membership, but this slowly evolved: "In 1891 Corinthian established races for women and by 1910 Corinthian women were able to use the dining room. It was not until after World War II that women were permitted to enter the Club bar, and not until 1985 that they were admitted to full membership. Today Corinthian women participate in all activities and chair a number of committees."

The burgee of CYC, flown over the clubhouse, is diagonally divided from the lower left corner white-red-blue, with a blue star in canton.
www.corinthianyc.org/about455.html
www.corinthianyc.org/~corinth/images/clubhouse_400.jpg
Ivan Sache, 18 July 2010
From Corinthian Yacht Club, 1898:
By-Laws
Chapter III.
Club Signal.
The signal of the Club shall be a pointed burgee, its width being two-thirds of its length. It's divided into three triangles; the one next to the luff being white, the center red and the end blue. The base of the white triangle on the top of the burgee is three-eighths its length on top; the base of the red one-quarter, and the base of the blue three-eighths. The apex of the three triangles meeting at the bottom of the luff. In the center of the white triangle there shall be a blue star, the diameter being one-quarter the length of the luff.

Chapter IV.
Emblem and Pennants
The emblem of the Club is Pegasus, the flying horse. The motto is "Et certare pares, et respondere parati." The Commodore's pennant is a swallow tail with the Club-emblem in white on a blue field and three stars parallel with the staff. The Vice Commodore's is the emblem in white on a red field and two stars. The Rear Commodore's is the emblem in blue on a white field and one star."
These were the by-laws for 1898; more than a century has past since then, and the by-laws are likely to have changed during that time.
Peter Hans van den Muijzenberg, 14 April 2018
---
Somewhat later manual, undated in the post, but obviously digitized by Google, so should not be difficult to locate, shows a new set.
Commodore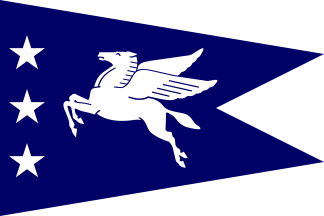 image by Željko Heimer, 30 March 2018
Commodore, triangular swallow-tailed blue with white 3 stars along the hoist and a white Pegasus.
Željko Heimer, 30 March 2018
Vice-Commodore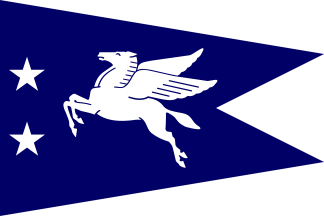 image by Željko Heimer, 30 March 2018
Vice-Commodore, triangular swallow-tailed blue with white 2 stars along the hoist and a white Pegasus.
Željko Heimer, 30 March 2018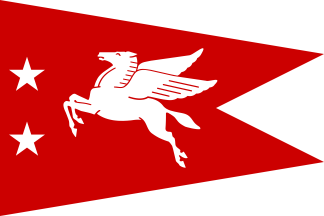 image by Željko Heimer and Tomislav Todorovic, 9 August 2022
Or should this flag be red? If the commodores differ by number stars, why do only two of the three differ in colour. It seems much more likely if the person originally writing this would have copied the text for commodore and mistakenly didn't change the "blue" to "red".
The source of this flag was a Google copy, and they had not thought about colour images beforehand. Thus, to make a colour copy, the operator had to manually indicate colour, and in the run of a whole flag book, there are usually a few pages where the operator forgot, and you end up with a black and white page.
In 1891 in Manning's American Yacht List is an entry 89: Corinthian (New York) showing the familiar red and white multi-starred flags. In 1896 in Manning's American Yacht List there is no longer an entry 89. But there is a new entry: Corinthian (Mas.) showing the equally familiar Pegasus flags. And indeed, it has a red flag for the vice-commodore. The Corinthian of
Massachusetts is from 1885 of 1888, depending on how you count it. Occam's razor says these were simply two separate clubs called "Corinthian Yacht Club", that in 1891 existed together.
Peter Hans van den Muijzenberg, 3 August 2022
Rear Commodore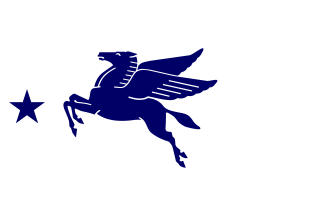 image by Željko Heimer, 30 March 2018
Rear Commodore, triangular swallow-tailed white with a blue star next to the hoist and a blue Pegasus.
Željko Heimer, 30 March 2018
Burgee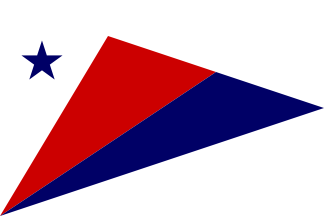 image by Željko Heimer, 30 March 2018
Burgee, triangular, white, red, blue triangles with vertex at the base hoist, blue star in the canton.

This is the present CYC burgee, I believe, but the rank flags would have been replaced with the "standard" pattern in the early 20th century or so.

I wonder if the Pegasus is there to show the link with the Royal Corinthian YC - its old ensign and burgee using the same badge.

The last burgee we already have, but I redraw it with "standard" colours as we use for the US flag.
Željko Heimer, 30 March 2018
Near Corinth, the Pegasus had dug with its own hooves a well that never ran dry. It was there that it came to drink, thus it came to be associated with Corinth, and with the Corinthian ideal of striving for greatness, rather than for payment. It's said that even the muses come there, to find the inspiration they bring to those they favour.
Željko Heimer, 30 March 2018
Peter Hans van den Muijzenberg, 14 April 2018