This page is part of © FOTW Flags Of The World website
Russian Navy: early flags
Last modified: 2021-08-26 by valentin poposki
Keywords: navy |
Links: FOTW homepage | search | disclaimer and copyright | write us | mirrors

---
See also:
---
Introduction
It is known that on 9 April 1667 the Czar Alex issued a decree ordering to buy white, blue and red fabrics to make the naval flags. Previously he visioned various national flag designs (England, Denmark, Sweden, Netherland,..) in searching for a valid design for the russian one. Until that time the only flags used on ships were probably white with the black eagle (similar to the Czar' Standard) or reproducing sacred images.
Mario Fabretto, 27 Nov 1998
After the visit of Peter the Great to Netherlands, the triband design became the preferred one.
Mark Sensen, Nov 1998
Other influences from western Countries can be followed both for the war ensign after 1712 (Scotland) and for the jack (United Kingdom), showing that Peter the Great was particulary interested to give his Country very impressive flags studying the other contemporary flags design. In some way he could be considered a vexillologist. (Sources: [zig94], [sto74] and [fow69].)
Mario Fabretto, 27 Nov 1998
According to [zig94], the Russian Navy used a very great number of flags, more than one hundred. The quoted book shows 22 of them.
Giuseppe Bottasini
---
Blue cross over red and white quartered
We often hear about «first flag of russian navy, quarterly red and white, a blue cross over all». It is doubtful. I must tell about it. All russian flags have official confirmation (decrees, orders) except the "quarterly flag" White, blue, red colours probably become national colours of Russia in XVII c. First national flag in Russia was designed about 1668 for first russian warship Eagle. We don't know which flags (ensigns) were on Eagle (I repeat — we don't know). We know only that: flags consists of white, blue and red cloth (document of 1668, decree about cloth). There is a gold double-headed eagle in the centre of flag (decree of tsar Alexei, father of Peter I).

There are two reconstructions of the flag:

I think first reconstruction more truthful. We know that young tsar Peter I hoisted this flag on his ship in White Sea (town of Arkhangelsk, 1693), on big warship "Ingermanland" (when Peter directed allien navies of England, Holland, Danmark and Russia) in 1716 etc. Quarterly flag was drawn firstly on an engraving of Schoenebek (sp.?) Siege of Azov castle in 1696. Engravings are very questionable sources.

Victor Lomantsov, 07 Apr 2000

In one of the worlds first flagbooks, compiled by Carel Allard (from Amsterdam) in 1695 [ala95], shows three Russian flags:
horizontal white-blue-red, over all (shifted to the hoist) a golden double headed eagle with a red shield (with St.George, without the dragon) on its chest and a golden crown over its heads. Caption: Czar of Moscovia. (See here.)
horizontal white-blue-red, over all a blue saltire. Ratio of the flag aprox. 1:3. Caption: Other flag of Czar of Moscovia. (See here.)
quarterly red and white, a blue cross over all. Caption: another Moscovian flag.
Mark Sensen, 25 Nov 1998, quoting [sie96]

Vexillologists say: the "quarterly" flag was shown in famous flag-book of Carlus Alard (1695). But in that times books may printed many years. There are many corrections and addings were made in those years. In Alard's book we see 3 russian flags. The flag #2 was designed by Peter I for ship of russian ambassador Ukraintsev in 1698-1699 (source: note-book of tsar Peter I). Thats why Alard's book can't be printed in 1695 (not before 1698). May be Alard copy flag from Schoenebek engraving?

From 1697 the white-blue-red flag officially become navy ensign, from 20 january 1705 the white-blue-red ensign become a merchant flag. The "quarterly" jack, main-mast flag, etc. are a delirium of some russian "navy historians".

Victor Lomantsov, 07 Apr 2000
Ensign (1668-1697)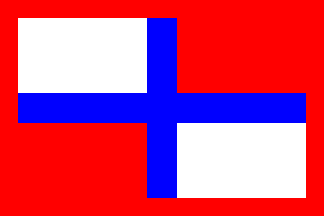 image by Yosef Obskura and Željko Heimer, 03 Apr 1999

Stern flag [i.e. ensign] (1668-1697)
Željko Heimer, 03 Apr 1999, quoting from Flag-znamya korablya, Russian Navy website, consulted 07 Mar 1999

This is an important flag. Flags of such design were used for the Don fleet during the 1696 war for the conquest of Azov and it is probable that they were similar to those used during the 1667 war for Astrakhan. The admiral flag added a golden disk with the coat of arms on the cross intersection and was swallow-tailed.
Mario Fabretto, 27 Nov 1998
Jack (until 1697)


image by Yosef Obskura and Željko Heimer, 03 Apr 1999

Bow flag [i.e. jack], Bushpritnyi flag (until 1697).
Željko Heimer, 03 Apr 1999, quoting from Flag-znamya korablya, Russian Navy website, consulted 07 Mar 1999

"Bugshprit" from dutch "Boegspriet" — the mast at the bow.
Herman De Wael, 12 Mar 99
Mast flag (until 1697)


image by Yosef Obskura and Željko Heimer, 03 Apr 1999

Mast flag (until 1697)
Željko Heimer, 03 Apr 1999, quoting from Flag-znamya korablya, Russian Navy website, consulted 07 Mar 1999
---
Russian pennant (until 1700)


image by Yosef Obskura and Željko Heimer, 03 Apr 1999

The first Russian pennant (until 1700)
Željko Heimer, 03 Apr 1999, quoting from Flag-znamya korablya, Russian Navy website, consulted 07 Mar 1999
---