This page is part of © FOTW Flags Of The World website
Regimental flags of the Imperial Russian Army (ca. 1803)
Last modified: 2021-08-26 by valentin poposki
Keywords: regiment | crown (golden) | a i | eagle: double-headed (black) | aleksandr 1 (russia) | za vzâti.e u francuzovw |
Links: FOTW homepage | search | disclaimer and copyright | write us | mirrors

---
See also:
---
About these flags
The monogram in the corners reads "AI", it refers to Aleksandr I, the contemporary Tsar.
António Martins, 21 Nov 2000
V. A. Durov's Russian and Soviet Military Awards [dur90], on pages 8-9 of the Russian text and 14-15 of the English, discuss collective military awards. Following is the vex-relevant material, which is fairly interesting for those interested in military colors:
Special honorary banners with inscriptions describing the exploits for which they were given wree instituted by Paul I, who conferred them upon the Taurida, Moscow, Arkhangelsk and Smolensk regiments in 1800.

In the reign of Alexander I, further distinctions were introduced in the design of honorary regimental colors: a representation of the cross of the Order of St George was now fixed to the spearhead of the flagstaff and the tassels were hung on St George's ribbons [note: orange with three wide black stripes] and not on silver braids. The first St George's banners of this type, bearing the inscription "For the feats of arms performed at Schoengraben on November 4, 1805, in a battle fought by a 5,000-strong unit with a 30,000-strong enemy force," were awarded to several regiments that distinguished themselves during the 1805 campaign against the French army.
(snip)
Infantry units were given honorary banners and cavalry units were presented with honorary standards — the cavalry variety of regimental colours.
(snip)
When a unit which had already been awarded St George's banner performed a fresh feat of arms, an additional inscription with a brief account of the exploit was made on the banner.
(snip)
Honorary colours were also awarded to warships.
Joseph McMillan, 31 Aug 1999

All these flags look very German to me. Any specific connection to the Iron Cross?
Ole Andersen, 29 Aug 1999
---
White Standard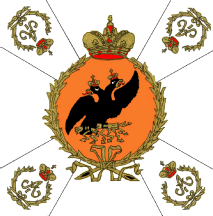 image by Arvo Vercamer and Jorge Candeias, 02 Feb 1999

Imperial Russia - 1803 Model White Standard - Lithuania Inspection.
Arvo Vercamer, 02 Feb 1999
---
Colored Standard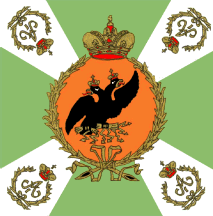 image by Arvo Vercamer and Jorge Candeias, 02 Feb 1999

Imperial Russia - 1803 Model Colored Standard - Lithuania Inspection.
Arvo Vercamer, 02 Feb 1999
---
Pernov (Pärnu) Musketeer Regiment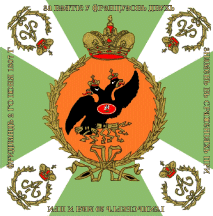 image by Arvo Vercamer and Jorge Candeias, 02 Feb 1999

Imperial Russia (16 January 1808) - Colored St. George format standard - Pernov (Pärnu) Musketeer Regiment - Lithuania Inspection.
Arvo Vercamer, 02 Feb 1999

I guess it's related to Suvorov's campaigns…
Alex, 01 Sep 1999

This has a russian inscription all around the edges. This inscription reads:
ЗА ВЗЯТІЕ У ФРАНЦУЗОВЪ ДВУХЪ
ЗНАМЕНЬ ВЪ СРАЖЕНІЯХЪ ПРИ
ГЕИЛЬСБЕРГЪ 29 МАЯ И ПРИ
ФРИДЛАНДЪ 2 ГО ЮНЯ 1807 Г
This means «For the conquest of two colors from the French in fights near Geilsberg at 29 May and near Friedland at 2 June 1807». Those of you that know russian may note that there are a few diferences in spelling and even in characters between that time and now).
Jorge Candeias, 27 Aug 1999
Apart from the text, this differs from the Colored St. George format standard of the Lith. Inspection also by means of the red oval escutcheon on the eagle's breast. What is it?
António Martins, 09 Jun 2001
---
Narva Musketeer Regiment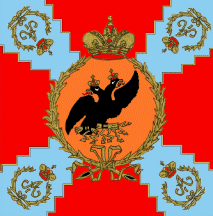 image by Arvo Vercamer and Jorge Candeias, 02 Feb 1999

Imperial Russia (09 November 1810) - 1803 Colored Standard - Narva Musketeer Regiment.
Arvo Vercamer, 02 Feb 1999
---