This page is part of © FOTW Flags Of The World website
United Kingdom: Lance Pennons and Guidons
Last modified: 2018-03-30 by rob raeside
Keywords: united kingdom | lance pennons | guidons | polish lancers |
Links: FOTW homepage | search | disclaimer and copyright | write us | mirrors

---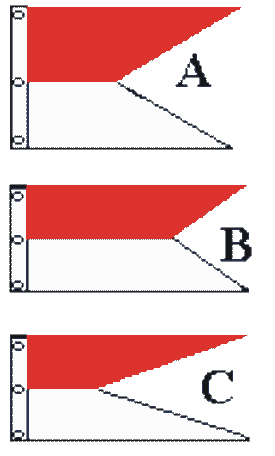 images by T.F. Mills
See also:
---
The Polish lancers, who inspired a tactical and fashion fad throughout Europe, carried pennons in a variety of regimental colours. Napoleon was impressed with the Polish guard of honour upon his entrance into Warsaw in 1806, and he formed a Polish cavalry regiment in his Imperial Guard in 1807. They received lances, complete with red-over-white pennons, in 1809 -- about the same time Napoleon made himself Grand Duke of Warsaw. The 1er Chevaulegers Lanciers of the Imperial Guard wore Polish uniforms, including the chapka (Polish national military headgear, which survives in a soft version in the Polish Army today), decorated with a French cockade. Variations of the chapka became "lancer caps" -- mostly notably in the British and German armies.

The British met the Polish lancers in the Peninsular and Waterloo campaigns, and were impressed by the extended (and deadly) reach that the lances afforded. The British first converted some light cavalry to lancers in 1816 -- also with red-over-white pennons. Contrary to popular depictions, pennons were almost always furled when in action. The 16th Lancers developed an interesting tradition stemming from the 1846 battle of Aliwal in the 1st Sikh War. Their pennons became so encrusted with blood that they appeared to have been starched and crimped. Thereafter the regiment crimped their pennons for parades. This tradition is carried on by honour guards of the Queen's Royal Lancers (who wear the 1914 full dress of its four predecessor regiments).

From 1816 the British lancers were issued at least seven different patterns of lances after that, and at least three patterns of pennons (but all red over white).

A) pennon used with the first two issues of lances (1816 and 1820). The eyelets of the pennon slipped onto studs and were fastened with a metal bar that hooked onto the studs.

Not illustrated are one or more pennons that would have been issued with the lances of 1840 and 1846. The latter lance was the type used in the Crimea (charge of the Light Brigade), and the pennon at that time was 16x27 inches, but I do not know for certain the relative proportions of the swallow tail. Photographs and reliable paintings suggest it was probably pennon pattern B.

B) Pennon issued with the lances of 1860 and 1868. It was fastened with thongs.

C) Pennon in use ca. 1914 to present. It is fastened with laces.
Lances and pennons are still used ceremonially by the two remaining lancer regiments in the British Army. In addition, the two regiments of Household Cavalry carry lances for an annual Musical Ride in Hyde Park (similar to the Royal Canadian Mounted Police), but they never carried lances in battle.

T.F. Mills, 10 March 2004