This page is part of © FOTW Flags Of The World website
People's Revolutionary Government of the Republic of China
中華共和國人民革命政府, Fujian Peo
Last modified: 2020-07-31 by ian macdonald
Keywords: people&pos;s reviolutionary government of the republic of china | star | fujian people's government |
Links: FOTW homepage | search | disclaimer and copyright | write us | mirrors

---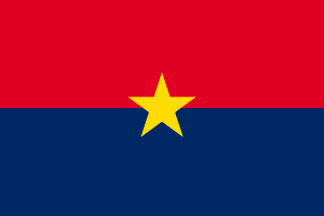 image by Ben Cahoon, 5 May 2020
---
See also:
---
From Wikipedia:
The chairman of the government was Li Jishen, Eugene Chen was foreign minister, Jiang Guangnai was finance minister, and Cai Tingkai was military head and governor of Fujian Province. A flag of red over blue with a yellow star was used and the Chinese era name of the new state was "Republic of China" with its founding being year one.
From "The CCP and the Fujian Rebellion":
On 20 November an assembly of provisional representatives declared the People's Revolutionary Government -- formally established two days later with Li Jishen at the top; a new flag was unfurled, a new calendar introduced and the removal of Sun Yat-sen's portraits from official buildings ordered.
and from mutantpalm.org:
The Fujian People's Government was a collection of disillusioned Republican in truce with Communist rebels. They did manage to have a flag.
Ben Cahoon, 2 April 2008
People's Revolutionary Government of the Republic of China (sometimes called "Fujian People's Government") page gives a descriptions, but not a flag image. This flag is basically the same flag as the one used later by the National Front for the Liberation of South Vietnam (NLF) during the Vietnam war, but with slightly darker shades.
see wiki entry: http://en.wikipedia.org/wiki/Fujian_People's_Government
Ben Cahoon, 06 June 2013
That might be this and this. Darker than which of those?
I'm beginning to wonder about those sharp stars. Are there any flag photographs that show us whether this Chinese flag actually had such a star or had the same fat star the Red Army flag had? Pete, can you tell us what type of star the flag you guys captured had?
So, People's Revolutionary Government of the Republic of China flag and National Liberation Front of Viet Nam flag. Kin or coincidence?
Peter Hans van den Muijzenberg, 15 June 2013
Considering the Wikipedia source I guess it means: darker than the darker of these two.
A question I've been asking myself for some time - I did discover the flag some time ago, but never had enough time to dedicate to exploration of the subject (always had other flags to work on).
However, although I cannot say anything for sure, there was Chinese influence on 20th-century political flags in Vietnam - Viet Quoc Party and Dai Viet Nationalist Party were modeled after the Kuomintang and use the same color set on their flags.
Tomislav Todorović, 16 June 2013
I'm not sure that resolves the issue. That image, as based on an earlier source, was much lighter in colour. The person changing it to the current colours only tells us what he changed, not why he changed it or what his source was.
Peter Hans van den Muijzenberg, 16 June 2013
I too would like to see more info. I am not 100% certain of the color shades or size/shape of the star but that the basic layout was the same for both flags (red over blue with centered star). I can't find my original source that indicated that the two flags were very close in design, but it was not new when I found it. Perhaps some one else with specializing in Asian flags will have more info.
Ben Cahoon, 26 June 2013
This Chinese Wikipedia page gives a list of Chinese flags with the Blue/Red Yellow star flag included. It seems to use a quote but maddeningly does not say where the quote came from. ["Change under the blue flag of the red, yellow star is embedded."]
Ben Cahoon, 27 June 2013
The flag of a dissident government was approved by the People's Congress held in Fuzhou on 20 Nov 1933. A contemporary account of the Congress and its resolutions are found in Jiangsheng News (Jiāngshēng bào | 江聲報), a daily newspaper published in the largest city of Fujian province, Xiamen. An article appearing in Jiangsheng News, No. 4377,
22 Nov 1933, p. 2 reads:
組繊入民革命政府,改用上紅下藍中嵌黃色五出星形之國旗

translation:
The Congress passed a resolution on the "establishment of the People's Revolutionary Government and the change of the flag consisting of a yellow five-pointed star embedded in the blue below red"
URL: http://www.modernhistory.org.cn/

The same resolution is printed in the fundamental source on the history of RoC: Historical Records of the Republic of China (Zhōnghuá mínguó shǐ shì jìyào: gāng wén bèi lǎn | 中華民國史事紀要: 綱文備覽), Year 1933, months 7-12, p. 759:
( 一) 組織「中華共和國人民革命政府」,以上紅下藍中嵌黃色五角星爲國旗;

URL (full book): https://www.drnh.gov.tw/p/405-1003-13301,c221.php?Lang=zh-tw

Oleg Schultz, 5 May 2020