This page is part of © FOTW Flags Of The World website
Quismondo (Municipality, Castilla-La Mancha, Spain)
Last modified: 2020-04-04 by ivan sache
Keywords: quismondo |
Links: FOTW homepage | search | disclaimer and copyright | write us | mirrors

---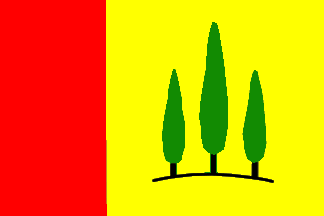 Flag of Quismondo - Image by "Chicoarroyo", Wikimedia Commons, 11 September 2019
---
See also:
---
The municipality of Quismondo (1,518 inhabitants in 2018; 1,643 ha; municipal website) is located 60 km north-west of Toledo and 30 km north of Torrijos.
Quismondo is a rare toponym, whose etymology is still obscure. Fernando Jiménez de Gregorio claims that Quismondo was originally known as Quirmondo, from the Ligurian word quir, "a rock", and the Visigoth word mondo, "protected". Unfortunately, there is no such a rock on the municipal territory and no remains of Ligurian presence either. Jairo Javier García Sánchez proposed a much more plausible explanation, referring to a germanic anthroponym, Witimundus; such a name would be cognate to Rezmondo (Burgos), Remondo (Segovia), and Casar de Remondo (El Romeral, Toledo).
Quismondo was first mentioned in a document dated 1211 that reports the delimitation of the municipal territories of Maqueda and Escalona done in 1195. The Toledo Chartulary indicates that King Alfonso VII offered on 29 April and 6 May 1146 several territories located in the north-eastern part of the alfoz of Maqueda for re-settlement; it is therefore probable that Quismondo was part of the granted territory. The neighbouring farm of Vicente Patiño was sold by the widow of its founder and namesake in 1181, which is consistent with a re-settlement of the area started 35 years earlier.
Quismondo was granted the status of villa in 1540 by Philip IV, separating from Maqueda.
Quismondo is the birth place of the bull fighter Domingo González Mateos "Dominguín" (1895-1958; biography). His classical style was eclipsed by Juan Belmonte (1892-1962), but he remained famous as a bull fighting manager and the root of a dynasty that started with his three sons, Luis Miguel (1926-1996), Domingo (1920-1975) and Pepe (1921-2003) Dominguín. His daughter Carmen married Antonio Ordóñez (1932-1998), whose rivalry with his brother-in-law Luis Miguel inspired Hemingway's last book, The Dangerous Summer. Luis Miguel is also the father of the actor and singer Miguel Bosé (b. 1956).
The novel "Veinte años y un día" (Twenty Years and One Day), published by Jorge Semprún (1923-2011) in 2003, is situated in La Mastreanza estate, Quismondo. As explained by the writer (text), the expiatory ceremony related in the novel is based on a true story told by Domingo Dominguín to the author, in the presence of Hemingway, La Mastreanza being modelled on Dominguín's estate, La Companza.
Ivan Sache, 10 September 2019
---
The flag of Quismondo (photo, photo, photo) is prescribed by an Order issued on 16 April 2002 by the Government of Castilla-La Mancha and published on 24 April 2002 in the official gazette of Castilla-La Mancha, No. 50, pp. 6,691-6,692 (text).
The flag is described as follows:
Flag: Rectangular, in proportions 1:1.5, tierced at hoist [vertically divided 1:2], the third at hoist, gules, the other two thirds, or. Centered on the field or a poplar vert surrounded by another two poplars of smaller height in proportion 3:4.
The coat of arms of Quismondo is prescribed by Decree No. 107 issued on 8 September 1987 by the Government of Castilla-La Mancha and published on 15 September 1987 in the official gazette of Castilla-La Mancha, No. 44, pp. 2,220-2,221 (text).
The flag is described as follows:

Coat of arms: Per fess, 1. Or a poplar vert surrounded by another two of smaller height, é. Gules four crosslets sable place 2, 1 and 1. The shield surmounted by a Royal crown closed.

Ivan Sache, 11 September 2019
---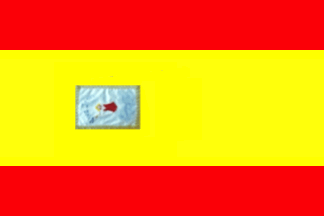 Tinaní festival flag - Image by Ivan Sache, 11 September 2019
The Tinaní festival (website), organized by the Resurrected Christ's Brotherhood, has been celebrated in Quismondo on Resurrection's Sunday for more than 200 years. The main event of the festival is a flag dance featuring the Spanish national flag defaced with the image of resurrected Christ.
The dance is performed by four young adults - the Mayor, two Helbarders and the Standard-Bearer throwing the flag - and a child called "mochiller".
The flag in actual use (photo, photo, photo, photo, photo; video, video, video) was embroidered in 1994 by the nuns of the Santo Domingo el Real convent in Toledo, which was established in 1364.
Ivan Sache, 11 September 2019