This page is part of © FOTW Flags Of The World website
Fermont, Quebec (Canada)
Caniapiscau RCM
Last modified: 2022-02-26 by rob raeside
Keywords: fermont | quebec | caribou | fleur-de-lys | potent fringe |
Links: FOTW homepage | search | disclaimer and copyright | write us | mirrors

---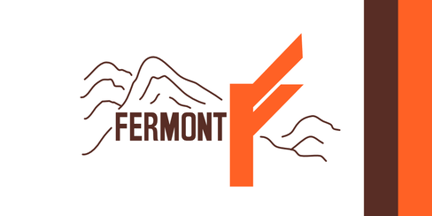 image by Masao Okazaki, 20 September 2020
---
See also:
---
City flag
This flag was posted by Vanja last year: https://www.facebook.com/groups/flagsoftheworld/permalink/2559499354064771
In my drawing of the flag. I found the font so I know what the full F looks like, but the mountains are my best guess.
Masao Okazaki, 20 September 2020
---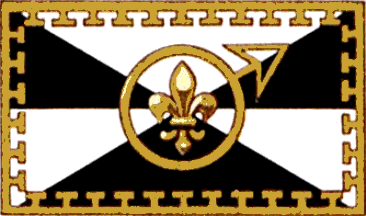 image located by Valentin Poposki, 14 April 2012
This municipality was granted a flag, arms and supporters by the Canadian Heraldic Authority on September 1, 1998, according to the Canada Gazette.
Translated from city website:
The flag of Fermont is made of the essential elements found on the shield of the coat of arms, and placed on a banner embellished by an or potent fringe (bordure d'or potencée). This heraldic shape evokes stylized cross beams on which rails are placed, in this case, those of the railroad that brings Fermont's ore to the world.
Robert Pichette, Héraut Dauphin extraordinaire,
Canadian Heraldic Authority
Luc Baronian, 11 June 2005

The Town of Fermont (2,874 inhabitants in 2011; 47,067 ha) is located on the border with Labrador, 570 km north of Baie-Comeau.

Fermont was settled in late 1972 although the Town was officially established only on 15 October 1974. Fermont (lit. Iron Mount) was a mining town, established 20 km east of the Mount-Wright iron mines, exploited by "ArcelorMittal Mines Canada", until 2008 "Compagnie Minière Québec Quartier". In order to establish a permanent in the new town, the architects Maurice Desnoyers and Norbert Schoenhauer built a 1.8 km long and 50 m high Wall expected to act as a windbreak. Most services and shops of the town are housed in the Wall.
- http://www.caniapiscau.net/fr/fermont/portrait-fermont - Municipal portal

The symbols of Fermont were registered in 1 September 1998 on the Public Register of Arms, Flags and Badges, Vol. III, p. 269, as follows:

"Arms
Per fess gyronny of six argent and sable within the sign of Mars its arrowhead voided a fleur-de-lis or;

Crest
On a mound tenné growing thereon flowering plants of cottongrass (Eriophorum angustifolium) a willow ptarmigan (Lagopus lagopus) in its winter coat all proper;

Supporters
On either side a caribou (Rangifer tarandus) proper each bearing a buckle or on the shoulder and standing on a mound tenné strewn with fragmented rocks proper;

Motto
FAIRE FRONT • FAIRE FACE, meaning "Stand up • Face up";

Flag
A banner of the arms within a bordure potent or."
- http://archive.gg.ca/heraldry/pub-reg/project.asp?lang=e&ProjectID=789&ShowAll=1 - Public Register of Arms, Flags and Badges

The gyronny represents both the shape of Mount Wright and the iron extraction areas. Sable represents iron ore. Argent symbolizes the 25th anniversary of the town's foundation (silver wedding). Black and white are the official colors of the town. The symbol of the god Mars is the [al]chemical symbol of iron. The arrow is voided but can be represented filled if preferred, this being only a minor aesthetic detail. The fleur-de-lis is the emblem of the Kings of France and the main symbol of Quebec, Fermont being located in New Quebec. The symbol of Mars and the fleur-de-lis, in blue, form the emblem of the former "Compagnie Minière Québec Cartier". Here they are represented or to prevent confusion with the mining company, most probably owner of a copyright on the emblem, and as a symbol of wealth. The caribou are animals emblematic of the subarctic areas. The buckle ("fermail") was added for the sake of differentiation from the caribou supporting other municipal arms and as a pun on the name of the town. The ptarmigan and the cotton grass are also emblematic of the region. "Tenné" (tenny, tawny) is rarely used in heraldry, meaning an orange-brown color, here the color of tundra. The broken rocks recall mining. The motto (To Affront, To Face) is yet another pun on the town's name. It conveys a deeper meaning, emphasizing the challenges faced by the citizens of Fermont. It also recalls the shape of the town, also represented by the slightly concave upper border of the shield.
- http://grandquebec.com/armoiries-blasons/armoiries-de-fermont - Quebec heraldry website

Ivan Sache, 29 July 2012
---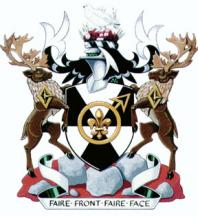 image by Luc Baronian
---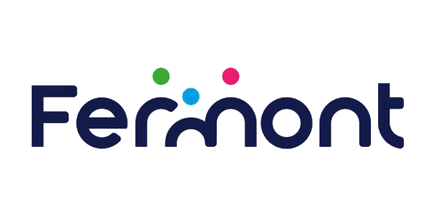 image by Masao Okazaki, 12 February 2022
A new logo flag has been adopted in 2021.
Dave Fowler, 11 February 2022
The new logo was unveiled on 20 September 2021.
The dark blue color refers to the Nordic territory. Letters "r" and "m" evoke the silhouettes of citizens, which are highlighted with the green, blue and pink dots.
https://cfmf.rocks/la-ville-de-fermont-devoile-sa-nouvelle-identite
CFMF 103,1, 20 September 2021
Ivan Sache, 16 February 2022