This page is part of © FOTW Flags Of The World website
South Yemen (1967-1990)
South Yemen, People's Democratic Republic of Yemen, Yemen-Aden
Last modified: 2021-08-25 by ian macdonald
Keywords: south yemen | yemen | people's democratic republic of yemen | star (red) | president | eagle of saladin |
Links: FOTW homepage | search | disclaimer and copyright | write us | mirrors

---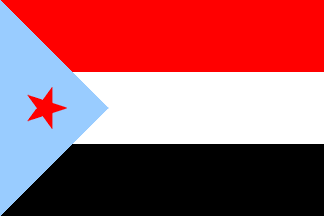 2:3 |

image by Željko Heimer, 3 October 2003
Introduced about 30 November 1967.
---
See also:
---
About the Flag
Red over white over black tricolour with a light blue triangle at the hoist containing a red five-pointed star. The triangle seems to reach one third of the fly length into the field and the star is centered at its center of gravity. The star is pointing flyward. As usual, I have no info on the possibly more detailed specification of the star, The light blue of the triangle seems to be a very light blue shade (maybe influenced by the light blue colours used by the peoples on the other side of the Gulf of Aden, (Somalia, Djibouti, and Eritrea).
Željko Heimer, 3 October 2003
---
History of South Yemen
Before 1959, the British interests in South Arabia consisted of :
On 11 February 1959 was created the Federation of South Arabian Emirates.
On 4 April 1962 the Federation was enlarged and renamed "Federation of South Arabia".
There remained a Protectorate of South Arabia.
The colony of Aden entered the Federation (as State of Aden) on 18 January 1963.
Independence was scheduled for 1968, but the NLF and FLOSY, urban guerrilla movements based in Aden, objected to the city's being placed under the rule of absolute monarchs, forced an early British withdrawal in November 1967, and established the People's Democratic Republic of Yemen (commonly known as South Yemen).
Vincent Morley, 3 February 1997
The Federation of South Arabia declared its independance from Britain on 30 November 1967, under the name "People's Democratic Republic of Yemen". The flag was adopted on the same date.
The victory of the revolutionaries in 1967 supposedly led to the abolition of the separate states. Probably the sovereigns fled to the United Kingdom or to other Arabic countries.
Roy Stilling, 5 December 1997
At this webaddress you can download a special edition (7MB) of the Yemeniti magazine 14 October. This special of 22 May 2010 holds an overview of how Yemen of today was build up, especially the southern part of the country. It also contains documents of which some are of interest as they hold information concerning the flags. The magazine also holds an overview of the flags which were used by several princely states, of which hardly anything is known.
A challenge for someone at FOTW who is able to translate the flag information in English.
Jos Poels, 21 February 2013
---
It seems that the southerners have take the control of Aden and reestablished the Southern Yemen Republic with the old flag. UAE gave support to this I assume because the old sheikhs and sultans (that hope to be reestablished) have friendly relations with the Emirate's sheikhs . The flag of the South Arabia Federation is frequently hoisted in the south
Jaume Ollé, 31 January 2018
The events in Southern Yemen have been gaining speed as the all allies in the civil war, North and South seem to be turning on each others allies. In the South, a Southern autonomist now secessionist, Movement formed and in May 2017 declared a Southern Transitional Council led by major general Aidarus al-Zubaidi . They seem to be mainly using the former flag of the former People's Democratic Republic of Yemen.

Here is what I found:

News
https://www.reuters.com/article/us-yemen-security-south/southern-yemen-leaders-launch-body-seeking-split-from-north-idUSKBN18724T
http://www.dw.com/en/yemenis-in-south-rally-for-independence-from-north/a-38928916 [flag photo]
https://www.middleeastmonitor.com/20170710-yemens-southern-transitional-council-recognises-hadis-authority
http://www.aljazeera.com/news/2018/01/separatists-government-headquarters-aden-180128073439998.html [flag photo]
https://www.npr.org/sections/thetwo-way/2018/01/30/581821833/yemen-prime-minister-holed-up-as-separatists-seize-most-of-key-southern-city [flag photos]
https://www.bloomberg.com/news/articles/2018-01-28/clashes-erupt-between-yemen-forces-southern-secessionists [flag photos]

Information
https://en.wikipedia.org/wiki/Southern_Transitional_Council under Mayor General Aidarus al-Zubaidi est. 11 May 2017
https://en.wikipedia.org/wiki/Southern_Movement
Ben Cahoon, 4 February 2018
---
Coat of Arms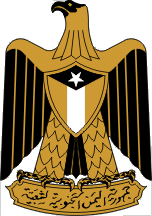 image by Martin Grieve and Christopher Southworth, 27 August 2006
---
Presidential Standard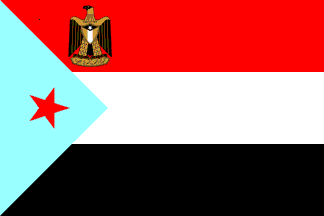 image by Martin Grieve and Christopher Southworth, 27 August 2006
The South Yemen presidential flag was similar to the national flag, but with a coat of arms on the top, red stripe close to the hoist but not touching the blue triangle. The arms is of the Saladin-eagle-with-shield style, all in gold.
Source: Smith [smi75c]
Santiago Dotor, 8 April 2002
In Whitney Smith's 1975 Flags through the Ages and Around The World ([smi75c]), this flag is depicted, and instead of the regular coat of arms embellishing the upper red bar of the flag, it is a gold-coloured variant of this, similar in appearance to the present-day Egyptian flag. South Yemen only had a President from 1967-1969, and thereafter Chairmen of the Presidential Council (to 1978), and finally Chairmen of the Presidium of the Supreme People's Council (to 1990), so I am unsure if this flag continued in use after 1969, but given that Smith's book is a 1975 publication, this was probably the case and the flag would continue until 1990.
Martin Grieve, 27 August 2006
Smith shows it in his 1975 edition [smi75c] on page 47, but, noticeably enough, he does not show it further on on page 298 were there should be one. Nor is it in such later editions as 1982's Zastave i grbovi svijeta (Flags and Arms of the World [smi82]. That is odd, and may mean that at the time of publishing (1975) this flag was already a historical one?
Željko Heimer, 5 October 2003
Construction Sheet for Presidential Standard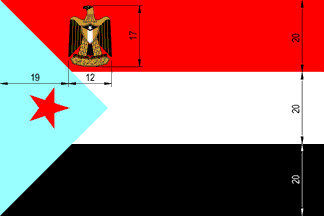 image by Martin Grieve and Christopher Southworth, 27 August 2006
---
Aircraft Marking
1967-1980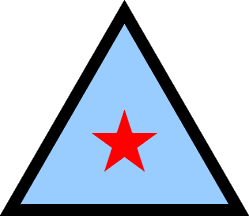 image by Željko Heimer, 3 October 2003
Light-blue equilateral triangle bordered black with red five-pointed star in the middle.
Željko Heimer, 3 October 2003
1980-1990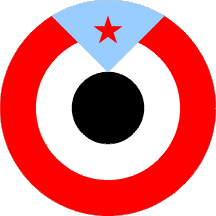 image by Željko Heimer, 3 October 2003
Red, white and black roundel with a blue segment containing the red star. Note the oddity that the blue segment is not centered in the middle of the roundel, but at the top of the black disk—possibly an error in Military Aircraft Insignia of the World 1998 ([cos98]?)
Željko Heimer, 3 October 2003