This page is part of © FOTW Flags Of The World website
Socialist Party (Portugal)
Partido Socialista, PS
Last modified: 2014-12-12 by klaus-michael schneider
Keywords: socialist party | fist | partido socialista | ps | rose | js | juventude socialista | socialist youth |
Links: FOTW homepage | search | disclaimer and copyright | write us | mirrors

---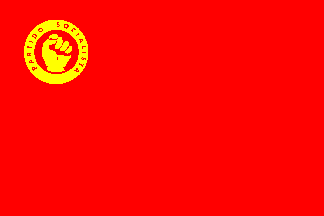 image by Jorge Candeias, 03 Sep 1997
---
See also:
External links:
---
Presentation of PS
The Socialist Party (PS - Partido Socialista) is the biggest party at the moment and is ruling the country with a relative majority in the parliament. Ideologically it's mainly a social-democratic party (very centrist), with a left-wing minority within, including some ex-communists. It was founded in Germany by exiled Portuguese in 1973.
Jorge Candeias, 03 Sep 1997
---
The party flag
The flag is red with the party symbol in the centre, which consists of a closed hand within an outlined circle surrounded by another outlined circle. Between the two circles appears the name of the party. All drawings are in yellow.
Jorge Candeias, 03 Sep 1997
Recently, I found in the Socialist Party website the definition of the party symbols in its internal law (Art.2, para.2.):

The symbol of the Socialist Party consists in two concentric circles, having the inner circle, on red field, in the center, a closed left fist in golden yellow, and the outer circle, written in red caps on golden yellow, the words PARTIDO SOCIALISTA.

The flag of the Socialist Party is a red rectangle, having in the upper left corner the symbol of the party.
Jorge Candeias, 10 Nov 1997 and 14 Nov 2001
---
Variations of the party flag
I've seen a number of variations of that flag.
Jorge Candeias, 3 Sep 1997
Reversed rim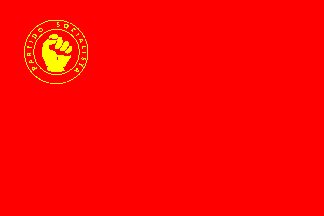 image by Jorge Candeias, 3 Sep 1997

First, there is a variation where the words are not in red on yellow, but in yellow on red, being the flag identical in every other aspect.
Jorge Candeias, 03 Sep 1997
Big logo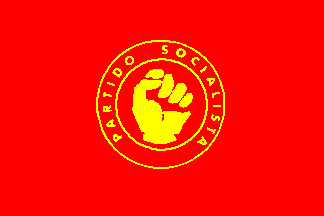 image by Jorge Candeias, 3 Sep 1997

Then comes the most widely seen variation: a big symbol in the center of the flag with the words in yellow on red.
Jorge Candeias, 3 Sep 1997
Right fist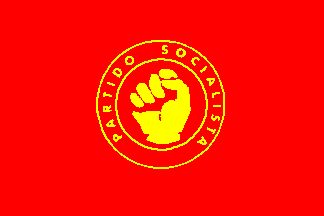 image by Jorge Candeias, 3 Sep 1997

Also widely seen is a flag where the symbol bears not the left fist, but the right one.
Jorge Candeias, 3 Sep 1997
Pink logo on white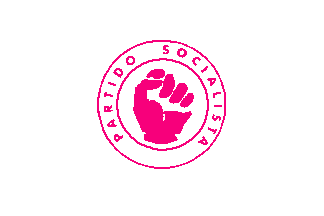 image by Jorge Candeias, 10 Nov 1997

Recently, started to appear another flag: a white flag with a big pinkish symbol in the centre.
Jorge Candeias, 10 Nov 1997
---
Socialist rose, the colour pink, and alternate party flags
Though there are no pink flags used by this party, as far as I know, pink is the colour immediately associated with it.
António Martins-Tuválkin, 18 May 1999

Although the Portuguese Socialist Party uses a fist as its official emblem, the more modern and moderate "socialist rose", used by so many "center left" european parties, also shows in many party graphic material — indeed a sharp contrast with the official symbol, a kind politico-graphical split personality disorder.
António Martins-Tuválkin, 18 May 2004

Even that is recently (say, a decade or maybe a little more). As far as I can tell, there was no colour association with the SP before. The rose of the socialists is a modern "invention": in those days [1975], they where purely red with a yellow closed fist in the canton. In fact, this is still the official flag of the Socialist Party.
Jorge Candeias, 20 May 1999 and 17 May 1999

Lately the red of the flag is shifting towards pink, and a new symbol (and flag) came out: a pink rose and "PS" in pink inside a green rectangle in a white field.
Jorge Candeias, 3 Sep 1997

It's often hard to tell if a given flag is pink or red, especially when it's only seen in photos, and especially with today's capabilities of image manipulation with all those photoshops working overtime out there. I can tell that all the white Socialist Party flags I've seen in the cloth (a few) had pink logos. But I also think that it's totally possible that a red variation does indeed exist - the flag use in political Portugal has become more focused on symbols than on colours in recent years, which opens way to all sorts of variations and multicoloured flag displays during rallies and propaganda events. Jorge Candeias and Eugene Ipavec, 21 Feb 2005

The PS rose is highly stylized, only petals made of nesting swirls, no stalk nor holding hand, and shows almost always by the side of the party acronym, set in large bold sans capitals, within a rectangular wavy, flag-like outline.
António Martins-Tuválkin, 18 May 2004

It should be noted that a very different representation of the socialist rose is used in the official emblem of PS's youth section.
António Martins-Tuválkin, 18 May 2004
flagoid with rose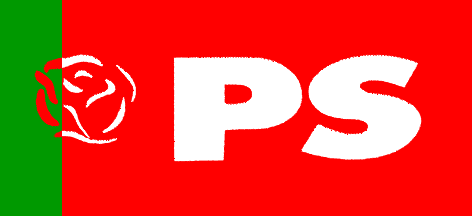 image by António Martins-Tuválkin, 18 May 2004

The idealized flag design thus implied, a variant following the national colours.
António Martins-Tuválkin, 18 May 2004
Inverted colours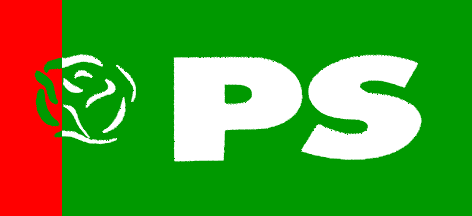 image by António Martins-Tuválkin, 18 May 2004

Its often used colour invertion.
António Martins-Tuválkin, 18 May 2004
---
Socialist Youth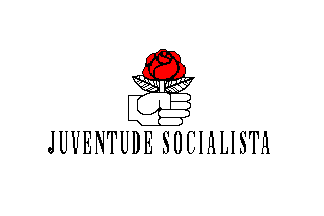 image by Jorge Candeias

It should be noted that a very different representation of the socialist rose is used in the unofficial party logo.
António Martins-Tuválkin, 18 May 2004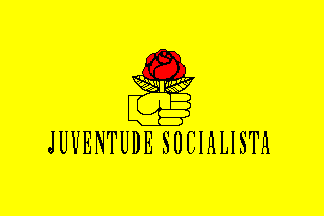 image by Jorge Candeias and António Martins-Tuválkin, 12 Feb 2005 Finally, the flag of Juventude Socialista shows its logo defenitely as yellow and red -- the white hand and the white flag versions we show on the site are only one-off variations.
António Martins-Tuválkin, 14 Feb 2005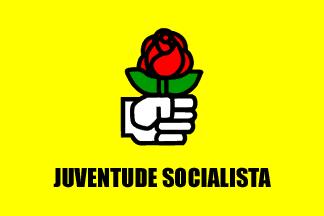 image by António Martins-Tuválkin, 8 June 2005 Though the white flag above is an attested variant (formerly official?) the current official flag of J.S. is yellow, with coloured emblem: white hand holding red rose with two green leaves and stem. Below it, the wording "Juventude Socialista" in block black sans serif capitals.
Source: photo made by António Martins-Tuválkin
António Martins-Tuválkin, 8 June 2005
---