This page is part of © FOTW Flags Of The World website
Peru - Rank Flags
Last modified: 2021-08-25 by rob raeside
Keywords: suns: 4 | suns: 3 | suns: 2 | sun: face features | flag | coat of arms: horn of plenty | anchor (blue) | anchor (yellow) | anchors: crossed | anchors: 2 | sword (yellow): up | wings | minister of defence |
Links: FOTW homepage | search | disclaimer and copyright | write us | mirrors

---
See also:
---
Minister of Defence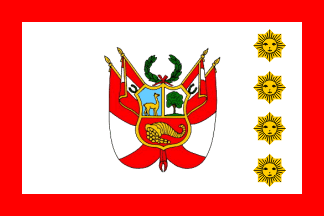 image by Željko Heimer, 01 Nov 2002

The Album 2000 [pay00] shows a 2:3 white flag with red border, the national emblem in the middle and four yellow Suns one above other along the fly. There is no matching flag in Album 1995 [pie95]. Possibly the flag is rather new. There is a flag of the Minister of Navy and Air Traffic in Flaggenbuch [neu39], but that is more similar to the C-in-C Navy, and therefore probably not "continuous". The border here is shown about 1/10 of hoist or maybe even a bit more, while the other similarly patterned flags shown latter in the series have border around 1/8 of hoist. I don't know how significant that is.
Željko Heimer, 31 Oct 2002
Alternate flag?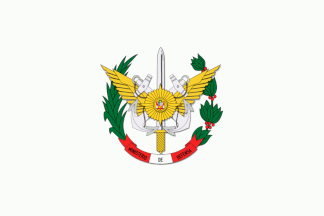 image by Jaume Ollé, 16 Nov 2007

According to Jaume Ollé's web page on Peruvian flags, the positional rank flag of the Peruvian Defense Minister is a white flag with a large emblem centered on it. This emblem combines items for all three branches of the Peruvian Armed Forces: sword (upright, silver with golden handle) for the Army, crossed anchors (silver) for the Navy, and wings (golden) for the Air Force, with a golden sun over all; this is encircled in a wreath identical to the one in the national coat of arms but with a scroll patterned after the national flag (vertically, i.e., transversally), instead of a ribbon tie, which reads «Ministerio de Defensa».
António Martins, 16 Nov 2007
---
Minister of Navy
Minister of Navy and Air Traffic, as of 1939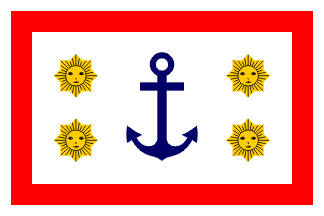 image by Željko Heimer, 06 Nov 2002

Flaggenbuch [neu39] shows a 2:3 white flag with red border surrounded with white (i.e. a red orle), and in the middle a blue anchor and four yellow Suns, one in each corner. This flag is similar to current CinC-Navy. Neubecker gives constriction details, anchor dimensions 20×30 units, Suns' diameter is 12 units, distance of Sun center from each red border 12 units, red border width 6 units, white border 3 units. The same dimensions apply for subsequent flags of this pattern.
Željko Heimer, 06 Nov 2002
"Secretary of Navy", as of 1917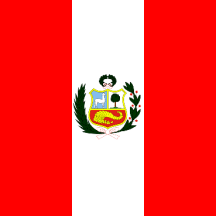 image by Željko Heimer, 06 Nov 2002

Natn'l Geo.1917 [gmc17] shows as #666 a square version of the (state) ensign — vertical triband of red-white-red with the coat of arms in the middle of the white stripe. «Secretary of Navy» is the US equivalent title given to all nations in the tables of [gmc17]; Minister of Navy or something similar is more probable (maybe even Minister of Navy and Air Traffic as in Flaggenbuch [neu39] some 20 years latter).
Željko Heimer, 06 Nov 2002
---
Armed Forces Joint Command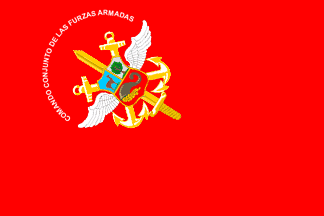 image by Jaume Ollé, 07 Jul 2007

Peruvian Armed Forces Joint Command (Comando Conjunto de las Fuerzas Armadas): It is an interesting flag, of wich we knew other examples, also in South America: the cloth is rectangular and not very stiff but the flag is designed to be hoisted indoors, so the emblem is aligned to the descending diagonal, from top hoist to bottom fly. This is a red flag with the Joint Command emblem, which aptly joins the sword of the Army, the cross anchors of the Navy, wings for the Air Force and the national coat of arms, under the name of the entity in white capitals arched above it.
António Martins, 07 Jul 2007

Here's a picture that shows that the flag in question (first flag from left to right at http://portal.andina.com.pe/, source) is actually the Standard of the Comando Conjunto de las Fuerzas Armadas del Perú (CCFFAA), and that the emblem is centered, as seen at Wikimedia (source).

Here's another picture of the Standard of the CCFFAA: http://www.elperuano.pe/ (source).

The War Flag of the CCFFAA is the Peruvian national colours plus the name of the entity below the Peruvian coat of arms, as follows (second flag from left to right): http://portal.andina.com.pe (source).

The CCFFAAA was established by Decreto Supremo Nº 002-GM/1 (English: Supreme Decree No. 002-GM/1) on February 1, 1957.
Source: https://es.wikipedia.org/wiki/Comando_Conjunto_de_las_Fuerzas_Armadas_del_Per%C3%BA

For additional information go to CCFFAA (official website): http://www.ccffaa.mil.pe/
Esteban Rivera, 14 November 2017
Emblem detail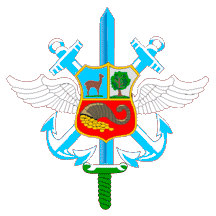 image by Jaume Ollé, 08 Jul 2007

Jaume's detail of the emblem, in an oval red background (apparently some kind of plaque) with lettering, not simply as a flag detail, shows blue sword (with green hilt!) and anchors, while his flag shows them in golden.
António Martins, 07 Jul 2007 and 08 Jul 2007
---
Chairman of the Joint Armed Forces Staff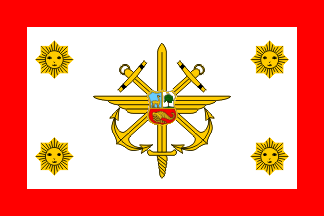 image by Željko Heimer, 02 Nov 2002

The Album 2000 [pay00] shows a 2:3 white flag with red border and in the middle the emblem of the Armed Forces and four yellow Suns one in each corner. The emblem consists of the shield of the national arms (i.e. no wreaths) superimposed on golden upright sword, wings and two anchors. The border here is pictured about 1/8 of hoist, as is for all subsequent flags of this pattern. This must be relatively recent office, and therefore the flag too.
Željko Heimer, 02 Nov 2002
Commander of the Admiral-staff of the Navy, as of 1939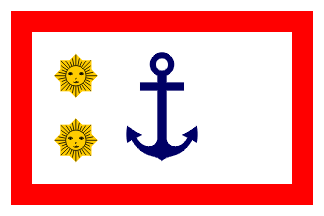 image by Željko Heimer, 06 Nov 2002

Flaggenbuch [neu39] shows a 2:3 white flag with red border surrounded with white (i.e. a red orle), and in the middle a blue anchor and two yellow Suns, on top and bottom hoist corners. This rank probably matches today the position of the Chief of Naval Staff, but in the mean time he got an additional Sun.
Željko Heimer, 06 Nov 2002
---
Prefect of a Department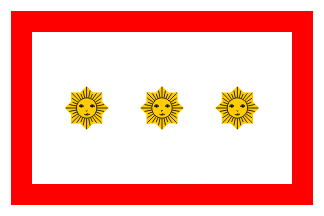 image by Željko Heimer, 06 Nov 2002

Flaggenbuch [neu39] shows a 2:3 white flag with red orle as above with three Suns set horizontally in along the middle. The distance between the sun's centers is 21 units. I wander if Prefect of a Department is military or civilian position? If it is civilian, may be this flag or something similar is still used, but defined in some other sources currently not available to us. (Just guessing.)
Željko Heimer, 06 Nov 2002
---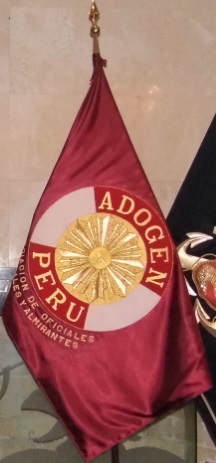 image located by Esteban Rivera, 14 November 2017
Asociación de Oficiales Generales y Almirantes del Perú, ADOGEN (English: Peruvian Association of General Officers and Admirals) was established on January 15, 1957 and it is composed of active and retired Generals and Admirals.
Source: http://adogenperu.org/nosotros.html

Its Standard flag is a crimson horizontal flag with the emblem (http://adogenperu.org/logo/ado.png) in the middle and below the name of the organization in golden capital letters, as seen here:
- (fifth flag from left to right): http://www.ccffaa.mil.pe
- (third flag from left to right): http://www.ccffaa.mil.pe
- (first flag from left to right): http://adogenperu.org/ (source: http://adogenperu.org/)
- (third flag from left to right): http://adogenperu.org/actividades/carrosel1/2.jpg (source: http://adogenperu.org/)

Its War Flag is the Peruvian flag, with the coat of arms in the middle, and the name of the institution.

For additional information go to ADOGEN (official website): http://adogenperu.org/
Esteban Rivera, 14 November 2017