The Olympic flag was visible everywhere. It was hoisted in the Stadium for the duration of the game, it was flown at each Olympic event, in the Olympic Village, and all over Sydney. And finally, during the Closing Ceremony the Seoul flag was passed on to the Mayor of Athens, where the Games of the XXVIII Olympiad will be held in 2004.
{1}
The Opening Ceremony of Sydney 2000 began with a group of 120 horsemen bearing flags riding into the stadium. The riders formed a series of patterns, with flags flying, among which the Olympic Rings. Their flags were two-coloured Olympic flags: A Blue Olympic Symbol on a White field. {3}
I think quite a few flagpoles were erected around Sydney specifically for these banners. In suburban areas, they are now generally occupied by local council banners or Centenary of Federation banners of a similar nature.
---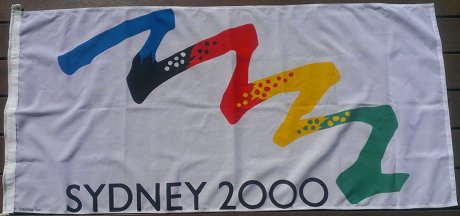 image located by Peter Hans van den Muijzenberg, 30 May 2014
At http://www.ebay.com/itm/301198078830 a flag of Olympic applicant city Sydney 2000. I've seen this logo depicted on flag pins: Crossed flags showing a sponsor of Sydney's bid on one flag and the applicant city flag as the other. This, however, is the first time I see an actual flag.
Ad description: "This original Sydney 2000 Olympic Flag is a rare collectable item in brand new condition, never used. The size is 1700/800mm screen-printed on 600D woven bunting material - Defence Force Grade." The dimensions of 17x8dm would mean the flag is longer than 1:2.
Peter Hans van den Muijzenberg, 30 May 2014
The flag is the logo on a white field: "SYDNEY 2000" in black below and left of a brush stroke resembling four arches of the Sydney Opera House in blue (top left of logo), black, red, yellow and green (bottom right), with white (on black) and black (on red) dots softening the transition between black and red, and similarly yellow and red dots on the red/yellow, and green/yellow dots on the yellow/green.
The shape, as mentioned, is the Opera House, the colours those of the Olympic flag, and the dots presumably intended to resemble an indigenous art style.
[I don't have to explain the text, but in the unlikely event that the Sydney CBD wanted to follow Windale and have a locality flag complete postcode, then this design may find a new use.]
I don't remember any details of how widely flags like those being sold on ebay were flown at the time of the bid, however:
1) Paper hand-wavers in this design (with logo printed in the same orientation on both sides) were ubiquitous at bid events.
2) At 4:17 in a video from the time now on Youtube, you see a flag on the Harbour Bridge with same logo and also the Olympic rings underneath.
Jonathan Dixon, 30 May 2014
Are you saying Sydney Central Business District has post code 2000? (No wonder that they had all these sponsors, even as an applicant city. (Curiously, while I don't recall you giving that description, I do recall that shot. Then again, it's probably a popular shot and may have been repeated with different flags.)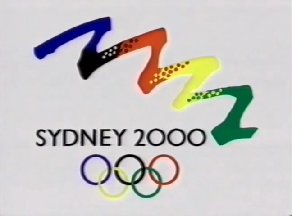 image located by Peter Hans van den Muijzenberg, 30 May 2014
Sydney 2000 candidate, from Sydney Harbour Bridge.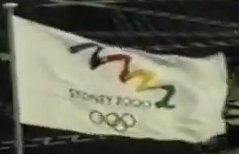 image located by Peter Hans van den Muijzenberg, 30 May 2014
Sydney 2000 candidate, design
I think at the time applicant cities were already barred from using the Olympic rings, which would suggest that this is the Candidate City flag.
The design is visible slightly earlier in the video as well. No doubt that same skilled GIFfer would be able to use it to draw a candidate flag from.
Slightly before that, http://youtu.be/pKUzhu8kQDE?t=3m44s, the match of the logo with the silhouette of the Opera House is shown briefly.
Peter Hans van den Muijzenberg, 30 May 2014
---
Sources: