This page is part of © FOTW Flags Of The World website
Eemsmond (The Netherlands)
Groningen province
Last modified: 2018-12-15 by rob raeside
Keywords: eemsmond |
Links: FOTW homepage | search | disclaimer and copyright | write us | mirrors

---
Shipmate Flagchart : http://www.flagchart.net
adopted 27 Jun 1991
See also:
---
Eemsmond municipality
Number of inhabitants (1 Jan 2003): 17.200; area: 55,12 km². Settlements: Uithuizen (seat), Eemshaven, Eppenhuizen, Kantens, Oldenzijl, Oosteinde, Oosternieland, Oudeschip, Roodeschool, Rottum, Rottumeroog, Rottumerplaat, Startenhuizen (ged), Stitswerd, Uithuizermeeden, Usquert, Warffum, Zandeweer.
The municipality was founded on 1 Jan 1990 by the merger of the former municipalities of Hefshuizen, Kantens, Usquert en Warffum. The new municipality was named Hefshuizen; it was renamed Eemsmond on 1 Jan 1992.
The municipality of Hefshuizen was formed by the merger of Uithuizen and Uithuizermeeden on 1 Jan 1979.
Eemsmond is in northeast Groningen (meaning: mouth of the river Eems (Dutch) or Ems (German).
Description of the flag: 'Green for the arable land, yellow for the corn-fields (wheat), and blue for the sea from which the land was gained.
The mermaid was copied from the municipal coat of arms.' The Coat of Arms is present too at that site, and the mermaid has been derived from the old Coat of Arms of the old municipality of Uithuizen, where it was used in the 17th century. The mermaid probably refers to the presence of seals along the coast.
Source: the Eemsmond municipal website.
Jarig Bakker, 17 March 2000

---
Eemsmond Coat of Arms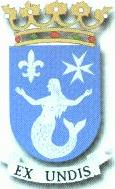 image from this site.

Granted 1 Jan 1990 - Ex Undis is Latin, meaning (wrestled) out of the waves.

---
Uithuizen [former] municipality
Shipmate Flagchart : http://www.flagchart.net

Uithuizen is all arable land with huge farms and some old castles. It adopted a flag on 2 Feb 1950, derived partly from
the Coat of Arms, pointing at the green meadows, the yellow corn and the deep blue sea (actually at that point not so very deep).
Jarig Bakker, 5 Jun 2003
---
Uithuizermeeden [former] municipality

Shipmate Flagchart : http://www.flagchart.net

Uithuizermeeden was the northernmost municipality of mainland Netherlands, and Roodeschool its northernmost village. To celebrate that there was a bar open 24 hours a day (in the 1960's). The municipality adopted a flag on 5 Jun 1973.
Jarig Bakker, 5 Jun 2003
---
Warffum [former] municipality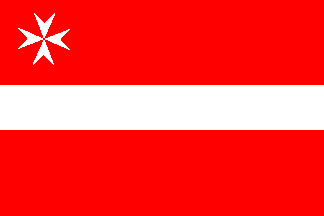 Shipmate Flagchart : http://www.flagchart.net

Warffum is a former municipality in Groningen; since 1990 it is part of the municipality of Eemsmond, and it continues to use its symbols as village flag and Coat of Arms. Warffum used to be the northernmost municipality of the Netherlands, as it contained the islands of Rottum, Rottumeroog, and Rottumerplaat (all ininhabited, but for a lonely writer, like Godfried Bomans, and later Jan Wolkers, who stayed there for a while to get the feeling of real loneliness.
In 1980 the municipality considered the adoption of a flag, to be used on festive occasions. In its meeting of 31 Oct 1985 the municipal council resolved to adopted a municipal flag with the following description:
"Red, white, and red, proportioned 2:1:2, with towards the hoist a white Maltese cross, the height of which is equal to 3/10 of flagheight"..
Jarig Bakker, 6 Jun 2003
---
Warffum Coat of Arms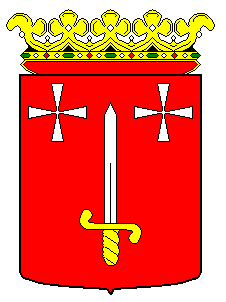 image from Ralf Hartemink's site

At this webpage is the lengthy story of Warffum's Coat of Arms and flag:
Coat of Arms: In "van der Aa's Aardrijkskundig Woorden boek der Nederlanden, 12de deel, 1849" one reads: The arms of Warffum consists of three gutted herrings. c. 1900 the municipal council was considering its arms. In the meeting of 29 Jul 1902 Burgemeester (Mayor) Bijlsma produced a design with a standing sword with two Maltese crosses. The council decided to send a request to the Queen to allow them to use the new arms. The High Council of Nobility (advisory council to the Minister of Justice) objected, because of what van der Aa had written. Moreover the High Council was able to note that there was in Bieuwketil in olden times a pub with a signboard, which depicted three fishes. The Council asked itself whether that pub in former times had served as court- or council house.
The Master of the Rolls in the province of Groningen, Mr. J.A. Feith persuaded the Council that the pub had not been a courthouse and that the image on the signboard had been the Coat of Arms of the noble family of Clant. Members of that family had lived on the Breedenborg castle. He also pleaded the case of the proposed Coat of Arms. The name of Warffum (Warfhem or Werfhem) was mentioned already in charters of 1000; it was explained as "heem", the place, where the "Warf" was held. The Warf is in the old Frisian law the public meeting where law was administered. In the late Middle Ages the Warf became a Court of Appeal. So Warffum had been an old court of law and the sword was justified. The two Maltese crosses symbolize the presence of the former monastery of Maltese knights in Warffum, which was known for the vast extent of its possessions.
On 12 Oct 1903 the Queen granted Warffum its Coat of Arms.

Since some years the former pub "Rust een weinig" (rest a while) along the towing-path to Onderdendam at the Bieuwketil has a signboard with the three fishes.
Jarig Bakker, 6 Jun 2003
---