This page is part of © FOTW Flags Of The World website
Karava people (Sri Lanka)
Last modified: 2009-12-18 by ian macdonald
Keywords: sri lanka | karava |
Links: FOTW homepage | search | disclaimer and copyright | write us | mirrors

---

Ancestral Flag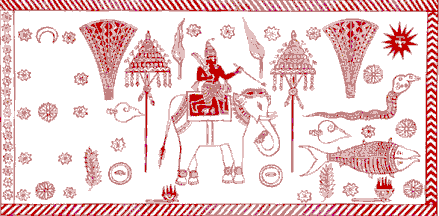 image located by Chris Kretowicz, redrawn by Jarig Bakker

Source: http://www.defonseka.com/karave_flag.htm and http://karava.org/karava_flags

The image of the flag is according to Mr. E.W. Perera's extensive monograph on Sinhalese Banners & Standards.

Chris Kretowicz, 29 March 2003
---
See also:
---
The Karavas were the only Sri Lankan community traditionally entitled to use flags. British Government Agents studying Sri Lankan flags during the early 20th century have noted that not a single flag could be found even in the residences of Kandyan chiefs, the Radala nobility of the Kandyan Kingdom, as even they were not entitled to use flags. A large number of Karava flags have survived the ravages of time and many are illustrated in E. W. Perera's monumental book titled 'Sinhalese Banners and Standards'. However despite the extent of the Karava collection of flags, he has scattered the Karava flags throughout the book and not given them a special chapter as they deserve. As such their significance is missed by most readers of his book.

The symbols on Karava flags are the sun, moon, stars, elephant, fish, white shield, pearl umbrella, swords, lotuses, ship etc. all of which were royal symbols in Sri Lanka's past. Source: http://www.karava.org/karava_flags.
Esteban Rivera, 25 October 2009
---
The Karava people (Sri Lanka) have a very nice flag. Now, here are some Konda Karavas flags. Konda in medieval times signified a group of Karava nobles in Sri Lanka. Old timers referred to them as Konda Karava another clan of the Karava similar to the Suriya clans Kurukulasuriya, Warnakulasuriya, Mihindukulasuriya, Bharathakulasuriya, Manukulasuriya, Arasakulasuriya and Kon Karavas. Konda came to mean hair in Sri Lanka only after the 15th century Kotte period. Prior to that hair was referred to in the Sinhala language as kes, varalasa, dhammilla or muhulasa. Source: http://en.wikipedia.org/wiki/Konda_Karavas.

Now, the flags (Source: http://www.karava.org/jaffna_kings):
http://karava.org/yahoo_site_admin/assets/images/800px-Singhe.31634335.jpg - A contemporaneous Sri Lanka flag that closely matches the Sun, moon and lion symbols on the coat-of-arms of the Puvirajasinghe family
http://karava.org/yahoo_site_admin/assets/images/Rathalawewa_Karava_Lion_flag.355184315.JPG - A lion flag of the Karava. This one is from Ratalawewa and is illustrated in Raghavan's Karava of Ceylon.
http://karava.org/yahoo_site_admin/assets/images/Simha_Flag.355184034.JPG - Another ancient Simha (lion) flag of the Karava community from Manampitiya near Polonnaruwa in the north west of Sri Lanka. Singh is derived from the Sanskrit word Sinha meaning "lion"[1]. It is a common title, middle name, or surname in North India, originally used in the 7th century by the Rajputs of the princely states of Rajputana (present day Rajasthan ).
Source: http://en.wikipedia.org/wiki/Simha
http://karava.org/yahoo_site_admin/assets/images/KandyLionflag.155193104.jpg (Another old Simha Flag from Sri Lanka)
Esteban Rivera, 24 October 2009