This page is part of © FOTW Flags Of The World website
Welsh separatist and independentist flags
Cymru
Last modified: 2012-01-21 by rob raeside
Keywords: wales | dragon | eagle (white) | dragon(red) |
Links: FOTW homepage | search | disclaimer and copyright | write us | mirrors

---

See also:
---
Welsh Tricolour
The Welsh Tricolour ("Cymru Rhydd Diolch yn Fawr") is attributed to Rhys Gethin II. The Black Star represents unity and remembrance for all who have died fighting for Cymru (Wales). I have often seen the tricolour, but never as an actual flying flag, only as pictures.
Dafydd Young, 29 July 2002

Leighton Smart
A horizontal tricolour has apparently been used by various groups over the years as a Welsh republican tricolour.
Leighton Smart, 11 February 2003
I believe that the flag always bears a black star in the white stripe and I only know of the vertical version. The horizontal version could be confused with the Bulgarian flag (only changing the order of red and green) and I assume it is less used, at least without a star.
Jaume Ollé, 17 February 2003
I have never seen the 'Welsh tricolour' flag used on your website. The original Welsh tricolour which is occasionally used consists of a blue top, a white middle and a green bottom with the word Cyfiawnder (justice) on the white.
Muiris Mag Ualghairg, 18 April 2003
[Editor's note: see our page on Chartist flags.]
I have never seen these red, green, white flags with or without a black star - perhaps they are common in the north?
David Barry Lawrence,7 March 2004
The Welsh republican flag originated with the first Welsh Republican Movement (1950's) this flag is the usual Republican Tricolour. Welsh Republican Flag Colours are left to right Green, Red and White, It does not have a black star on it this is a 2002 innovation by Cymru 1400 USA. Unfortunately for a variety of reasons historically Welsh Republicanism was an extremely late development only originating in the 1950's. On 22 February 1797 a French expeditionary force landed at Garreg Gwasted near Fishguard sadly they were greeted by an hostile 'Crown & Country Brit Mob' and not a 'United Welshman Movement'. Wales then was not as Ireland seething with nationalist resentment to English colonial rule to compensate for this in present times some Welsh patriots of a "Republican persuasion" regard 22 February as a might have been "Welsh Republic Day".
G. Gruffydd, 2 March 2005
The Welsh Tricolour, long associated with nationalism and republicanism, was seen proudly and defiantly flying during the royal opening of the new home for the National Assembly for Wales 'The Senedd' yesterday (1 March 2006 St Davids Day). The flag was the more traditional vertical striped green, red and white (without the black star).
Meic Crahart, 2 March 2006
In "The Young Republicans" by "Gweriniaethwr" isbn 0 86381 362 3 , I read that at the founding conference on 24th and 25th September 1949 in Neath "The Welsh Republican Movement adopted as its political emblem a tricolour flag of red, white and green". Also, on the 24th Nov 1949 Joyce Ann Williams interrupted the proceedings of the House of Commons during the "Welsh Debate" whilst displaying a "red, green and white flag". In each case I presume that this might be the green, red and white tricolour newly invented but unfamiliar to the reporters ?
David B. Lawrence, 17 November 2006
The ' Variant Tricolour Flag ' may actually be an Urdd flag from the 1930's-40's, and the ' Welsh Republican Flag ' and ' Welsh Patriotic Front ' flags may thus be derivative from it. I was recently making some inquiries about the Urdd's colours - as to whether they had had a triband flag. The reason for this is that the Welsh Republican Movement flag and the Welsh Patriotic Front flag both seem to be derivatives of Y Urdd Gobaith Cymru colours. One of the precedents of the Urdd was the ' Byddin Cymru ' (' Army of Wales ') and in its early years the Urdd was much more 'militaristic' in that mode of mass marching and coordinated gymnastic displays with flags than it is now. Urdd Gobaith Cymru was established by Sir Ifan ab Owen Edwards in 1922. His aim was to protect the Welsh language in a world where English dominated every aspect of life outside the home and the chapel and in at least one of the issues of the magazine 'Cymru'r Plant' that founded the movement he made his republican ideals very obvious.

I have read in Gwennant Davies' 'The Story of the Urdd 1922-1972' that the triangular Urdd badge was introduced in 1944, and I note that its order of colours - green, red, white - was used in a Welsh Republican Movement tricolour flag adopted in 1949 ( and there was a later Patriotic Front flag of the 1960's with these colours organised horizontally ). These two dates are very close, and suggest that either the latter is derived from the former or that they had a common origin. Davies' book also mentions that in 1926 "the first Urdd banner was presented" and that by the summer of 1927 each Adran had its own banner in its own choice of colours. I take it from photos in the book that these banners were like Sunday school or trade union banners, square and draped from a bar, but maybe a flag is also implied ? It seems likely that such a flag would be a white, red and green triband.
David B. Lawrence, 24 January 2009
---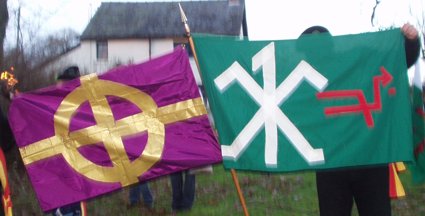 photo by David Lawrence, 15 December 2006
At the Cilmeri rally, which celebrates the death of the last prince of Wales, or alternatively commemorates the end of Welsh independence in 1282, a variety of people turn up for various reasons and contribute different elements to the days events. Welsh flags of various sorts are in evidence, and I asked especially to take a photo of the Croes Naid (purple with gold ring cross on it) which they told me was Llewelyn's battle flag (?) and a green flag with both the stylised white eagle white eagle and red dragon on it.
David B. Lawrence, 15 December 2006
The green flag represents the RDM (Red Dragon Movement) that has been going since the 1980s. The movement has been linked with direct action and was once run on cell guidelines. Were rumoured to have had firearms. The movement is now basically defunct even more so after the Welsh Assembly Referendum where under guidance of Dennis Coslett (former FWA commandant) they deemed no direct action was further needed as the will of the Welsh people could now shape the destiny of Cymru.
David B. Lawrence, 11 November 2008
---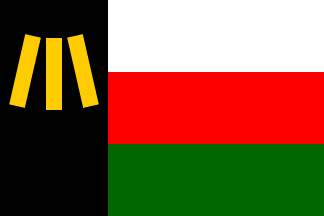 image by António Martins-Tuválkin, 16 May 2007
Gethin kindly sent me a picture, a flag which features "The Awen" a symbol devised by Iolo Morgannwg and named for "The Muse" and used in his mystical bardic alphabet where each letter had layers of meaning, e.g., "awen" also means "rein" and therefore implies "government". Iolo cooked up a heady mix of democratic politics and neo-pagan deism, highly relevant in his day when the government and the church were both part of the same establishment that radicals were opposed to. Thus, given that this symbol is also called "Y Nod Cyfrin" (which could be translated as "the secret mark" or even "the subtle note", as in the sense of writing cryptically * ) there is reason to believe that this was another one of those covert signs used by Welsh republicans during "The English Terror" circa 1800 (e.g., by drawing it in the road dust with a stick or toe, or perhaps by holding the hand pointing covertly downwards with the middle three fingers spread, like an inverted boy-scout salute. ).

Gethin tells me that this design was created by Tony Lewis and the flag above was made in the 1970's. Tony Lewis was the Patriotic Front president, and this organisation basically included all of the usual suspects and flourished circa 1965 - 1970. The black section of the flag seems to me reminiscent of the Free Wales Army flag, with a gold "Y Nodyn" as Gethin has called it in his email to me (he says that originally Iolo's was red).
*again Gethin's variation in spelling is suggestive of Iolo's bardic politics' having many layers of subtle meaning e.g. 'nodyn/nod/-au' = note, mark, 'the tokens'. Gethin says that originally Iolo's 'tokens' were red and that the three strokes represent Love, Truth and Justice (and Daf told me that they represent something similar in that they declare the aspects of Iolo's Deity, a sort of 'people's god' built out of a democratic trinitarianism in which he challenged the corruption of British christianity). Gethin also tells me that this black part of the flag was used as an armband, i.e. it actually represents the Patriotic Front as an organisation.
The remainder of this flag is a triband version of the tricolour adopted by the Welsh Republican Movement in 1949 (presumably because the triband associated with early 19c Welsh republicanism had been adopted by Hungary in 1945 - in fact Hungarian republicans had already used it in before in 1848, so this might also explain why the violet Trilliw appeared in later 19c Wales).
David B. Lawrence, 19 February 2007
See also: http://www.gorsethkernow.org.uk/english/ceremony.htm
António Martins-Tuválkin, 21 February 2007
---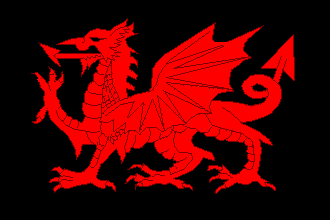 image by Chris Fear, 1 July 2005
The black flag with the red dragon is the banner of Cymru 1400 (The Welsh Republican Movement).
"Moz", 17 November 2003
During the 1960's there was an attempt to have Plaid Cymru adopt a 'Nationalist Flag'. It was not officially accepted and never made much headway. I have seen, many years ago, a design for a "Welsh Separatist Flag" based on the American confederate flag but with a green background, white St Andrews Cross (as confederate flag) and 13 red stars (representing the 13 old Welsh counties). I have not however, seen this in use other than one person's personal home flag.
G. Gruffydd, 2 March 2005