This page is part of © FOTW Flags Of The World website
Archipelago on Fire (book)
Last modified: 2014-02-15 by peter hans van den muijzenberg
Keywords: book | archipelago on fire | l'archipel en feu | sacratif |
Links: FOTW homepage | search | disclaimer and copyright | write us | mirrors

---
See also:
---
L'Archipel en feu (or Archipelago on Fire) is about a privateer trying to root out brigandage among the Greek Isles in the late 1820s. It also seems to not have had an English edition in about 75 years.
Eugene Ipavec, 16 August 2005
---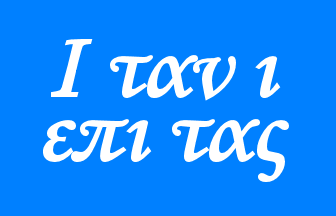 by Eugene Ipavec (on advice from António Martins-Tuválkin), 16 August 2005
The flag flown by the privateer Bobolina is described thusly:
Bobolina, en 1821, sur ses propres ressources, arme trois navires, et, ainsi que le raconte M. H. Belle, d'après le récit d'un vieux Klephte, après avoir arboré son pavillon, qui porte des mots des femmes Spartiates: «Ou dessus ou dessous,» elle fait la course jusqu'au littoral de l'Asie Mineure, capturant et brûlant les navires turcs avec l'intrépidité d'un Tsamados ou d'un Canaris;
Translating as: "Bobolina, in 1821, with her own resources, arms three ships, and, as Mr. H. Belle tells it, according to the account of an old man of Klephte, having raised her flag, which carries the words of the Spartan women: "With your shield or on it", she races to the littoral of Asia Minor, capturing and burning Turkish ships with the intrepidity of a Tsamados or a Canaris;"
I have made a very tentative reconstruction . The colors are not given, but I guess that white and blue are sort of safe choices here. The inscription was transliterated from "I tan i epi tas" and should be treated as suspect, as I claim no knowledge of any actual Greek.
Eugene Ipavec, 16 August 2005
---
Part of the attraction of Jules Verne's novels is a very intricated mixture of real facts and characters with completely invented ones. Note that Verne never claimed historical reliability and cannot be blamed for historical license.
Bobolina is a real figure of the Greek independent struggle, and she indeed founded and funded a fleet on her island of Spetsai.
There is no evidence, as far as I know, of another flag used by Bobolina's fleet than the revolutionary flag of Spetsai, which bears the motto of the Greek fighters and today's Greece national motto "eleftherai h thanatos" (freedom or death).
However, the motto assigned by Jules Verne to Bobolina's fleet indeed appears on the flag of the revolutionary fleet of the island of Hydra, located not far from Spetsai, and is therefore not pure invention by Verne.
Ivan Sache, 20 August 2005
---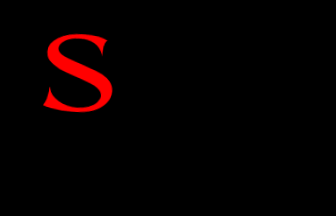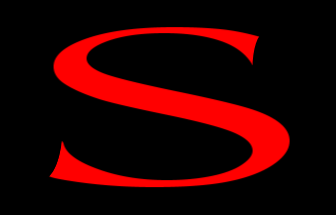 both images by Eugene Ipavec, 16 August 2005
The flag flown by Sacratif is described at the very end of Chapter XIII, "À bord de la Syphanta!" (text taken from here):
Ce pavillon était noir, et un S rouge-feu s'écartelait en travers de son étamine.

C'était le pavillon du pirate Sacratif.
Translating as: "The flag was black, and a fire-red S was quartered across its muslin. It was the banner of the pirate Sacratif." I seem to recall the earlier Nemo flags prompting a spirited exchange on what Verne may have meant by "écartéle"and so I enclose two variants to reflect the contending interpretations. In both I assume that Verne meant a Latin "S", not a Greek "Sigma", since he would otherwise have likely said so.
Eugene Ipavec, 16 August 2005
---
In the book, there is mention of a "a young Frenchman, fighting under the flag of the Philhellènes." This presumably refers to the flag of a group of French anti-Turkish — or pro-Greek, if you prefer — volunteers. I don't see anything like that listed in either the French or Greek pages. Of course, "fighting under the flag" could merely be a metaphor.
Eugene Ipavec, 16 August 2005
---
Most probably. In French, "être sous les drapeaux" means being in the (national) army, and the expression was especially used for the "service militaire", conscription, now suppressed. The conscripts were called "appelés", lit. "called", because that had been "appelés sous les drapeaux" (called under the flags).
In general, fighting "sous le drapeau de..." (under the flag of...) or "pour le drapeau de..." (for the flag of...) is metaphoric and does not refer to a specific flag. The expression can even be used when there is no flag at all (the flag of imperialism, of anti-globalization, of the human rights, etc.).
Ivan Sache, 20 August 2005