Introduction
FET de las JONS (Falange Española Tradicionalista y de las Juntas de Ofensiva Nacionalsindicalista) was the single party of General Franco's regime, a weird combination of the almost national-socialist Falange with the ultraconservative, monarchist Carlists. Hence, during the 1936-1977 regime it was usual to fly both the Falangist and the Carlist flags with the Spanish national flag in between.
Santiago Dotor, 01 Feb 1999
Zaragoza Falange & JONS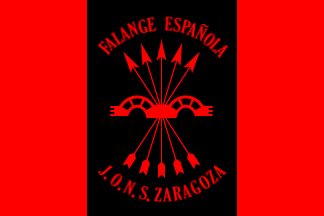 images by Eugene Ipavec, 06 Jun 2009
1940/1941 Falange flag, 57 inches wide & 38 inches tall. Hand-finished stitching by female Falange group in Zaragoza.
Ebay seller, 11 May 2009
Blue Division Falange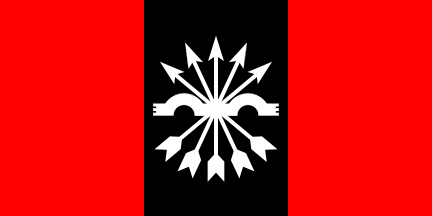 image by Tomislav Todorović, 26 May 2010
A photo of the red-black red flag with white yoke and arrows in centre of the black field can be found at the Axis History Forum, the Reibert.info forum, and the Flags Forum. It was used by the soldiers of the Blue Division (División Azul), the Spanish volunteers' unit in the German Army on the Eastern Front of World War II. No info about the time of making of the photo is given, but it must have been between July 1941, when the Blue Division was formed, and October 1943, when it was disbanded [1]. This was certainly not the only case of use of a flag with this design: there must have been many flags of the Phalanx with white yoke and arrows, because two present-day Phalangist parties, Spanish Phalanx (FE/JONS) and Authentic Phalanx (Falange Auténtica), use logos which seem to be derived from this flag [2, 3], although the use of the flag itself was not recorded so far.
The central emblem might look more detailed than on the photo at first glance. However, when zoomed, the photo seems to reveal that this is how the emblem actually looked.
Sources:
Tomislav Todorović, 26 May 2010