This page is part of © FOTW Flags Of The World website
Manchukuo Rank flags
Last modified: 2021-12-11 by ian macdonald
Keywords: manchuria | manchukuo | china | rank flag |
Links: FOTW homepage | search | disclaimer and copyright | write us | mirrors

---
Navy Rank flags
1932 series
1935 series
Marine Police Rank flags
See also:
---
Background
Japanese allowed Manchurian to have its Navy on 1 April 1933 until November 1939 when the Manchurian Navy was incorporated into the Manchurian Army. Around 2,000 people were working for Manchurian Navy and there existed rank flags.
Nozomi Kariyasu, 24 February 2007
They adopted the Navy Rank flag on Apr 25th 1932 by Official Bulletin No 3. They used white 5 pointed star in fly in stead of red plum which appeared since Oct 22nd 1935.
Nozomi Kariyasu, 30 November 2009
Manchukuo adopted Marine Police flag and the Rank flags on Aug 26th 1933 by Official Bulletin No 200.
---
1932 series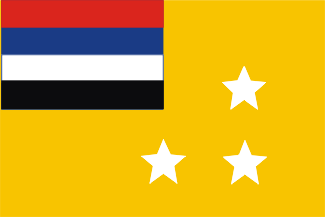 image by Jaume Ollé, 30 November 2009
The marigold national flag charged with three white stars in fly.
Nozomi Kariyasu, 30 November 2009
---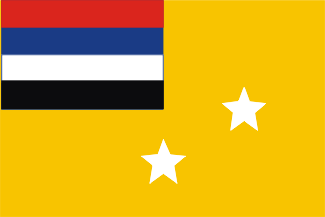 image by Jaume Ollé, 30 November 2009
The marigold national flag charged with two white stars in fly.
Nozomi Kariyasu, 30 November 2009
---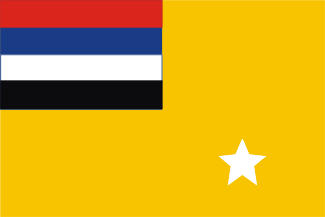 image by Jaume Ollé, 30 November 2009
The marigold national flag charged with one white star in fly.
Nozomi Kariyasu, 30 November 2009
---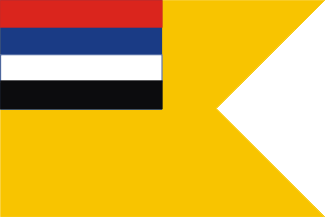 image by Jaume Ollé, 30 November 2009
The marigold national swallow tail flag without white star.
Nozomi Kariyasu, 30 November 2009
---
1935 series
Navy Minister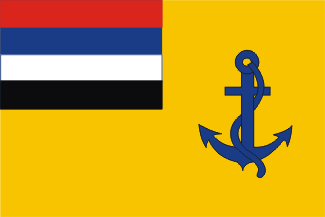 image by Jaume Ollé, 03 December 2009
Adopted on Oct 22nd 1935. The national flag charged with blue anchor in fly.
Nozomi Kariyasu, 03 December 2009
---
Admiral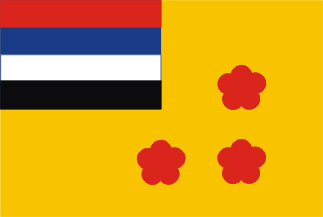 image by Jaume Ollé, 02 December 2009
Adopted on Oct 22nd 1935. The national flag charged with three red plum flowers in fly.
Nozomi Kariyasu, 02 December 2009
---
Vice Admiral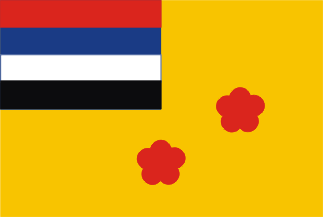 image by Jaume Ollé, 02 December 2009
Adopted on Oct 22nd 1935. The national flag charged with two red plum flowers in fly.
Nozomi Kariyasu, 02 December 2009
---
Rear Admiral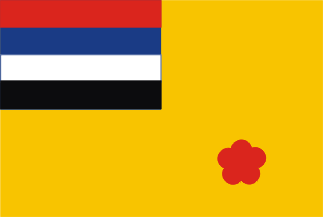 image by Jaume Ollé, 02 December 2009
Adopted on Oct 22nd 1935. The national flag charged with a red plum flowers in fly.
Nozomi Kariyasu, 02 December 2009
---
Commodore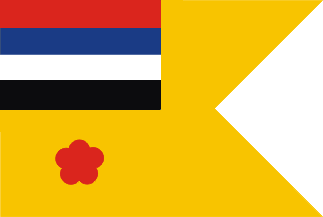 image by Jaume Ollé, 03 December 2009
Adopted on Oct 22nd 1935. The marigold swallow tail flag charged with four stripes in canton and a red plum flower lower hoist.
Nozomi Kariyasu, 03 December 2009
---
Flotilla Chief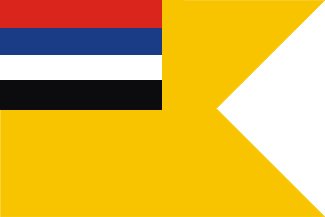 image by Jaume Ollé, 03 December 2009
Adopted on Oct 22nd 1935. The marigold swallow tail flag charged with four stripes in canton without red plum flower.
Nozomi Kariyasu, 03 December 2009
---
Senior Pennant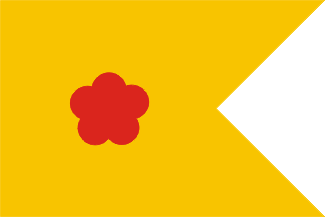 image by Jaume Ollé, 03 December 2009
Adopted on Oct 22nd 1935. The marigold swallow tail flag charged with a red plum flower in the center.
Nozomi Kariyasu, 03 December 2009
---
Marine Police Rank flags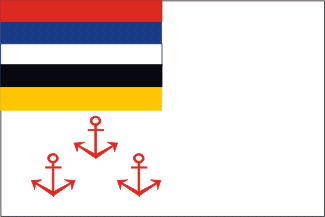 image by Jaume Ollé, 30 November 2009
The white flag charged with five stripes in the national colours in canton and three red anchors.
Nozomi Kariyasu, 30 November 2009
---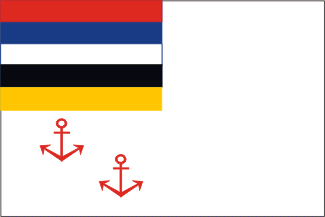 image by Jaume Ollé, 30 November 2009
The white flag charged with five stripes in the national colours in canton and two red anchors.
Nozomi Kariyasu, 30 November 2009
---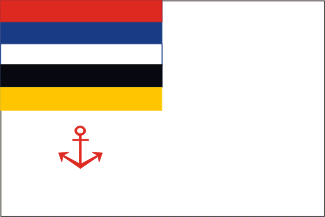 image by Jaume Ollé, 30 November 2009
The white flag charged with five stripes in the national colours in canton and one red anchor.
Nozomi Kariyasu, 30 November 2009
---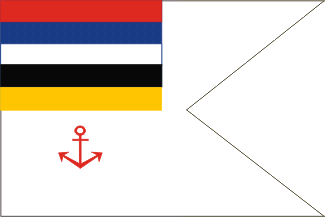 image by Jaume Ollé, 30 November 2009
The white swallow tail flag charged with five stripes in the national colours in canton and one red anchor.
Nozomi Kariyasu, 30 November 2009