---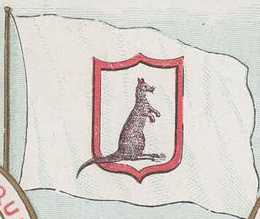 image located by Jan Mertens, 20 August 2005
Kangaroo Line (Mailler, Lord & Quereau, New York) obviously sailing to Melbourne, from http://digitalassets.lib.berkeley.edu. On a white flag a kangaroo is shown, apparently in natural colours, looking to the fly and standing in a red shield bordure, the tail hanging out - I like this touch!

We learn that the line was established in 1853, moreover it is represented in the on-line Directory of Private Signals.
Jan Mertens, 20 August 2005
---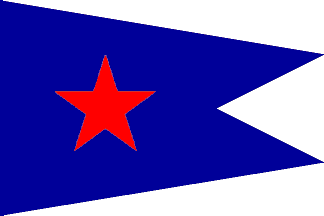 image by Joe McMillan

Robert Kermit, later Kermit & Carrow, New York
Another mid 19th century firm, notable for represented both sides of the family of Theodore Roosevelt's wife Edith Kermit Carrow. Among other routes, Kermit and Carrow operated packets to and from Le Havre. The flag was a blue burgee with a red star.
Source: chart of "Private Signals of the Merchants of New York"

Joe McMillan, 25 October 2001
---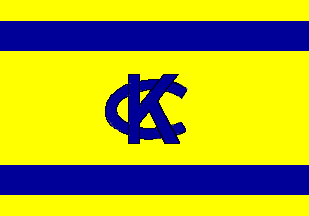 image by Joe McMillan
Keystone Shipping Company, Philadelphia (Sources: Stewart (1953), U.S. Navy)
One of the few remaining significant companies operating under the U.S. flag. Keystone has long been one of the largest U.S. independent tank ship operators (i.e., not owned by one of the oil companies). Lloyd's Maritime Directory for 2001 lists 13 tankers under Keystone (11 active) for a total of 614,000 gross tons. The flag is rather nice (for a flag with lettering on it): yellow with blue stripes near the upper and lower edges and the monogram "CK" in blue on the center.
Joe McMillan, 25 October 2001
The CK intertwined on the flag stands for Charles Kurz. CK was the founder of the company, and in fact it is still family owned and operated, now CKII and CKIII are present.
Ian Stevenson, 13 July 2003
The Great Lakes chart shows a larger monogram, also the blue is much lighter than shown above. Additional historical information is available at https://www.oceanconnect.com/PDFs/pressReleases/pr_Mar05_2003.pdf. The firm was founded in 1919, Chas. Kurz & Co. being an alternative name. According to http://www.cn.ca/specialized/great_lakes/en_KFGreatLakes.shtml, Keystone operates a Great Lakes Fleet. Keystone is part of Keystone Dedicated Logistics with seat at Carnegie, Penn.
Jan Mertens, 12 November 2006
---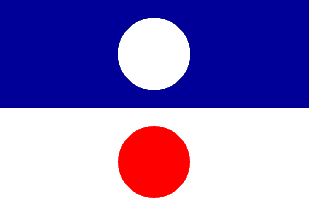 image by Joe McMillan
D. & A. Kingsland, New York
The Kingsland brothers operated the "Empire Line" between New York and Liverpool as well as the "Third Line" of New Orleans Packets from at least 1846. They had also become involved in the China trade by 1851. The Kingsland flag was quite distinctive, the field divided blue over white, with a white disk on the blue and a red one on the white.
Source: chart of "Private Signals of the Merchants of New York"
Joe McMillan, 25 October 2001
---

image located by Jan Mertens, 5 May 2010
On this website of this US company, we read ('About us'):
"K-Sea Transportation Partners L.P., headquartered in East Brunswick, New Jersey, is a leading provider of marine transportation, distribution and logistics services in the U.S. From locations in New York, Philadelphia, Norfolk, Seattle and Honolulu, K-Sea operates a large fleet of tugs and tank barges that serves a wide range of customers, including major oil companies, oil traders and refiners."
Nice filmlet on that page, with the house flag incidentally appearing at 4:26-28 (see also small photo at right) and occasional views of the red swallowtail "A"
indicating dangerous cargo. The right menu leads to detailed descriptions of the company divisions' activities: Atlantic and New York (both based at Staten Island), Hawaii (Honolulu), and Pacific (Seattle). The 'Vessel' department lists an impressive numbers of some eighty tugs and some eighty sixty barges, sixty of them double-hulled; see also the instructive gallery.

Large logo on this page, "K-Sea" being a pun on the company president's family name, Casey: https://vip.k-sea.com/login.php. Black name "K-Sea", the initial large and "Sea" markedly smaller and raised, offering room for three waves: red, gold, and green; logo placed on a white background.
Jan Mertens, 5 May 2010
---
US shipping lines house flags - 'L' continued